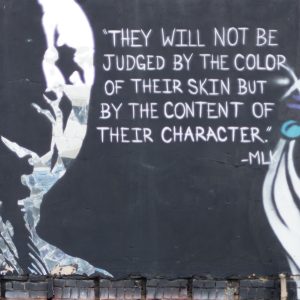 Kat Arney talks with geneticist and author Dr Adam Rutherford about his new book, How to Argue With a Racist, which explores how modern genetics and old-fashioned eugenic pseudoscience are misused in pursuit of harmful political agendas.
The human evolutionary family tree isn't a straightforward linear progression from ancient ape to modern human, but a complex, tangled web of interrelated – and interbreeding – species. People don't stay in one place, and they aren't always picky when it comes to picking a mate. Add up the effects over thousands and thousands of years, and it's easy to see why trying to understand and compare the genetics of modern populations in different parts of the world is a challenging task.
The truth is that the more we study human populations on a genomic level, the more diversity we find. But we should be on guard against those who would wish to crudely slice this rich and complex tapestry of global human genetics for political ends.
We also hear from UCLA graduate student Arun Durvasula about his work searching for genetic 'ghosts' – the remnants of mysterious species from our past that live on within our DNA today, making up around 11 per cent of the modern human genome.
Finally, we chat to Daniel Khosravinia, a graduate student at King's College London who has designed a Lego model depicting the discovery of the structure of DNA, complete with minifigures of Maurice Wilkins, Rosalind Franklin, James Watson and Francis Crick. If he receives 10,000 votes for his design, then it has a chance of becoming a commercially available kit.  You can find out more and cast your vote on the Lego Ideas website. 
Go to GeneticsUnzipped.com to listen or download and to get a full transcript, links and references.
Genetics Unzipped is the podcast from The Genetics Society. Subscribe from Apple podcasts/iTunes, Spotify and all good podcast apps to make sure you get the latest episodes and catch up on our back catalogue.
If you enjoy the show, please do rate and review on Apple podcasts and help to spread the word on social media. And you can always send feedback and suggestions for future episodes and guests to podcast@geneticsunzipped.com Follow us on Twitter – @geneticsunzip