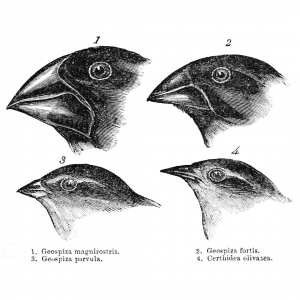 In this episode of Genetics Unzipped Kat Arney explores the myths and misconceptions behind two of the most iconic images in evolutionary biology: the much-parodied March of Progress – a series of human ancestors walking across the page, portraying the inexorable journey from monkey to man – and the famous finches of the Galapagos islands, which are supposedly the inspiration for Charles Darwin's theory of natural selection.
Where did these infamous images come from, and do they really show what everyone seems to think they do?
Listen now through the player below, or subscribe from Apple podcasts/iTunes, Spotify and all good podcast apps to make sure you get the latest episodes and catch up on our back catalogue.
Full transcript and show notes available from GeneticsUnzipped.com
If you enjoy the show, please do rate and review and spread the word. And you can always send feedback and suggestions for future episodes and guests to podcast@geneticsunzipped.com Follow us on Twitter – 
@geneticsunzip