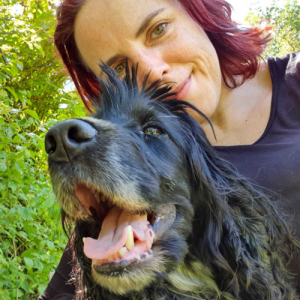 In the latest episode of Genetics Unzipped we're bringing you some scientific 'tails' -literally – as we explore the genetics of dog breeds and behaviour. Is there a gene for being a Very Good Dog or having a boopable snoot? And what happened over tens of thousands of years to turn a fearsome wolf into a pug in a party hat?
We speak with Elinor Karlsson at the University of Massachusetts Medical School and the Broad Institute who's looking into all aspects of dog genetics, from discovering what gives different breeds their distinctive traits to finding out how genetic variations contribute to psychological characteristics.
Jessica Hekman works with Elinor Karlsson and her team studying the brains and genes of dogs to understand canine behaviour, including trying to figure out why certain dog breeds behave in certain ways.
And Jeff Schoenebeck from the Roslin Institute at the University of Edinburgh has made it his mission to understand how genetic variations contribute to the wide range of shapes and sizes of dog skulls, using CAT scans, as well as lab tests.
Genetics Unzipped is the podcast from The Genetics Society. Full transcript, links and references available online at GeneticsUnzipped.com.
Subscribe from Apple podcasts, Spotify, or wherever you get your podcasts.
And head over to GeneticsUnzipped.com to catch up on our extensive back catalogue.
If you enjoy the show, please do rate and review on Apple podcasts and help to spread the word on social media. And you can always send feedback and suggestions for future episodes and guests to podcast@geneticsunzipped.com Follow us on Twitter – @geneticsunzip