Closing Date: 15 March 2021
The Lawton Lab is seeking a talented and motivated graduate student to study the cell and tissue mechanics regulating cerebellar morphogenesis and brain folding.

The beautiful and robust folds of the human cerebral cortex and the cerebellum increase the synaptic volume and compartmentalize the neural circuits. We have previously shown that the murine cerebellum initiates folding, without a pre-pattern, through differential expansion – between an outer fluid-like layer and an inner solid mass – together with radial and circumferential tension. However, it is not known how the folding amount or pattern is set. Nor is it known how the measured tension is regulated or how the fluidity of the outer layer is maintained. The Lawton Lab uses developmental and mechanical assays, live-imaging, and quantitative analysis to address these issues and to discover the cellular and emergent tissue-level regulation of brain folding.
This project will provide training in classical developmental biology assays, ex vivo slice culture, histology, confocal microscopy, and quantitative analysis.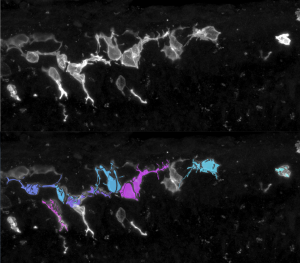 Applying:
Position is to begin fall semester of 2020.
The ideal candidate will have a strong interest in developmental biology, and some experience with microscopy, image analysis, and Matlab. Those with a background in mathematics or physics are also strongly encouraged to apply.
Please send a statement of research interest and a CV with references to alawton@biology.msstate.edu
Informational Links: