As astronomers look up to the sky to analyze the infinite universe, developmental biologists look at life unfolding, revealing itself under the light of the microscope. Stars above us, embryos below, we wonder about the possible worlds hindered from our sight. These reflections took place at "The Marine Biology Laboratory Practical Course in Developmental Biology – Quintay 2020" in Chile, where a total of 18 students from 9 different countries (Argentina, Brazil, Chile, Colombia, Ecuador, India, Mexico, Puerto Rico and Uruguay) met, fascinated with the broad diversity of animals, range of experimental techniques, and the huge quality of faculty available in this course.
Despite the fact that most of us were working with one of a small number of "model organisms", we had the unusual chance to observe, describe and perform experiments with flatworms, sea urchins, fruit flies, Zebrafish, African frogs, and chicken embryos. It was an intense 2 week-practical and theoretical course at the facilities of the Quintay Marine Research Center (CIMARQ) of the Andres Bello University. This immersive experience right next to the Pacific seashore of Chile, together with a remarkable array of experts in different fields of developmental biology in a friendly environment, encouraged us to explore some of the frontiers and unanswered questions in developmental biology.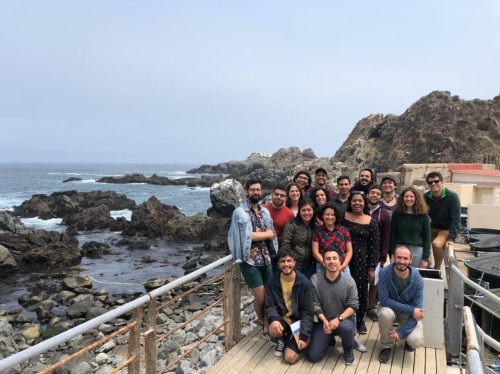 The course began with the Drosophila module, coordinated by Profs. Nipam Patel (MBL, USA) and John Ewer (University of Valparaiso, Chile). We were introduced to the basic aspects of invertebrate embryogenesis, genetics, and the powerful impact of the Drosophila model in Developmental Biology. Nipam was a very engaging lecturer, transmitting us the beauty of visualizing embryos under a confocal microscope, and giving us the most useful advice for nice immunostainings: "You just need to Wash! Wash! Wash! …and have faith". We got stunning expression patterns of Hox genes in Drosophila embryos that will become part of a joint publication with results from previous versions of this course. Next, Nipam introduced us to Evo-Devo, the possibility of exploring evolution through the lens of development, by analyzing the gene regulatory networks that establish the anterior-posterior axis of the crustacean Parhyale hawaiensis in comparison to Drosophila.
In sea urchin module, directed by the Prof. David McClay (Duke University, USA) or Uncle Dave as he would say, we took advantage of the CIMARQ-Quintay red sea urchin facility, learning some of the classical experiments of early embryogenesis and the morphogenetic events occurring during sea urchin gastrulation. Dave provoked us with inspiring discussions about developmental biology, and enchanted us with his passion earned through his many years in this field. His lectures about how sea urchin embryo development has been understood were like hearing a nine year old kid telling you about his favorite Christmas presents.
We continued with Prof. Cecilia Moens (University of Washington, USA), who engaged us with an inspiring talk about the early development of the zebrafish brain, and then guided us through a debate about employing gene editing tools such as CRISPR/Cas9 for dissecting early developmental processes, not only in Zebrafish but in almost all research organisms present in the course. This discussion was insightful since nowadays we have a vast array of tools for manipulating gene expression at our fingertips. We were able to compare the advantages and limitations of each one, highlighting the importance of conducting the proper experimental controls.
In the planarian module, Prof. Alejandro Sanchez-Alvarado (Stowers Institute, USA) challenged us to test the regenerative capacities of planarians. He proposed we perform experiments from different kinds of amputations to even tissue transplants, experiments that we would follow for the rest of the course. But his module projected outside the lecture room and the lab. He took us to the closest beach to CIMARQ to get samples of the living creatures that inhabit the Quintay coast. We were impressed by the rich animal diversity that lived there of a variety of shapes and colors. For some of us, it was the first time that we could see, touch and study marine organisms such as sea stars, snails, anemones and a variety of worms including planarians.
The first week ended with a lecture by Prof. Alfonso Martinez Arias (University of Cambridge, UK) on gastruloids and mouse stem cells. He engaged us in a discussion about the philosophical aspects of developmental biology. "Do you think a machine can be an embryo?" he said, to our astonished faces. These sorts of questions lit a heated debate. We discussed the manipulation of human stem cells and embryos, the possibility to compute embryonic development and the limitations of modeling biological phenomena. A key idea that emerged from the conversation, was that we should start talking about "research organisms" instead of "model organisms" because ultimately a model organism only models itself. The group was surprised and motivated by the questions, and the conversation was inspiring: at the end of the day, nobody was indifferent.
Led by Profs. Sally Moody (The George Washington University, USA), Roberto Mayor (University College of London, UK), and Fernando Faunes (University Andres Bello, Chile) the Xenopus module then came into the picture. After enlightening and fulfilling lectures, the practical activities were free and diverse. We were able to choose from a variety of different experiments to learn about axis development and the dorsal organizer inductive properties in Xenopus. Starting with different practical techniques to manipulate embryos – even using an eyebrow as a tool – we were challenged to graft neural crest cells from a fluorescent donor embryo into a wild-type host embryo. Despite the high handling complexity of this experiment, many of us succeeded and were able to record the neural crest migrating in living embryos. This module ended up with the presentation of our results and a funny awards ceremony.
To conclude the organism modules, Profs. Andrea Streit (King's College London, UK), Claudio Stern (University College London, UK), and João Botelho (Pontificia Universidad Católica de Chile) guided us through the fascinating world of chick development. In very didactical, histrionic and immersive lectures with Claudio, we studied concepts such as regulative development and cell states during early chick embryo development. Then, Andrea brought our attention to non-coding regulatory regions in DNA and regulation of gene expression in the context of sense organ development. In the laboratory, we did ex ovo culture of primitive streak stage embryos and we injected DiI or DiO in Hensen´s node and could follow cell fates and see a fluorescent notochord the next day. We also did in ovo culture experiments and tried methods such as electroporation, to introduce morpholinos, and adding beads to the embryos to study limb development. Inspired by the organizer transplant experiments in Xenopus we asked to do something similar with chicken embryos. Andrea, who is an expert in node transplantation, quickly taught us this technique and the next day we were able to discuss the inductive capacity of the node according to the region where it had been transplanted.
A week into the course we had the opportunity to attend the "Developmental Biology Symposium-Quintay 2020". Researchers from different universities of Chile came to Quintay to share their work, integrated with talks of some professors of the course. It was an amazing event to get to know the high quality and engaging science developed in Chile.
During the course, the most important complementary activities were the student talks in the evenings. Here, we had the opportunity to introduce our own research projects to the whole group in a very comfortable and relaxed setting, enjoying drinks and snacks during the presentations. The variety of research organisms was amazing, from Drosophila, Zebrafish, Medaka, C. elegans, passing through Xenopus, Axolotls, and even Cestodes and wild Planarian species. Even the experimental approaches varied from one to another, from molecular biology to very robust bioinformatics. The discussion that came up was very helpful, adding different classical and new approaches that we could use in our projects. On many occasions, it was so interesting that we kept talking about it in our lab nights, where the fun lasted until late and we would finish our experiments and record our results with a confocal microscope, with essential help from Jaime Espina (University Andres Bello).
Although all these activities sound tough and demanding, occasions to give our minds a break and enjoy a relaxed conversation were not missing. Besides the lunch time and student talks, we were able to organize a BBQ with our professors and fellows. Here, we got to know each other better, discuss in a relaxed atmosphere, and why not?, laugh with some jokes and chat about life (our life, not the embryo's!). Another memorable activity was a visit to a neighboring beach, where together with some faculty we were able to enjoy a nice picnic next to ocean. All of this highlights how engaging this course is, how interaction between students and professors, even outside a purely academic context, lies at its heart.
To close these awesome weeks, the closing ceremony was presided over by Prof. Ángela Nieto (CSIC-UMH, Spain), with a lecture of the most recent findings of her laboratory, including the blended study of gene expression profiles, the physical, and cellular variations controlling normal development, metastasis, and cell proliferation. Afterwards, the professors awarded Ailen Cervino and Nicolas Cumplido with a well-deserved reward, which will enable them to attend the next "Embryology: Concepts & Techniques in Modern Developmental Biology" MBL course. Finally, we had lunch together on the Quintay coast, enjoying such good company and filled with energy, looking ahead for our own goals.
A year has passed since "Quintay 2020" took place, a few months before the Covid-19 pandemic broke out. We didn't know then how fortunate we were to carry out face-to-face discussions, share the bench with other students and professors, or even enjoy a BBQ with people from all over the world! Even though much effort has been placed in order to continue with courses and meetings online, being able to experience a practical course like this one in real life, we believe, has transcendental effects on its students, both at the personal and professional level. Hopefully, new generations of Developmental Biologists will draw on the "Quintay experience" in the near future.
Students (co-authors) & Talks:
Juan A Sanchez. Growth coordination within tissue in Drosophila.
Felipe Berti Valer. The Irre cell Recognition Module and ovarian development in Drosophila: the role of the Roughest protein.
Marycruz Flores Flores. Characterization of cell recruitment mechanism driven by vestigial in the imaginal wing disc of Drosophila melanogaster.
Alison Julio. Structural aspects and evolutive conservation of Calpain action in early insect embryogenesis.
Pablo Guzman. The Slit/Robo pathway is required in different stages of the development of the Drosophila lobula plate.
Emiliano Molina. Differential requirement of the t6A modification in tRNAs, between undifferentiated and differentiated cells in Drosophila melanogaster.
Emilio Oviedo. Regeneration in Ecuadorian land and freshwater planarians.
Cristian Reyes. Reprimo genes in cancer and development, what do we know so far?
Nicolas Cumplido. From Devo to Evo: Hox genes and the shaping of the zebrafish caudal fin.
Sruthi Purushothaman. Fgf-signaling is compartmentalized within the mesenchyme and controls proliferation during salamander limb development.
Aitana Castro Colabianchi. The role of Notch1 during the early development.
Ailen Cervino. A conserved role of Furry in cell polarization and morphogenesis.
Diana Carolina Castañeda Cortés. Crossover between stress and tyroid hormone axes in stress-induced sex reversal.
Felipe Gajardo. Transposable elements in zebrafish hypoxic response: What the data has to tell us.
Oscar Javier Ortega Recalde. DNA methylation memory: Understanding epigenetic reprogramming in vertebrates.
Tonatiuh Molina. Betaglycan, a multifunctional accessory.
Jimena Montagne. Cell differentiation and tissue reorganization during the larval metamorphosis of cestodes.
Juan Rodriguez. Regulation of embryonic cell fate decision by histone methylation.