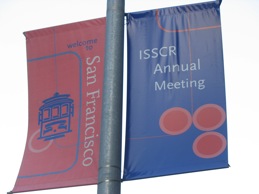 Almost four thousand people attended the International Society for Stem Cell Research (ISSCR) meeting in San Francisco in June. According to the San Francisco Chronicle, about a quarter of the attendees were from California, but other participants traveled from Australia, Europe, and Asia to attend the meeting. There were far too many talks to summarize the entire event, but Development's new Reviews Editor, Seema Grewal, and I have selected some of the ones that we thought you might find interesting. Where we found a published paper related to the same topic, we've linked to the PubMed abstract, so you can look up more information.
Unfortunately (due to a late flight!) we missed the entire first day of the conference, but if you were there, please let us know what you thought of the talks on that day!

Sometimes the possibilities of stem cell research seem infinite, and the burgeoning field of reprogramming cells suggests that indeed a lot is – at least theoretically – possible: We can take a cell from any tissue, reprogram it to a pluripotent stem cell, and differentiate that into any other tissue. (We can now even bypass the pluripotent state and directly convert cells of one differentiated type into another). But as some of the talks at this meeting show, there is still a lot to be learned.
George Daley showed that induced pluripotent stem cells are not entirely a blank slate. His lab generated human iPS cells from umbilical cord blood and from a newborn's keratinocytes, and differentiated both batches to the two original cell types. Strikingly, the cells that were originally keratinocytes more efficiently generated keratinocytes than blood cells, and vice versa, indicating that the cells had a memory of their previous state, despite being reprogrammed to iPS cells.
Gordon Keller advocated using knowledge from developmental biology to improve differentiation of stem cells. For example, he found that in generating myocytes from hES and iPS cells, different cell lines require different concentrations of activin and BMP4. This is exactly like embryonic development, he pointed out, where cells are not receiving a constant signal from these agonists, but fluctuating concentrations during development determine which progenitor develops into which cell type.
In a thought-provoking talk, Robert Blelloch described how two opposing families of miRNAs, Let7 and ESSC, could appropriately stabilize the switch between self-renewal and differentiation of stem cells. He also presented work from his lab that demonstrated that deficiencies in miRNA biogenesis do not affect mouse oocyte progression and blastocyst development, suggesting that global suppression of miRNA function may occur during this period of early embryo development.
Other talks illustrated how stem cells can be used to understand organ development. Hans Clevers and Brigid Hogan both showed that starting with just one cell, it's possible to generate "organoids" in culture. Clevers' "mini guts", formed from a single LGR5+ cell, contain all cell types of the intestinal epithelium, and Hogan's "tracheospheres", generated from a single tracheal basal cell, start showing the characteristics of distinct basal and luminal cells as early as the 16-cell stage.
David Bilder presented exciting work from his group demonstrating that, in addition to their role during intestinal regeneration, stem cells play a crucial role during nutrient-induced growth of the Drosophila midgut. His group observed that feeding induced increases in both symmetric and asymmetric divisions of stems cells to produce increased pools of both stem cells and differentiated cells, respectively. This change was linked to the production of Dilp3, a Drosophila insulin-like peptide, by adjacent muscle cells, highlighting the critical role of the stem cell niche in regulating the activity of stem cells.
The emerging importance of the stem cell niche was a common theme running throughout the meeting. Erika Matunis described how her group has been studying the influence of epigenetic changes in the Drosophila testis stem cell niche. They have very recently identified NURF (nucleosome remodeling factor) as a positive regulator of the JAK-STAT signaling pathway, which is known to maintain germline stem cells and prevent premature differentiation. These studies highlight that cooperation between epigenetic and genetic mechanisms are important for regulating the stem cell niche.
Stem cell research can also serve to study developmental defects at the molecular level. Kehkooi Kee isolated primordial germ cells from hESC cultures and, using these cells, identified the mechanism by which polycyclic aromatic hydrocarbons (PAHs), an environmental pollutant, affect the germ cell population. PAHs have long been associated with developmental defects, but only through epidemiological studies. Kee was able to pinpoint this developmental defect to the aromatic hydrocarbon receptor pathway, which induced apoptosis in germ cells in response to PAHs.
Elly Tanaka showed remarkable data using the salamander as a model system for studying spinal cord regeneration. They have been inducing injury in the tails of these animals and then watching how various signals can induce resident neural cells to rebuild a fully functional spinal cord. They found that injury induced a very localized reversion of neural cells to a progenitor state. These cells were then able to self-organise and re-start the process of neural tube development.
Closing the meeting, ISSCR president Irving Weissman had some thoughts to share with all the stem cell researchers that were present. He called for more collegiality in peer review. "When you think about that review you're going to do, look at the big picture", he advised, and he reminded that obstructing someone else's career with a scathing review of their manuscript does nothing to advance the field.
I also interviewed Weissman earlier at the conference, about the role of the ISSCR, so you can look forward to that if you want to hear more from him.