Lab website: The Blood Engineering Lab (riosugimura.com)
Where is the lab?
Hong Kong
Research summary
Rio: We work at the intersection of bioengineering, immunology, and stem cell technology to invent new tools for understanding and treating cancers. The mission of The Blood Engineering Lab (BEL) is to define fundamental principles of anti-cancer immune cells and apply these insights toward improving chimeric antigen receptor (CAR) technology and checkpoint immunotherapy. We apply cutting-edge approaches including single-cell RNA sequencing, molecular barcoding, organoids, and stem cell differentiation. The goal is to invent new tools for understanding and treating cancers.
Can you give us a lab roll call?
Yiming: PhD Candidate. Computational biologist in training at Cambridge University. She is a wizard of single-cell and spatial data analysis.
Sanxing: PhD Candidate. Tissue culture veteran. Cannot think of any cell type he cannot culture. Becoming a synthetic immunologist.
David: PhD Candidate. Chromium, Visium, Multiomics… He became a guru of 10X Genomics techniques. Organs-on-chips and myeloid checkpoint.
Shihui: PhD Candidate. Another computational wizard of BEL. Machine-learning to predict cell fate.
Sophronia: Master student leading an international team within a lab. CAR-macrophages from human pluripotent stem cells.
Alex: Master student. Studying myeloid checkpoint in assembloids.
Daniel: Visiting postdoc. Expert in AAV and gene editing.
Theo: Visiting medical student from Heidelberg, Germany. Making Super-CAR.
Patrick: Visiting PhD Candidate from Pavia, Italy. Expert in antibody engineering.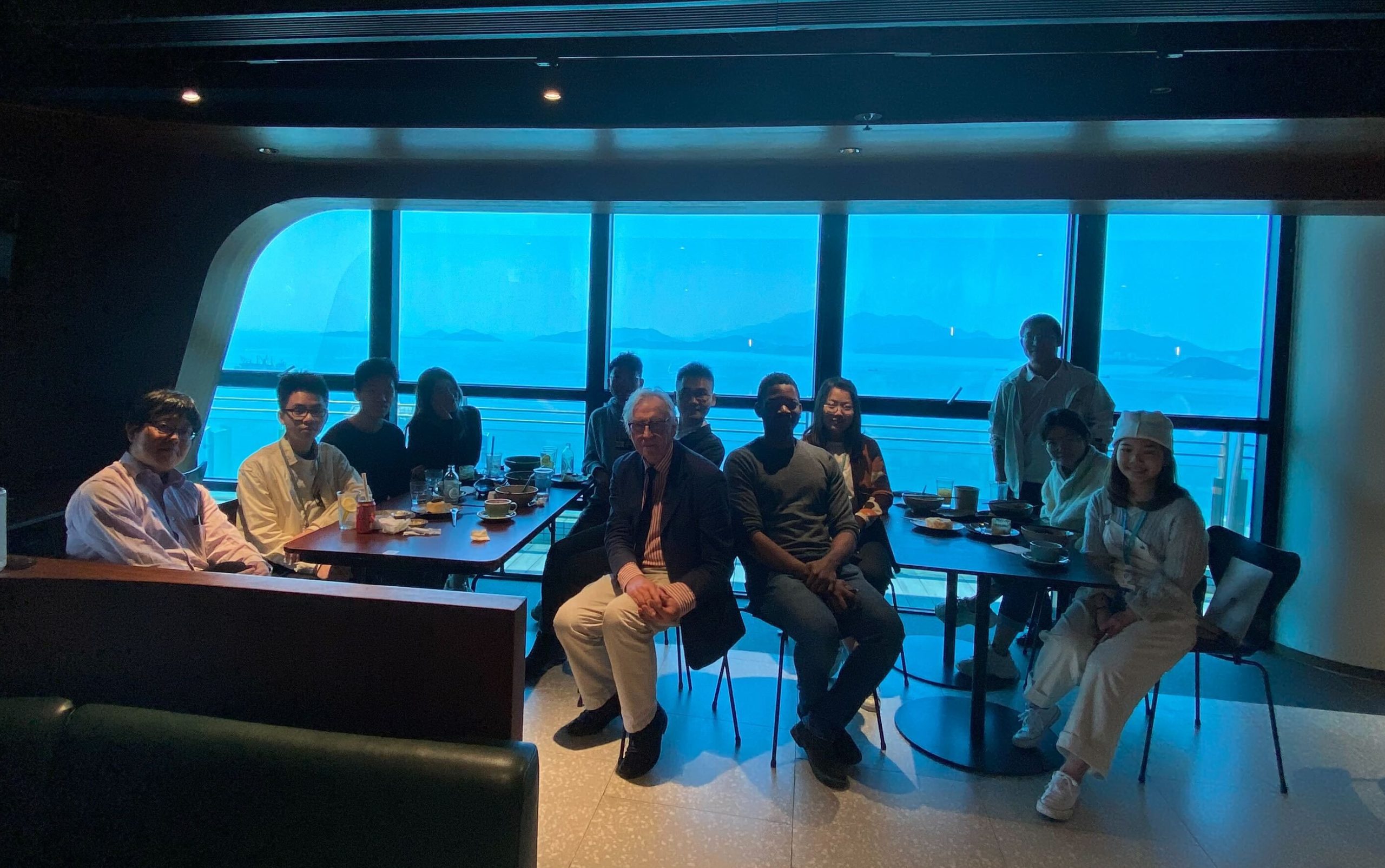 Favourite technique, and why?
Rio: I grew up with flow cytometry. Still watching FACS plots is the most FAVE time of mine. Used to finish my postdoc day enjoying drinks at my go-to bar with catch-of-the-day FACS plots (I had to stop this nerd habit after having babies…). Now I am shifting my addiction to single-cell data.
Apart from your own research, what are you most excited about in developmental and stem cell biology?
Rio: Engineering stem cell biology. Reconstruction and the endowment of new function.
How do you approach managing your group and all the different tasks required in your job?
Rio: I have two labs. It is an extra challenge as well as joy. I put most of my effort into two labs communicating smoothly. I shuttle myself between two labs. Very busy, but sitting down with students and discussing data is a rewarding part of my job. Zoom and Slack are great. I cannot imagine how I would operate my labs without these. Besides labs, I always spot myself in a grant-writing seat, namely Starbucks, Pacific Coffee, and Coffee Academics.
What is the best thing about where you work?
Yiming: The lab is always encouraging knowledge exchange and collaboration inside and outside Hong Kong. Everyone has lots of chances to talk to other people and get feedback on the projects. These are very important for junior students to learn how to do research.
Sanxing: I think our lab combines many different directions and is a big fan of collaboration, which inspires me a lot.
David: I am very lucky to be in Dr. Rio's lab due to my strong connection with various experts in different labs. I enjoy the FACS machine, BioRad PCR & qPCR machine as well as the services provided by the HKU-Med leaders, and technicians.
Alex: At HKU, the supportive culture encourages shared insights and vibrant discussions about grand theories and passions. Being part of this large institution promotes intellectual cross-pollination with other labs, and the plethora of free seminars and lectures further bolsters our academic growth.
Sophronia: I like the collaborative culture the most in our lab. We don't solve problems alone, we solve problems together. We also engage with people from different labs with different expertise, and that's how we come up with new ideas.
Theo: Working at Hong Kong University's BEL research laboratory is an amazing experience. The lab is a great environment for research, and Rio is one of the best PIs I've worked – academically, and also personally. The research topic is fascinating, and our collaborative projects are exciting. However, the best thing about working at the BEL is the outstanding atmosphere with my co-workers. Everyone is friendly and supportive, making it a great place to work. The lab's culture of collaboration and teamwork is what makes it stand out from other research labs. It's inspiring to see how everyone works together to achieve common goals and how everyone is willing to help each other out. Additionally, the lab's location in Hong Kong is a great advantage, as it provides access to a diverse range of resources and opportunities for research and collaboration. Overall, working at the BEL has been an incredible experience, and I feel fortunate to be part of such a dynamic and supportive research team.
Patrick: 1) The lab's dedication to groundbreaking science. This is amazing from the point of view of the challenges inherent to translational stem cell biology and it's relevance to cancer therapies 2) Regular meetings. The weekly science meetings to my opinion is an important moment to discuss and share ideas, points of view and strategies about different experiments. This enforces the conception and science methodologies to different experimental protocols, and allows for a solid foundation of the lab's self-approach in tackling problems 3) The extensive network of collaborations, international seminars, meetings and conferences, to which lab members regularly take part.
What's there to do outside of the lab?
Yiming: Endless mountain and sea!
Sanxing: Hong Kong is a wonderful city. There are lots of hiking mountains such as Dragon's Back, Sunset Peak, and Victoria Peak surrounded by beautiful seas and relaxing landscapes. We usually go hiking or swimming to have fun at the weekend
David: I enjoy the hall life, for example, joining Spartan Running, High Table Dinner, and K11 MUSEA with tutors/masters. Now, I, together with an engineering friend, lead the hiking club in the Jockey Club Student Village III. As a captain of the club, I can not only experience a lot of nice sea views but also meet new friends here.
Sophronia: Hong Kong is a food paradise, so tasting food would definitely be one of the best thing to do. The night life in Hong Kong is also really nice where you can hang out with friends, go grab a drink, meet new friends and socialize.
Alex: Outside the lab, Hong Kong presents an abundance of activities. Prime among these is hiking, with the city's varied landscapes offering everything from rugged peaks to tranquil beaches. Additionally, the Faculty of Medicine houses a nearby swimming pool, a regular haunt of mine. Both provide excellent avenues for unwinding after intense lab sessions.
Theo: Living in Hong Kong is an experience like no other. The city is a perfect blend of chaos and color, making it a fantastic place to live. First, the city is surrounded by nature, with many outlying islands, country parks, and hiking trails. So, there's always something new to explore. Second, the food here is amazing, with everything from dim sum to noodle shops to oven-baked pizza. Third and last, the skyline and the city vibe are breathtaking. The view from The Peak is one of the most iconic in the world, and from festivals to cultural landmarks, there's always something to see and do. Overall, whether you're a nature lover, a foodie, or a culture enthusiast, there's always something new to discover in this vibrant city.
Patrick: Hong Kong is an amazing City, with beautiful landscapes, and many places to visit. There are always many places to visit, good food to discover and sports to practice around
Rio: gosh, I should do hiking…