Lab website: Gerri Lab
Where is the lab?
The lab is in the Max Planck Institute for Molecular Cell Biology and Genetics (MPI-CBG) in the lovely Dresden (Germany).
Research summary
Mammals evolved divergent architectures of placenta to receive nourishment from the mother during embryogenesis. In our lab, we seek to understand how the uterine microenvironment shapes the fetal-placental interface of various animals, by using early embryos and placental organoids. Our ultimate goal is to investigate how complex and diverse structures emerge to achieve similar function.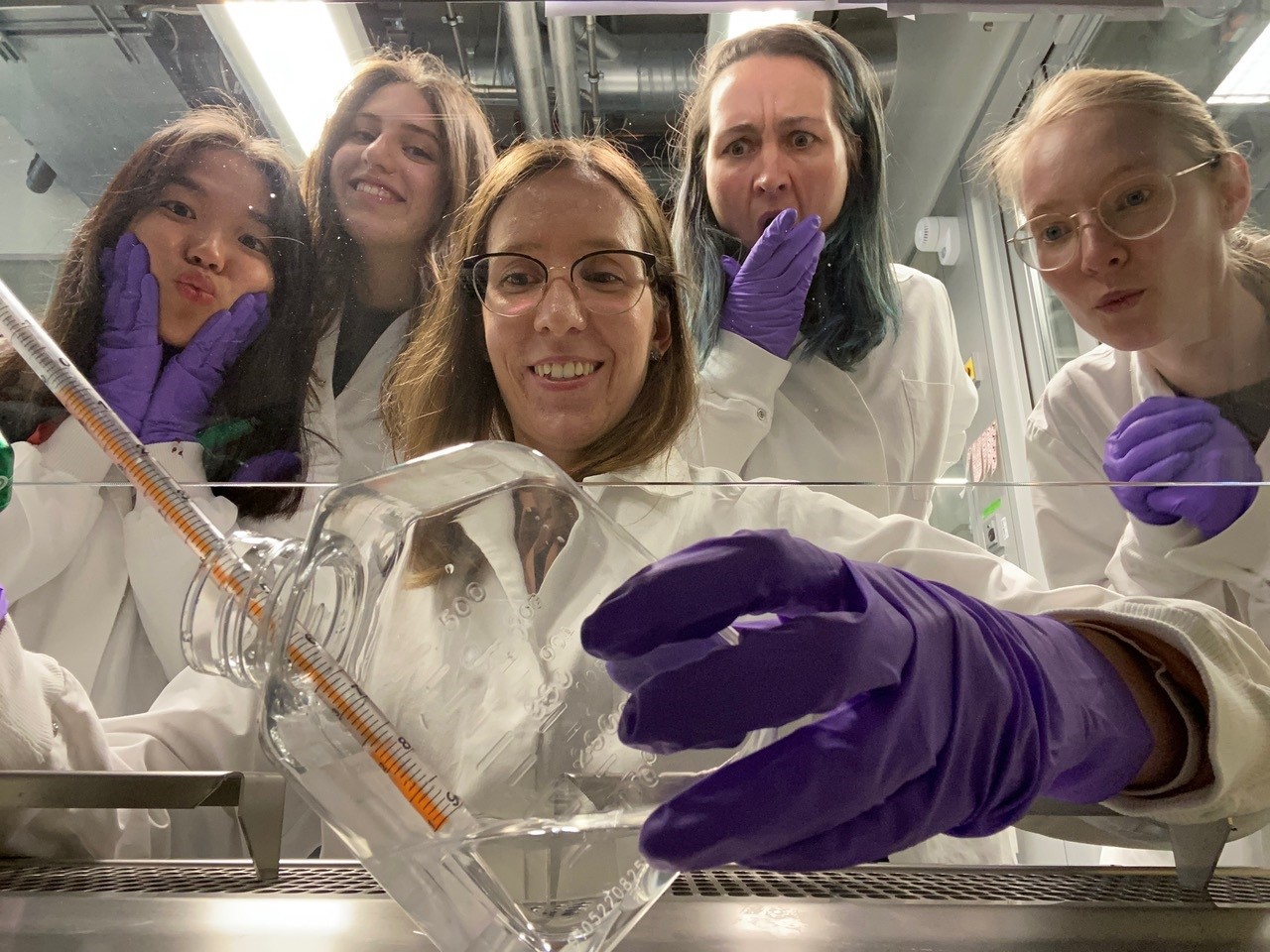 Lab roll call
Michi: lab technician. I like to help in any situations and projects. Also, I like to work on my own little project, which is focused on discovering similarities and differences in early embryonic development of different species of mammalian pre-implantation embryos.
Johanna: PhD student. I work on the role of oxygen sensing mechanisms during early human placenta development.
Ornella: master student. I am investigating the impact of specific genetic mutation on human trophoblast stem cell differentiation and trophoblast organoid self-organization.
Weiwei: bachelor student. My project is focused on testing different live imaging approaches on 2D and 3D culturing systems.
Favourite technique, and why?
Claudia: My favourite approach in studying biology is imaging. I am fond of everything that allows us to visualize biological processes. It is in this way that we can describe new phenomena and decipher how biology works. Analysis of both live and fixed samples, for example using immunofluorescence or transgenic lines, accompanied by microscopy at different resolutions can allow us to look at biological samples at different scales, from intracellular tiny structures to multicellular complex tissues.
Apart from your own research, what are you most excited about in developmental and stem cell biology?
Claudia: Biological processes require a complex coordination of genetic, molecular and physical events in space and time. Several physical principles have helped understanding developmental processes in a more unified way. I am always impressed when reading multidisciplinary papers where experimentalists and theorists work together to identify emerging principles of the living matter.
This is why I have decided to join the MPI-CBG and the Dresden campus in general, where scientists across disciplines, biology and physics, actively work together. I hope with time to develop collaborations into this direction.
How do you approach managing your group and all the different tasks required in your job?
Claudia: We are a young lab, so I believe that at this stage it is important for me to be focused on the science and to be there for the lab members. I am still active in the lab and I try to be available to answer queries and discuss issues when the team members require to do so. In addition to institute seminars and conferences, I try to organize opportunities for the team to interact with other labs working with similar and different topics (e.g. lab retreat with Huch, Veenvliet and Toth-Petroczy Labs, but also joint lab meetings with Rodenfels Lab).
In general, to manage all the tasks required for this job, I try to plan my goals monthly, weekly and daily.
I am still learning and when in doubts I ask advice to other young group leaders and mentors.
What is the best thing about where you work?
Claudia: I have experience in other institutes, bigger and smaller than the MPI-CBG. I think the MPI-CBG is great in many aspects. MPI-CBG is an internationally renowned institute and that is why many great scientists from around the world come here to give talks. Also, the MPI-CBG is big enough to have diversity in terms of science and people, but also it has the right size to allow people to interact after seminars, or in the canteen. This really helps to create a tight community, where newcomers are welcome and can easily integrate into the institute.
We have also great excellent facilities helping us in our daily routine (e.g. organoid stem cell facility) or in developing new tools (e.g. genome engineering facility or technology development studio).
Michi: I like studying the develop of the placenta, because we discover unique aspects of developmental biology. I also really like the institute with its great facilities and the great international people working here. Also, there are small things, like the smell of coffee when you enter the building. All these reasons make me happy to come to work!
Johanna: I really like the way service is provided by all the facilities, and the sense of community. People of the lab and general from the institute are always very happy to help and support me with my projects.
Ornella: In my opinion, what makes the Gerri Lab truly exceptional is the continual support and guidance you get from everyone. We all have different backgrounds and personalities, but we have a great balance that makes the lab a fun and enjoyable place to be.
The Institute's greatest aspect is the tight-knit community, where we all come together. Thanks to the international and interdisciplinary environment, there are abundant opportunities for personal growth and learning. Being exposed to internationally renowned researchers adds immense value to my experience. Plus, I particularly enjoy the social events, where we can relax and have a good time.
Weiwei: I really like the lab environment, everyone is very helpful, caring and patient. There are seminars to follow and many other activities, also a weekly get-together.
What's there to do outside of the lab?
Claudia: Dresden is a great city to live in! I find that there are things for every taste. There is Altstadt, where you can go to visit museums and learn more about history. There are residential areas with amazing parks, where is great to spend time with the family. There is Neustadt, which is the vibrant and young part of the city. There is also amazing nature nearby.
Michi: I think Dresden is a great city with many things to do. Most of the city rivers are folded in concrete but we have the Elbe-meadows where you can bike, run, walk, having a picnic or even skiing in winter. In summer there is an outside theatre next to the river with an amazing view on Dresdens historical Altstadt. I love going on hikes in the unique Sächsische Schweiz.
Also, Dresden is the best place to raise a kid! There are so many playgrounds, museums, sportive or cultural offers.
Johanna: Dresden is great for walks through parks, the forest and also the historic center. There are also several people of the institute that organise free time activities such as volleyball, soccer or improv theatre.
Ornella: Dresden has it all! You can go on awesome hikes or bike rides surrounded by beautiful nature. In the lively Neustadt neighborhood, you can hang out, grab a drink or beer, and have a great time with friends. If you're into techno music, Dresden is the place to be!