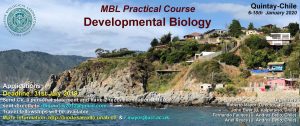 This new version of the Quintay2020 course is organized with the collaboration of the Marine Biology Laboratory (MBL, Woods Hole, USA). We invite students to submit their application before the deadline (31st July 2019). At the end of the Quintay2020 course, the two best students will receive a prize, which consists in a place to attend the MBL Embryology course (Woods Hole, USA) during 2020 or 2021 and a full fellowship to attend the MBL course.
Quintay2020 is a practical and lecture course by the best Developmental Biologist such as Nipam Patel (MBL, U Chicago, USA), David McClay (Duke University, USA), Alejandro Sanchez-Alvarado (HHMI, Stower Institute for Medical Research, USA), Claudio Stern (University College London, UK), Andrea Streit (King's College London, UK), Angela Nieto (Instituto de Neurociencia, Alicante, Spain), Sally Moody (George Washington University, USA), Cecilia Moens (Fred Hutchinson Cancer Research Center, USA), Alfonso Martinez-Arias (University of Cambridge, UK), John Ewer (U. Valparaiso, Chile) and Roberto Mayor (University College London, UK).
The course is intended for Latin American and no-Latin American applicants, as we believe that the interaction between the students will establish links and promote a culture of international collaboration that will further contribute to the field. Fellowships will be available
The course will take place in the summer of the south hemisphere (6th to 18th January 2020), in the beautiful fishing village of Quintay, at the Centre for Marine Biological Research (CIMARQ, in Spanish).
More information about the course in:
We look forward to see you in Quintay2020
Roberto Mayor