I always travel with my suitcase packed with genes. Airports, planes and trains offer me the only instances where I find two hours solid of work, and they (genes) are then my best companions. However, in my discipline – developmental biology – it seems lately that, by simply analysing more genes, we are not getting closer to understanding how the information in the genome flows within cells as these multiply and form wonderfully complex organs and organisms. That is why this time I arrived in Cumberland Lodge with little luggage, but with plenty of room in the suitcase to be filled.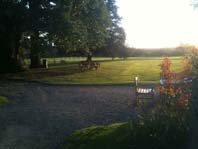 The workshop "Stochasticity in cell and developmental processes", sponsored by The Company of Biologists, and organized and chaired by James Briscoe (NIMR, London) and Alfonso Martínez-Arias (University of Cambridge), revolved around an unsettling question: if the molecular mechanisms that underlie the function of cells (and thereby life) are intrinsically disordered and noisy, how then does development proceed in such a predictable and robust manner -i.e. it looks totally deterministic? The intense scientific sessions distilled two main messages to be taken home. First, at a cellular level, heterogeneity rules. Sometimes cells and organisms coach this heterogeneity through interactions to reduce noise and to generate coordinated patterns of activity or gene expression, for example, oscillatory behaviors. Some other times, though, it seems that this heterogeneity is actually used by the system, and therefore is built-in within the cells – either individually or collectively.
Second, we need to quantify. Not that cell and developmental biology have been totally disconnected from maths, but qualitative descriptions, often open for interpretation, have abounded. Numbers will take us from classical cellular and developmental biology to a frontier located at the intercept between biology and physics – a frontier that will rapidly blur. The intelligent combination of quantification, modeling and experimentation (the latter more powerful than ever) is already demystifying some of the biology concerning stem cell biology and organ growth. The science and the discussions that followed at this workshop gave the strong feeling that this new frontier in cell and developmental biology is within reach.
The organizers brought together a very interesting sampler of scientists along a (morphogenetic?) gradient of expertise – from the mostly experimental to the mostly theoretical – all of whom were already engaged in research at this frontier or, at least, thinking to move into it. A great mix.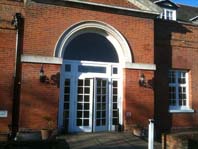 In addition, the cocktail shaker could not have been better chosen. Cumberland Lodge is an elegant, old manor house surrounded by meadows, tall oak and chestnut tress and randomly passing pheasants, and it's located in the middle of the Great Park of Windsor. Meals and coffee/tea breaks were held in wonderful rooms, with comfy couches, and decorated with old portraits, black and white photographs, and modern paintings. Just perfect for informal and productive chats. Dinner, and after dinner drinks, were especially productive (and who has ever doubted the exquisiteness of the English cuisine?!). The organizational support prior to and during the meeting, provided by Nicky Le Blond (The Company of Biologists), ensured that the meeting ran smoothly.
Now back to the lab. Genes, numbers, cells, functions, all wandering stochastically in my head. What a pleasure.