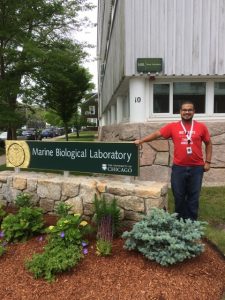 Evan Brooks is a rising senior at North Carolina State University. For the past two years, he has worked in the lab of Nanette Nascone-Yoder studying the developmental mechanisms of cardiac left-right asymmetry using Xenopus as his model system. Evan was awarded a Choose Development! Fellowship from the Society of Developmental Biology to conduct two summers of mentored research in developmental biology. He was selected to spend one week with us at the Embryology Course this year. I had the pleasure of working next to Evan for the zebrafish and Xenopus module. I thought I would take this opportunity to check in with Evan and ask him a few questions!
Were you told any stories of Woods Hole or did you know anything about the course before you arrived?
Before getting my invitation to join the course, I had only heard of Woods Hole and the Embryology course in passing in the lab. I had never heard of anyone's stories or experiences with Woods Hole or the Embryology course.
When I got my invitation in May from SDB to join the course for a week, Nanette talked to me about her experience in the course when she was a graduate student. She not only told me how much she enjoyed the course, but also how it allowed her to think more about the evolutionary similarity between model organisms. She also told me how much fun she had in Woods Hole when she wasn't in the lab, whether it was looking at bioluminescence in Eel Pond or staying up late with her classmates at Captain Kidd. With the knowledge about her experience and its impact on her, I was super excited to join the course for a week.
Did your time in the Embryology course match what you had anticipated?
I will say that I was expecting to be immersed in science while I was there. I looked at the schedule before arriving and was excited to see so many prominent developmental biologists, like Richard Harland and Ray Keller, participating in the course in some way. I was totally expecting to be thinking about possible new experiments all the time.
However, I was not expecting to dive headfirst into the course on my first day in the lab and stay up super late conducting experiments. I was up past 1am every night and woke up every morning around 7am to get back into the lab and check my experiments. On the day I left Woods Hole to return home, I got up at 5am to finish an in situ hybridization before catching a 7:20am bus ride to Boston Logan airport. I was committed to performing so many experiments and seeing them all pan out during my one week and I do not regret it.
What was the most memorable part of your week?
I'd probably say the camaraderie within the program and how integrated I felt in the course is what I will remember most from my week. Everyone was so welcoming and I was frequently included in microscope demos down in the basement of Loeb Laboratory, on coffee runs before lectures, and during meals in Swope Hall. Also, people would encourage me to stay up into the wee hours of the morning with them to try a new experiment. Everyone that I talked to was interested in my research at NC State and what I was doing in the lab during the course. As the week progressed, I was told by more and more people to talk to the course directors, Rich Schneider and Dave Sherwood, to see if there was any way to extend my stay. I really wish that I could've extended my stay as I was just getting comfortable with working in the lab and getting to know everyone when it was time for me to leave. I'm still connected to everyone in the course through WhatsApp and I know that I've made at least twenty-four new friends.
What did your learn during the week?
Scientifically, I learned so many new things in the course. I learned so much about the current research going on in Xenopus and zebrafish labs around the world, like work on liver regeneration and development in Elke Ober's lab and the roles of planar cell polarity in development in John Wallingford's lab. The one lecture that I was most intrigued by was Andrew Gillis' lecture about gill arch development in skates and its comparative development to limb buds. The ideas, techniques, and approaches presented in the lectures that week showed me how broad the field of developmental biology really is.
From the course, I've also learned to take more risks not only in the lab, but in life in general. Taking a week off from my research at NC State to come to Woods Hole was somewhat of a risk as I had to get more data and prepare for my presentation at the SDB Annual Meeting a few weeks after my return. The risk ended up being well worth it in the end as I learned a lot more about myself and developmental biology in that one week.
How did this course change how you approach your current research at NCSU? Did it impact your future plans?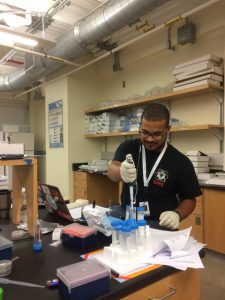 In terms of working with my hands in the lab, I can say that I have a greater confidence with microinjecting Xenopus embryos. Before the course, all of my embryos would die after microinjections. I can't really say what caused my embryos to die, but I moved away from microinjection experiments for a bit in the lab. During my week in the course, John Young, one of the Xenopus TAs, showed me how he calibrated his needles and  microinjected his embryos. After employing his method, I had quite a few successful morpholino microinjection experiments that I used as the basis for my show-n-tell at the end of the week. I even had the chance to microinject zebrafish embryos and those survived injections too! With my new confidence in microinjecting, I'm looking to incorporate that technique back into my lab repertoire.
Additionally, one thing that I realized that I did not take advantage of during my time in the Embryology course was the cutting-edge microscopy. Before the course, I had only used light microscopes in my lab. During the show-n-tell at the end of my stay, there were so many amazing time-lapse movies and images of cells, tissues, and embryos that I was in awe! I can say that this alone has changed the next steps of my project as I've talked to Nanette about designing experiments that will allow me to use other types of microscopes available. I know that there is an expansive microscopy core at NC State, so I may ask for a guided tour in there soon. In terms of my next steps in the Nascone-Yoder lab, I'm planning on performing some antibody stains and confocal microscopy for a few proteins to understand their left-right distributions during developing heart tube stages. I hope to get some pretty images that may be used in a future publication from the Nascone-Yoder lab!
This opportunity is given yearly by SDB, is there any advice you would give to next year's Choose Development! Fellow who will come to the Embryology Course?
Do not be afraid to jump right in by planning experiments and making friends! The course directors, the instructors and TAs, and fellow course participants are all there to help and get you acclimated to the course and Woods Hole. I remember staying up until 2am with Ray Keller one night because I wanted to learn how to create a two-headed Xenopus embryo. Even though I failed miserably (probably due to exhaustion), he was super patient with me and made sure that I gave it my best effort.
Do you have anything else you would like to include?
I thought I was super excited about embryology and developmental biology before the course. My level of excitement for the discipline has grown so much to where I feel that putting my excitement into words will not accurately describe it. I'm glad that I had the opportunity to experience one week of the course. I am totally looking forward getting into a Ph.D. program and reaching candidacy so that I can be eligible to return to Woods Hole to experience the full six-week course!
Lastly, I honestly cannot thank SDB, Dave Sherwood, and Rich Schneider enough for allowing me to experience one week of the Embryology course this year and for past course directors, Richard Behringer and Alejandro Sánchez Alvarado, for spearheading the idea of inviting Choose Development! Fellows to the course for a week. Past Fellows that I've met that have participated in the course absolutely love the experience and I am glad we can partake in this course. The course has helped me affirm my desire to pursue a career in developmental biology!
To check out all the cool things we did during the course follow us on Twitter #embryo2017 or instagram #embryology2017