This post was originally posted on the DMDD blog.
---
New embryonic-lethal knockout mouse lines are now available on the DMDD database.
If you haven't previously taken a look at our data (or even if you have) now would be a good time to explore our website.  We've added new embryo phenotype data and HREM images for many knockout lines, taking our total dataset to more than 4 million images of 550 embryos. We also have placental histology images and phenotypes available for over 100 mutant lines.
This post explores some of the phenotypes observed in the new data, and highlights new lines that could be relevant for clinicians researching rare diseases and developmental disorders. But there isn't enough space here to include every interesting feature of the data – the best thing to do is to explore it yourself.
---
EMBRYO PHENOTYPES
Our phenotypers at the Medical University of Vienna have observed many interesting phenotypes in the new data.
Embryos from the line Adamts3 display both subcutaneous edema and bifid ureter. A bifid ureter is the most common malformation of the urinary system, [1] in which there is a duplex kidney drain into separate ureters. This observation highlights the incredible resolution of HREM images, which allow detailed phenotypes to be scored for each embryo.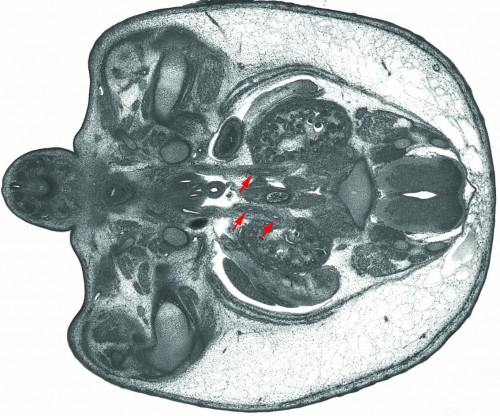 Embryos from the line H13 suffered from severe abnormalities in heart morphology, and had an abnormal heart position within the body. The stomach situs was also inverted, as shown in the image below. Note that severely malformed embryos often have different tissue characteristics, which can result in reduced image clarity.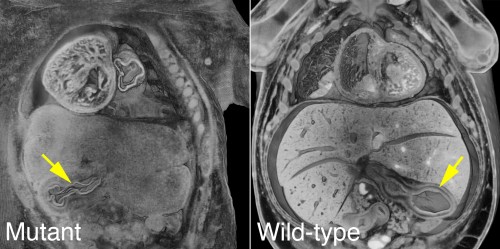 Embryos from the line Brd2 exhibited a profound ventricular septal defect, as shown in the video below.
---
PLACENTAL PHENOTYPES
Our placental image and phenotype dataset is growing rapidly and now contains more than 100 lines.
H13 knockout placentas were smaller than their wild-type counterparts and showed reduced vascularisation in the placental labyrinth, the region of the placenta that allows nutrient and gas exchange between the mother and the developing embryo.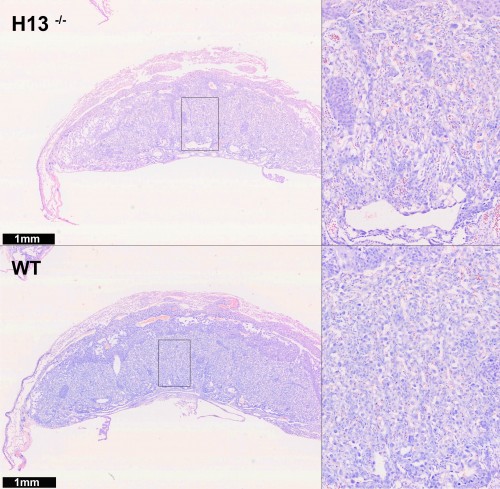 Vascularisation of the labyrinth is crucial to allow the embryo to receive the oxygen and nutrients needed for normal development. This is just one example, but many more placental phenotypes are available on our website.
---
LINKS TO CLINICAL STUDIES
Systematic knockout mouse screens can offer a wealth of information about the genetic basis of rare diseases. Many DMDD lines have human orthologues known to be associated with developmental disorders, and the nature of our study means that it would not be possible to derive equivalent systematic data from human patients.
New knockout lines of potential clinical interest include:
Brd2: the human orthologue of this gene is associated with epilepsy, generalised, with febrile seizures plus, type 5.
Cog6: in humans, COG6 is linked to Shaheen Syndrome and congenital disorder of glycosylation, type IiI.
Npat: the human orthologue is associated with Ataxia-telangiectasia, a rare inherited disorder affecting the nervous and immune systems.
Nsun2: in humans, NSUN2 is linked to mental retardation, autosomal recessive 5 and Dubowitz syndrome.
---
A FULL LIST OF NEW DATA
Embryo phenotype data added for: Adamts3, Brd2, Cog6, Cpt2, Dhx35, H13, Mir96, Npat, Nsun2, Pdzk1.
HREM embryo images added for: Atg16l1, Capza2, Cog6, Coro1c, Cyfip2, Dhx35, Gm5544, Nadk2, Nrbp1, Rab21, Rpgrip1l, Syt1.
Placenta image and phenotype data added for: 1110037F02Rik, Actn4, Atg16l1, Camsap3, Capza2, Cfap53, Coro1c, Crim1, Crls1, Cyfip2, Dmxl2, Gm5544, Gtpbp3, H13, Nsun2, Rab21, Rala, Rpgrip1l, Syt1, Trim45.
---
REFERENCES
[1] Obstructed bifid ureteric system causing unilateral hydronephrosis, A. Bhamani1 and M. Srivastava2, Rev Urol. 2013, 15(3) p.131–134, PMC3821993.
1 Department of General Medicine, The Ipswich Hospital, Ipswich, UK.
2 Department of Radiology, Barking, Havering and Redbridge NHS Trust, Romford, Essex, UK.