On April 3-4, 2017 scientists from around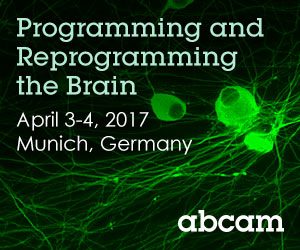 Europe will be converging on Munich, Germany for the next meeting in the Abcam Brain meeting series – Programming and Reprogramming the Brain. Organizers, Benedikt Berninger (Johannes Gutenberg University Mainz) and Paola Arlotta (Harvard University) have put together a fantastic line up of speakers (see preliminary program).
This two-day meeting will provide a forum for presentations and discussions on the emerging field of brain development, reprogramming and modeling with a focus on new genome wide tools to understand biological processes with single-cell resolution.
Call for abstracts
Talk and poster places are available, so don't wait, submit your abstract today!
Talk deadline: December 15, 2016
Poster deadline: February 6, 2017
We hope to see you in beautiful Munich next year!

Meeting topics
Modeling human brain development from pluripotent stem cells
Programming and maintenance of cell identity in the CNS
Development-inspired reprogramming of the brain
Decoding CNS complexity with single-cell resolution