It's the end of the month, which means it's time to download next month's desktop calendar. Put it on your own computer and/or on the computers in your lab. There, now you're all ready for October!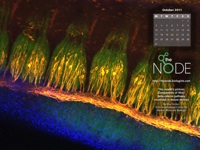 Mouse embryo showing Wnt1/Cre-YFP transgene (yellow), 2H3 antibody (red), and DAPI (blue). This image, taken by Elsa Denker of the Sars International Centre for Marine Molecular Biology, was one of the candidates in the fourth Development cover image voting round of images taken at the 2010 Woods Hole Embryology course.
Visit the calendar page to select the resolution you need for your screen. The page will be updated at the end of each month with a new image, and all images are chosen from either the intersection image contest or from the images we've featured from the Woods Hole Embryology 2010 course.