In 1997, sisters Helen and Kate Storey collaborated on a project spanning their respective areas of expertise: fashion design and developmental biology.
The result was a highly acclaimed collection of dresses, designed by Helen Storey, that each represent a stage in early development. Recently, the Wellcome Trust renewed funding for the work, and Primitive Streak is once again on display. With the new tour, which started in Sheffield (UK) earlier this week, comes a brand new website as well.
Kate Storey, the scientist of the two sisters (and not unfamiliar to Node readers), has been involved with putting each dress in scientific context. The website features videos and images of the developmental processes corresponding to the pieces, so that you can compare exactly how much the Neurulation Dress really looks like a neural plate folding into the neural tube – somites included!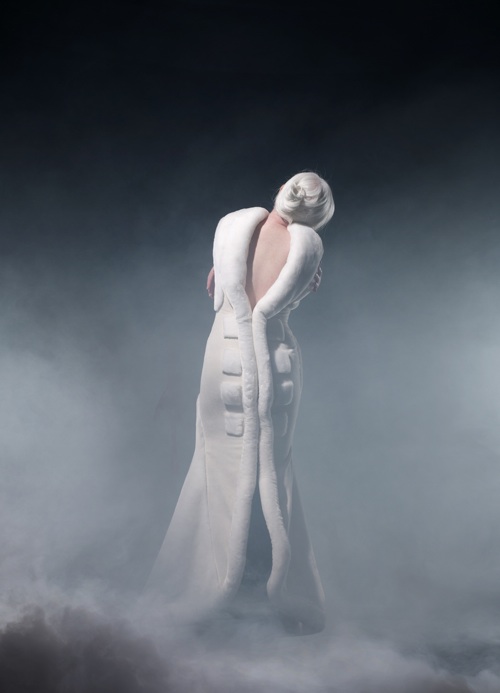 Photography © John Ross. Model: Connie Chiu. Image used with permission
For each step in the developmental process (and hence, each design) the site also provides a list of labs that are working on that particular stage of development, and an explanation of what happens when development goes wrong: The page for the Limb Formation Dress, for example, has a section on thalidomide, and links to the labs of Cheryll Tickle, Cliff Tabin, and Neil Vargison.
By putting each work in chronological order (starting with the 1000 Sperm Coat) and giving detailed information, the scientific section of the website provides a new perspective on the dresses for people unfamiliar with developmental biology. At the same time, it's an introduction to fashion for an audience interested in biology: there is an obvious rationale behind the designs, and the scientific explanation and images really bring that home.
If you're curious about the collaboration between Kate and Helen, the website's introduction links to the diary they kept in 1997. Here are a few snippets:
"We talked and drew developing embryos for three hours. I tried to describe why these events were important. It was exhausting. Too much to take in for Helen. Hard for me to translate everything into layman's terms." – Kate's diary April 28, 1997
"Kate came down to look at the collection's progress. She seemed interested in my work environment, and in a joint interview made her first-ever verbal observation of my little world. She seemed pleasantly surprised at the similarities between how a lab is run and a workroom." – Helen's diary, August 12, 1997
Most of the pieces in Primitive Streak were designed when the project first launched in 1997, but thanks to an additional batch of funding received this year, a brand new Lung Formation Dress has joined the set. This dress represents various stages of lung development, from embryonic day 26 to fully-formed adult lungs. All dresses are currently on display in Sheffield's Winter Garden, but if you're not able to make it there, the website is a very good alternative.