This is a retelling of the student and post-doc workshop from the second day of the BSDB/BSCB joint spring meeting that took place in Canterbury at the University of Kent. The session emphasised the need for accurate science and scientific involvement in public communication. It ended up a bit longer than I'd intended, but this is something I'm really enthusiastic about and felt it needed to be shared in detail. I hope you find it helpful.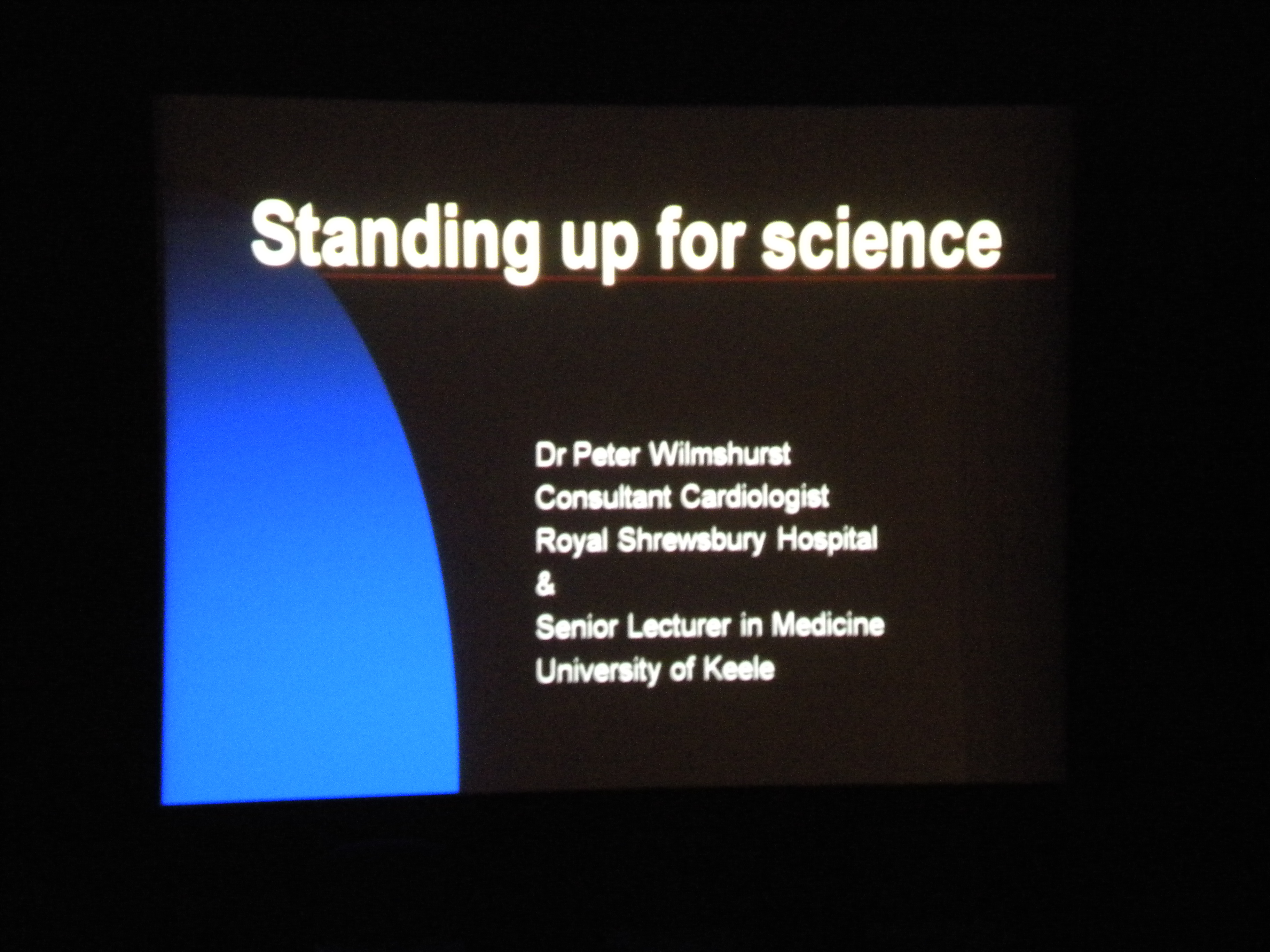 Panellists:
Dr Peter Wilmshurst – A consultant cardiologist, known for his refusal to falsify or withhold data in pharmaceutical studies. He was being sued for libel and slander by NMT medical until the company entered liquidation in April.
Rose Wu – A representative for the charity Sense about Science which works tirelessly despite limited funding to improve the public image of science, aids accurate reporting of scientific issues in the media and campaigns for further government support for research.
Dr Jenny Rohn – A UCL post-doc by day. Also known for her punditry, she runs the popular science communication website lablit.com has been interviewed numerous times for tv and radio. She has published numerous stories and editorials and two fictional novels Experimental Heart and The Honest Look, communicating science through the engaging and emotional personal lives of scientists. She was also central to the campaign to save UK science funding.
Stand up for what you believe
Dr Wilmshurst opened the session by recounting the events of his life that have caused so much controversy over the last few decades. In the 80 he was working on the drug Amrinone, developed to improve heart function after damage. The original scientific tests appeared to show no benefits from the drug and severe side effects, which the manufacturers were not happy about. The drug was made publically available by was withdrawn after two years on the market after an average of 1.2 life threatening side effects per patient were reported. However the manufacturers were not punished due to their importance to the economy of several western powers. The drug remains available throughout Africa and Asia.
In the 90s, Wilmshurst presented several times and published a paper in the british medical journal on corruption within the medical profession in the system of drug development. He noted that several key researchers in recent high profile trials have had financial investments in the controlling company, and thus have a conflict of interests associated research. With several prominent figures allowed to repeat offend, despite previous investigation by the general medical council. Dr Wilmshursts name has even been included on several publications associated with trials he refused to be involved with on grounds of corruption.
In particular, his initial involvement with the MIST migraine treatment trials is responsible for his current lawsuit after he went public with results NMT medical found unfavourable. This has now cost him over £100 000 as well as associated social and professional damages. Wilmshurst has also come to the opinion that several aspects of libel law are desperately in need of reform – particularly in the UK – to help prevent libel tourism and better account for modern technological advancements (the Internet) that have changed how people communicate.
Sense about Science
Sense about science is a charity which was set up in response to major scientific social issues surrounding the development of GM crops and cloning. They monitor the concerns and interests of the general public with respect to the high profile scientific stories of the time, and develop targeted campaigns to address the most prominent issues. The charity offers expert sources of advice and information and have produced several short publications helping people better engage with the world of scientific research. Equipping everyone who is interested with the ability to recognise good research and accurate data, without the need for an in depth knowledge of science.
Sense about Science has been very smart in targeting a lot of efforts towards young researchers, encouraging them to become more involved in communication, hoping to start a revolution from the bottom up, as it were. Their Voice of Young Science (VoYS) scheme, spreads the message that you don't need to be an established researcher with decades of independent research under your belt to make a difference and to spread important messages to the general public. They have found that often people are more willing to engage with young researchers who are less embroiled in the dark and mysterious world of scientific research. VoYS organise several science media workshops throughout the year targeted at different scientific fields, the next is in June and will focus primarily on biological issues. The project currently includes over 800 young researchers and is eager to incorporate many more worldwide.
Some of the charity's most successful ventures included a massive campaign after Christmas, showing people that the necessity of 'detox,' especially after Christmas, is a complete myth with no scientific basis. The idea is merely a marketing ploy using public fears that they are not looking after themselves properly, most often all that is needed is a plain and simple glass of water, and not 'Detox hair straighteners.' VoYS even contacted several producers of Detox products, asking for a definition of detox as a concept and what evidence they had for its occurrence, and the benefits of their products. They found the companies contacted unprepared and unwilling to answer their questions, with incoherent definitions of detox and how it works. This was compiled into a dossier and received widespread worldwide coverage.
Similarly they have worked to protect sufferers from HIV, AIDS, TB and malaria, in the developing world, from the advances of homoepathic therapies. Finding a distinct lack of world health organisation advice on the matter, they persistently contacted several high profile members of the organisation, obtaining clear quotes denouncing homeopathy which were subsequently communicated to world governments and media. This is one of the strongest proofs that young researchers can have a very strong global voice, and can make a difference. The work done my VoYS has severely restricted homeopathy in Africa and Asia allowing sufferers of severe life threatening diseases the receive the medication that they actually need.
Why we need science
Dr Rohn was keen to point out to everyone the changes that are slowly occurring in the scientific world. Most research funding now includes money specifically for the purposes of science communication and this is generally underused by the researchers. She believes that we should all be more involved in punditry journalism and that in order to receive continued government support we must work directly to improve the image of scientific research in the public eye, particularly that of biological research which has suffered a lot of bad press in recent years. Whilst popular programmes and films have helped to improve the public idea of the scientist stereotype, we are making poor use of this boost in PR.
The importance of alternative approaches to communication were also discussed. Lablit.com uses as much fiction as non-fiction work to share scientific findings in an engaging way, this is best illustrated in Dr Rohn's own novels, mentioned above.
Most recently Dr Rohn has been involved in the Science is Vital campaign which prevented David Cameron's government from making severe 40% cuts to science funding. Whilst this was a huge success, we still made a loss, with funding only frozen, falling below inflation, due to the lack of scientific involvement and public support for the campaign. The widespread public view is that only research with obvious societal application should be supported. However, many past examples show that it is impossible to predict where the next major breakthrough will occur, as you can never predict who will become a Nobel prize winner when deciding who deserves university education. Dr Rohn cited the Internet as a prime example of blue sky research which turned out to have a massive impact globally.
We also heard about the inefficient nature of the current research system. Very few PhD students will go on to be lab heads, this is an accepted fact. In a career each lab can easily produce dozens of PhD students and Post-docs, many of which will be unable to continue a research career due to lack of spaces and funding. This a lot of waster talent. Dr Rohn proposed a restructuring with more long-term and stable positions within labs supplemented by a few transient roles, progressing through the traditional scientific hierarchy. This was in addition to discussion of the need for graduates to consider alternate, productive science linked careers, including promotion of science communication and accurate science journalism.
Many researchers are unwilling to be involved in research communication due to social stigma within the community which they believe may damage their reputation, however many high profile scientists, including Colin Blakemore and Paul Nurse have been very keen to show their support for the venture. Dr Rohn also emphasised that getting involved need not be a major time commitment and even the smallest effort can make significant contributions, through providing quotes or simply signing petitions. She also discussed the importance of social media in scientific progress, and the role that it played in the Science is Vital campaign, which needed to be pulled together on extremely short notice.
For a wider perspective of goings on at the BSCB/BSDB joint spring meeting see my posts on ConferenceCast here, here, here and here.
Twitter:
Find Sense about Science @senseaboutsci, and VoYS @voiceofyoungsci
Jenny Rohn tweets @jennyrohn and blogs at Mind the Gap
Science is vital is @scienceisvital