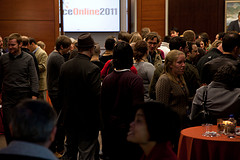 If you're interested in the role of the internet in science and science communication, you should keep an eye on Twitter from today until Saturday. Specifically, the tag #scio12, which is being used by the annual Science Online conference in North Carolina.  (Here's the link to see the newest tweets tagged #scio12, but I've also collected a few interesting ones in the Storify shown at the end of this post.)
I'm not attending this year, but I've been a few times before. The meeting is very broad, covering scientific publishing, data sharing, blogging, science journalism, science art and everything in between. The thing that sets it apart most from many scientific conferences is that many of the participants know each other very well, personally, but have never met. The meeting originated as "science blogging" conference, and brought together people who had been talking to each other online for months or years. As a result, in between serious discussions titled "Self-censorship in physician writers" or "Using altmetrics to track the online impact of your research" the schedule leaves room for social events, and participants have been planning podcasts and chocolate swaps for months. For many people, this conference is the event of the year, where they get to see old friends again. For others, it's a place to promote their latest science book, to introduce their new software for scientists, to recruit science communicators, or simply to take a step back from their research and look at science from a new angle.
The several hundred tickets for the conference sold out within minutes, so there's a good chance that, like me, you're not there. I'll do my best to follow the meeting over Twitter the next few days, and collect the most interesting things in the Storify below. Join me in following along with Science Online online!
(image of Science Online 2011 by Louis Shackleton on Flickr)