The Society for Developmental Biology Ethel Browne Harvey Postdoctoral Seminar Series is back on Friday, September 9, at 3 pm ET (9pm CEST). This seminar series was established in 2020 as a product of SDB's Strategic Plan to holistically address the needs of members spanning diverse career stages and career paths. It highlights the work of SDB postdoc members, providing a platform for those going on the job market.
The series is named after Ethel Browne Harvey, a pioneering U.S. embryologist best known for her work on cell cleavage in sea urchins. But it was in 1909, during her time as a trainee with Edmund Beecher Wilson, that Browne Harvey performed one of the key experiments of her career when she transplanted the hypostome of one hydra into another, inducing a secondary axis in the host. Ultimately, these experiments support the idea of the organizer-effect, which was first described by Hans Spemann and Hilde Mangold in 1924. Through her career, Browne Harvey received many fellowships aimed at supporting women in science and based her research programme at the Marine Biological Laboratory in Woods Hole, as well as holding teaching positions at various schools and universities including Princeton.
Natalia Bottasso Arias from Cincinnati Children's Hospital and Jeremy Sandler from the Stowers Institute for Medical Research will present in the first seminar of the season.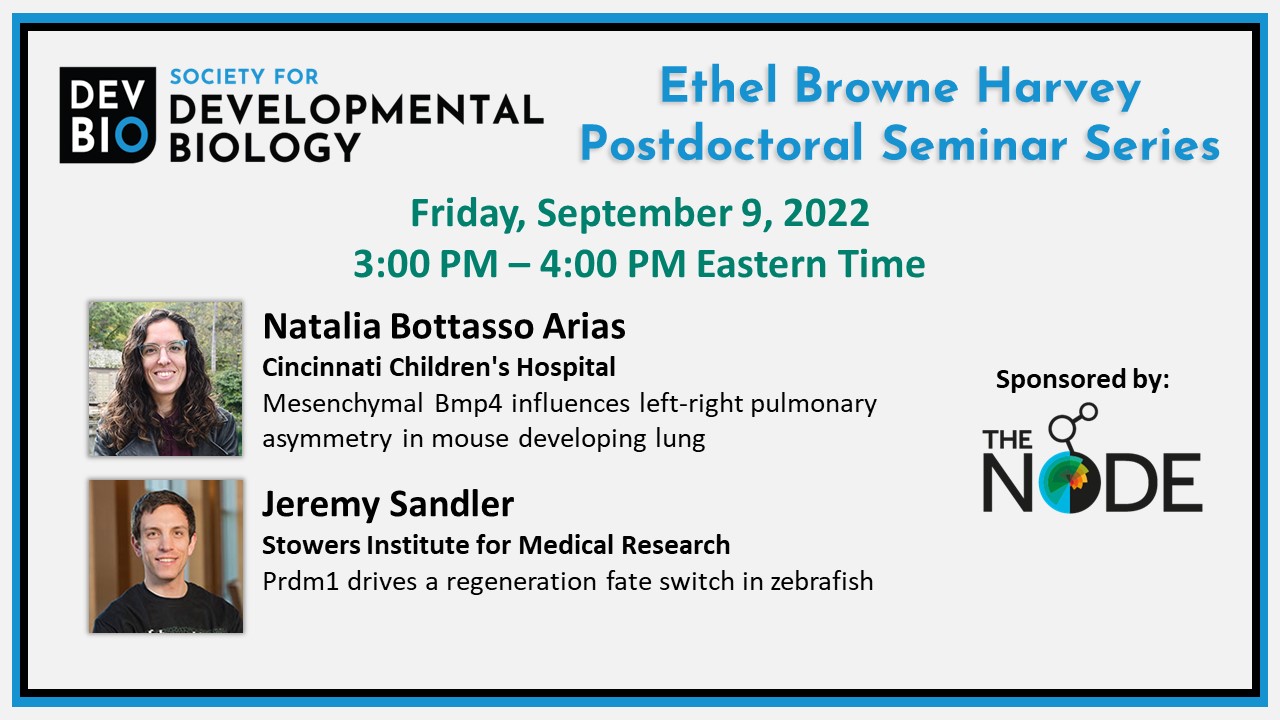 Natalia Bottasso Arias did her undergraduate studies in biochemistry at the University of La Plata in Argentina. She went on to earn her doctorate in cell biology and biophysics at the University of La Plata where she studied the role of fatty acid binding proteins in human disease under the mentorship of Dr. Betina Corsico and Dr. Fernando Chirdo. In 2019, Natalia joined Dr. Debora Sinner's lab at Cincinnati Children's Hospital Medical Center as a postdoctoral fellow. Her research focuses on understanding the molecular basis of large airway malformations and the specific roles of Wnt, Bmp and HH signaling in determining the cartilaginous and muscle lineage of the trachea. She is the recipient of the Arnold W. Strauss Fellow Award at Cincinnati Children's.
Jeremy Sandler did his undergraduate studies at the University of Washington earning a B.S. in biology with minors in microbiology and international studies. He then worked as a researcher at the Lawrence Berkeley National Laboratory where he earned the SPOT Award for his "instrumental role in establishing next-generation sequencing technologies." In 2010, Jeremy entered graduate school at the California Institute of Technology. He earned a Ph.D. in biology and biological engineering in the lab of Dr. Angela Stathopoulos where he studied genome activation and regulation of signaling in the rapidly dividing Drosophila embryo. In 2018, Jeremy joined Tatjana Piotrowski's lab at the Stowers Institute for Medical Research where he studies mechanosensory hair cell regeneration in the zebrafish. He is a recipient of the NIH Ruth L. Kirschstein National Research Service Award.
This season, the September and October Ethel Browne Harvey Postdoctoral Seminars are generously sponsored by The Node. Register for the free September 9 seminar here.