The next Society for Developmental Biology Ethel Browne Harvey Postdoctoral Seminar will be held Friday, October 14, at 3 pm ET (9 pm CEST). This seminar featuring Hae Ryong Kwon from Oklahoma Medical Research Foundation and Leslie Slota-Burtt from Duke University is generously sponsored by The Node.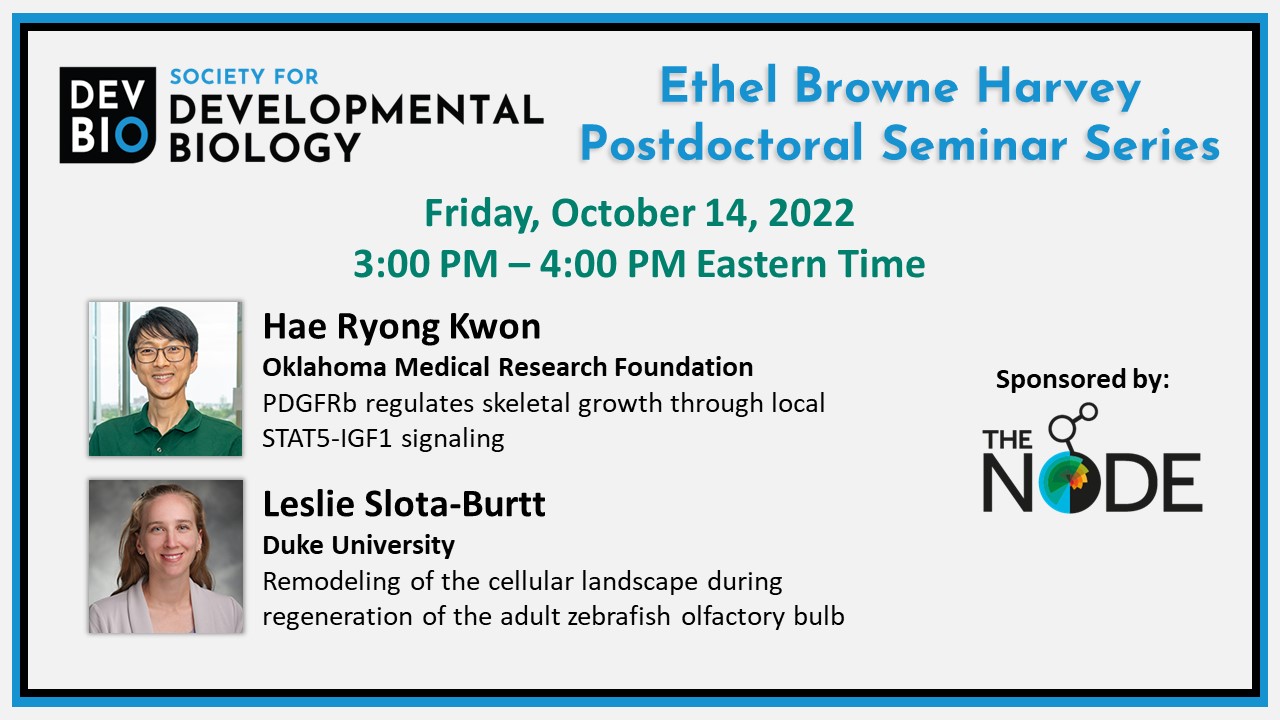 Hae Ryong Kwon did his undergraduate studies in Microbiology at Chungbuk National University in South Korea. He completed a Master's in Microbiology and Biotechnology at Chugbuk National University and a Master's in Genome Science and Technology at the University of Tennessee. Kwon went on to earn his doctorate in Molecular, Cellular, Developmental, and Neural Biology at the University of Albany, State University of New York where he studied the function of endothelial cells in early salivary gland development in Melinda Larson's lab. In 2016, Kwon joined Lorin E. Olson's lab at the Oklahoma Medical Research Foundation where he studies the roles of platelet-derived growth factor signaling in human pathogenesis driving genetic diseases such as Kosaki overgrowth syndrome, Penttinen syndrome, and infantile myofibromatosis. Kwon was the recipient of an NIH National Research Service Award (F32) from the National Heart, Blood and Lung Institute.
Leslie Slota-Burtt did her undergraduate studies in Chemistry at the University of Florida. She earned her doctorate in the Developmental and Stem Cell Biology Program at Duke University where she studied cell type specification and evolution of the developing sea urchin nervous and digestive systems in Dave McClay's lab. In 2019, Slota-Burtt joined Kenneth Poss' lab at Duke University where she studies adult brain regeneration, specifically how genes and signaling pathways are activated after brain injury in the zebrafish. Slota-Burtt is the recipient of the NIH National Research Service Award (F32) from the Eunice Kennedy Shriver National Institute of Child Health and Human Development.
Register for the free October 14 seminar here.