"…had you told me when I was 25 years old that I would be the director of a cancer center I would have been incredulous, given that I was totally into chemistry"
This is an extract from an interview that originally appeared in Disease Models and Mechanisms (available here Open Access)
Paraminder Dhillon, DMM Scientific Editor
Lewis C. Cantley, Director of the Sandra and Edward Meyer Cancer Center at Weill Cornell Medicine, is a world leader in cancer and metabolic disease research. His seminal discoveries have shed light on the regulation of ion pumps and other transport proteins, insulin-mediated regulation of glucose metabolism and the role of signal transduction networks in cell transformation.
In this interview, he documents his journey from serendipitous discovery of the pathway to determining its diverse physiological functions and role in cancer – an incredible odyssey that has laid the groundwork for clinical trials based on PI3K inhibitors.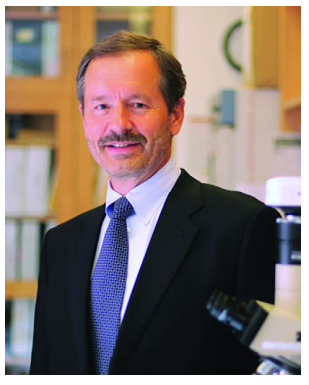 I once read that, as a child, you worked out how to build fireworks. Did you always know that you would end up as a scientist?
Firecrackers were illegal where I grew up in West Virginia. When I was around 10-11 years old, I wanted to buy some, so my dad said "why don't you make your own?" He wasn't a chemist, but he was a very smart man and he figured out from reading the encyclopedia that we needed just three ingredients. I went to the drug store, bought the ingredients and made my own gunpowder. It wasn't very effective in blowing up, but it burned very well. I started using my homemade gunpowder as a fuel to try to launch rockets – and it worked, although I didn't get them very high. Today I would probably be arrested based on the buying pattern I had at the local drug store!
I did know I wanted to be a scientist from very early on. I was largely influenced by my father who, whenever I asked a question about how things work, would always come up with a logical explanation rather than resort to saying "because God made it that way". If he didn't know the answer, he would refer to the encyclopedia. By the time I started school I realized that I actually knew a lot more science than most of my teachers. I had a talent for it, particularly chemistry. One of my presents growing up was a chemistry set, and I loved mixing things together and seeing colors change and causing occasional explosions. I just found that amazingly fun.
When did you start using your talent for chemistry to answer biological questions?
I was always interested in biology, too. I grew up on a farm and loved growing tomato plants, which made me wonder how photosynthesis works. I found it a magical thing – that the sun shines on a plant and it takes off growing. I thought if we could figure out how this works, light energy could be captured to do all kinds of things. But I found high school biology very boring – we memorized a whole lot of things without getting any real mechanistic insight into the processes. I swore at that time that I would never take another course in biology. I decided it would be much better to learn chemistry and, ultimately, I suspected that there would be nothing in biology that couldn't be explained by chemistry. I liked to understand kinetics and how reactions happen, so I decided to go into biophysical chemistry. In the end, that was the right path to take, although had you told me when I was 25 years old that I would be the director of a cancer center I would have been incredulous, given that I was totally into chemistry.
Read the rest of the Open Access Interview here:
http://dmm.biologists.org/content/9/9/911