As regular readers of the Node and Development will know, we at the journal are keen to emphasise the close links between the developmental biology and stem cell fields. As our ex-Editor in Chief Jim Smith put it so succinctly during his recent Waddington Medal talk at the BSDB/ BSCB meeting, stem cell science can be seen as 'applied developmental biology'. Or to spell it out a little more, efficient differentiation of stem cells in vitro relies on applying developmental principles in culture settings, while stem cells provide a highly tractable model to understand developmental processes.
Recognising the tight connections between the two fields, Development has for a number of years encouraged submission of papers in the stem cell field, and collected those papers selected for publication into a special section of the journal. Today, I am delighted to announce the launch of our "Stem Cells & Regeneration" website: Development's online home for stem cell research. Here, you will find all our stem cell-relevant papers collected together, as well as various other community features.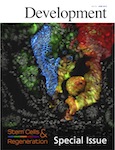 To celebrate the launch of this site, the current issue of the journal is devoted to the stem cell field: featuring commentary, hypothesis and review articles from leaders in the field – including last year's Nobel Prize winners John Gurdon and Shinya Yamanaka – as well as a number of great research papers. We're delighted to have been able to gather together such an exciting collection of articles spanning the breadth of the field – from the molecular basis of stem cell homeostasis and differentiation, to the clinical potential of stem cell therapy. All these articles are free to read until the end of June, and we invite you to browse through the issue.