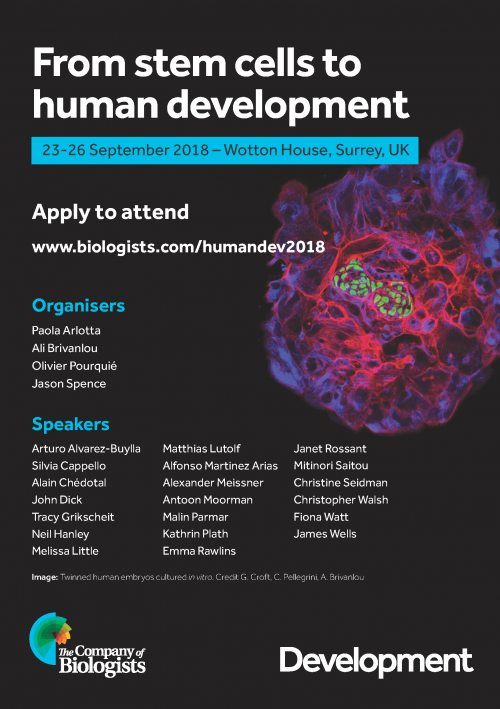 Development is delighted to announce the third in our highly successful series of events focussing on human developmental biology. Since the initiation of this series, in 2014, we have witnessed huge progress in this field, with more and more researchers turning to stem cell and organoid systems to investigate development and organogenesis in vitro, as well as increased analysis of human embryos and tissues to understand how these processes occur in vivo. Technological advances such as genome editing, single cell sequencing and improvements in tissue engineering now allow us to delve more deeply into the conserved and divergent processes underlying human development. Such knowledge is essential to underpin translational research into developmental disorders and to develop cell and tissue therapies.
This meeting brings together researchers working on a diverse set of questions, united by  common challenges associated with working with human cells and tissues, and by a common goal to understand the similarities and differences between human development and that of other species. As well as talks from invited speakers and selected delegates, the meeting will also include a discussion session on the ethical and legal challenges of working with early human embryos, cells and organoid cultures – and how we as a community should address these.
Registration is open now!
Deadline 22/06/18
Find out more here: