Over the last few weeks, you've been submitting your images for the Node and Development's stem cell cover competition. We received a large number of entries, and you've proved to us that stem cells – both in their natural environments and in a dish – can be just as beautiful as the embryos that normally grace our covers. After quite some deliberation, we've narrowed down the submissions to a short-list of five.
Now it's your turn to vote for your favourite. The winning image will appear on a cover of Development, and will also feature on the new stem cell pages we're developing for the journal's website.
The poll will close at noon GMT on April 10th.
Here are the Final Five. Click on the image to see a larger version.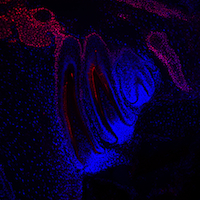 1. Immunofluorescence of the corn snake (Panterophis guttatus) dental organ with multiple generations of tooth germs. Sox2 expression (red) indicates putative dental stem cells in the epithelial lamina. DNA is stained with Hoechst (blue).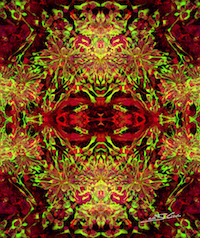 2. Fractal image of neural rosettes forming after the differentiation of mouse embryonic stem cells to neural stem cells. Cells are stained for Nestin (green) and PSA-NCAM (red).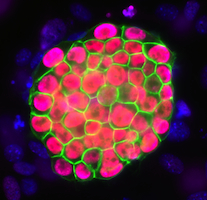 3. Induced pluripotent stem cell colony surrounded by non-reprogrammed and feeder cells. Mouse embryonic fibroblasts were infected with viruses encoding transcription factors Oct4, Sox2 and Klf4 to reprogram them to pluripotency. A day 14 reprogramming culture was stained for E-CADHERIN (green), NANOG (red) and EZH2 (magenta). Dapi is shown in blue. This procedure can also be applied to human cells. The discovery of somatic cell nuclear reprogramming to pluripotency was awarded the 2012 Nobel Prize for Physiology or Medicine.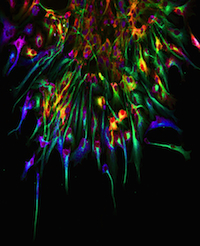 4. A rendered image of a primary neuronal stem cell culture in which cells were labeled with different fluorescently labeled proteins that differentiate between stem cells (orange/yellow) and their neuronal 'offspring' (blue/ green/ purple).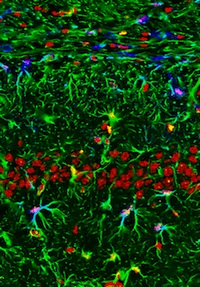 5. Confocal image of an adult mouse hippocampus, the area of the brain where new memories are formed. Astrocytes (green) were observed around the granule cell layer of the dentate gyrus, as indicated by cell nuclei (red). Some astrocytes were derived from neural precursor cell population (blue).