Doing great science depends on teamwork, whether this is within the lab or in collaboration with other labs. However, sometimes the resources that support our work can be overlooked. In our new series, we aim to shine a light on these unsung heroes of the science world. The fifth article in the series is by Dr Cátia Moutinho (co-founder of the Single-Cell Ninjas) who describes the work of the Single-Cell Ninjas
The Single-Cell Ninjas platform aims to share knowledge about single-cell technology with the scientific community. It was created by Dr Cátia Moutinho and Dr Luciano Martelotto, experts in this field. Twitter, LinkedIn and their website are their communication tools towards their community. Find out more in the following article.
BACKGROUND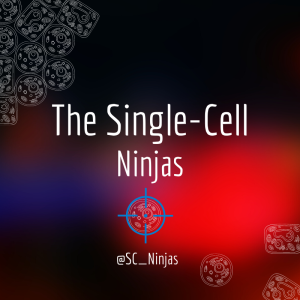 The first single-cell sequencing paper was published in 2009. The possibility of studying each individual cell that constitutes a biological tissue has catapulted single-cell technologies at the forefront of biomedical research leading to rapid molecular and technological advances in the field. However, to perform a single-cell analysis, it is essential to properly plan for your experiment to be cost and time effective. Yet, this can be a big challenge and a source of uncertainty. The doubts mainly arise from: 1) which of the available commercial options to choose, 2) which sample preparation is optimal for the type of sample used, and 3) the upstream steps to go for. All these questions stem from the fact that having individual cells in suspension is vital for any single-cell experiment. Of course, this means that sample preparation protocols optimized for bulk experiments do not usually work for single-cell procedures. On top of that, single-cell experiments are awfully expensive and can blow the budgets of most of the labs.

THE BEGINNING
Experiencing firsthand, all kinds of challenges in our single-cell research groups motivated us to come up with a platform for sharing our knowledge and expertise with all single-cell users. The aim is to demystify and make the single-cell field accessible for everyone. We noticed that sometimes tiny tips, which are often absent from protocols, could make a huge difference between failure and success of experiments. Based on this, we have created The Single-Cell Ninjas, as a science education and communication platform.

THE GOAL
The Single-Cell Ninjas project was created as a platform where everyone is welcome to ask whatever questions they have, whenever they have. People should remember that one day we were in their shoes, and that our knowledge mainly comes from a history of failed experiments, ideas and information shared with other researchers. If it was not for all the troubleshooting, frustrations, and mistakes we have made through our journeys, we would not have been here today! And since our platform's cornerstone is "sharing is caring", we want to share the ways we -and others- managed to overcome failures in single-cell experiments saving our communities both time and money.

THE PROCESS
Harnessing the power of simple, yet effective, tools like: Twitter, LinkedIn, a website, we managed to build the Single-Cell Ninjas community. In one year, we have obtained 2000+ Twitter followers, and 300+ subscribed members. Yet, we believe mere numbers are not a real measure of success, but is instead the impact of our project in helping researchers with their experiments and contributing to the advancement of science. The outstanding feedback we have had from our community encouraged us to move forward.

AVAILABLE TOOLS
On a daily basis, through @SC_ninjas Twitter account, we share publications, troubleshooting tips or single-cell related questions that we believe are useful for our community. On our website you will find different types of scientific tools, like Q&A sessions or technology talks, 'must-read' publications, and others. We also send regular notifications through email to be sure that our community members do not miss any talks in the field. Other available tools include our free scientific consultations for researchers. Here, we advise researchers on sample preparation, experimental planning, on how to find the proper technical resources, and other aspects of single-cell analysis. Finally, we share different protocols tested by us on Protocols.io. So, if you follow our Single-Cell Ninjas Protocols.io workspace, you will be able to access all our tested protocols.

THE FUTURE
Given the great impact our platform is making, we are continuously looking to develop new educational tools for our community. Yet, we do have other commitments, and other professional projects. So, our short-term plan is to expand the Single-Cell Ninjas team with adding a few new collaborators.

One of our future goals is to use our knowledge to help more under-represented countries, utilising our language skills to produce Spanish and Portuguese content . These are the countries where education and science are far from being properly funded.

THE CO-FOUNDERS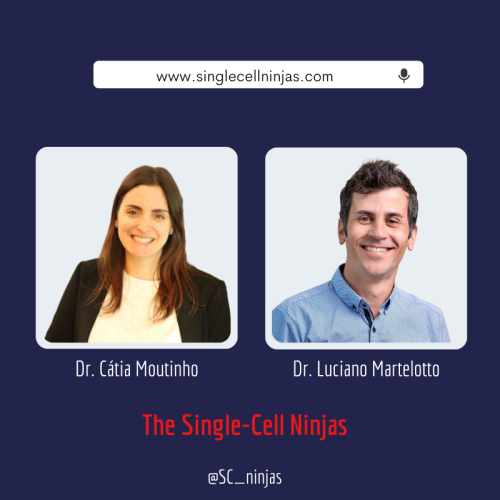 Cátia Moutinho (PhD) is a biologist by training with a PhD in Biomedicine and a master's degree in Clinical Trials and Medical Affairs. Her expertise in cancer genetics and epigenetics is founded on comprehensive experience in the wet-lab and in-depth knowledge and skills in single-cell technologies. Cátia began her professional career in Portugal (IPATIMUP, Porto) and worked in Spain for more than 10 years (CNIO, IDIBELL and CNAG). She then moved to Sydney, Australia where she led an outstanding team that focuses on technology development for single-cell genomics. She was also the Associate Director at Garvan-Weizmann Centre for Cellular Genomics, Garvan Medical Research Institute (GWCCG-Garvan Institute). Currently she resides in Porto, Portugal where she is the co-founder of "The Single-Cell Ninjas" and "Advice for Life Scientists" platforms. Besides, she is a scientific consultant for different single-cell companies.
Luciano Martelotto (PhD) is originally a cell and molecular biologist with a bachelor's degree in Biotechnology and a PhD in Biological Sciences and post-doctoral training in cancer genomics and single cell sequencing technologies. Luciano's diverse background extends across a wide range of scientific fields including plant genetics, microbiology, cancer biology and genomics. He has worked in Argentina, Australia, and the United States. He wasn the head of the Single Cell Innovation Laboratory (SCIL) at The University of Melbourne Centre for Cancer Research (UMCCR) within the Victoria Comprehensive Cancer Centre (AUS), and the scientific director of the Single Cell Core (SCC) Laboratory at Harvard Medical School (HMS), Department of Systems Biology. Luciano is currently the head of the Single Cell Spatial Omics Laboratory in South Australia ImmunoGenomics Cancer Centre (SAIGENCI), University of Australia.
Thanks for reading our article! Please share it if you think it will be useful for someone else. 😉