Exactly one year ago today, we launched the Node. Since then, we've accumulated a good number of regular readers, and some enthusiastic contributors. We've covered meetings, research, news, images and other topics – all with a focus on developmental biology.
It seems like this past year just flew by. Really, where did the time go?
To make sure we keep better track of time in the remainder of 2011, we've created a set of downloadable desktop calendars. For each month from July to December 2011 you will be able to download a calendar with an image that has previously appeared on the Node.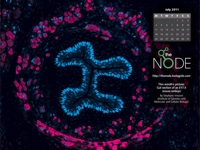 The first desktop calendar, for July, is up now, and features the winning image from the "intersection" contest we had on the Node a few months ago. It shows a co-localization of slow myosin heavy chain (magenta) with Sox6 (in blue) on a gut section of a E17.5 mouse embryo. Image by Stéphane Vincent of the IGBMC.
Click one of the links below to go to a full-size image..
1024×768 | 1280×1024 | 1920×1200
We have three sizes available to accommodate common screen resolutions. Select the correct size above or on the calendar page. The page will be updated at the end of each month with a new image, and all images are chosen from either the intersection image contest or from the images we've featured from the Woods Hole Embryology 2010 course.