Congratulations to Stéphane Vincent of the IGBMC in Illkirch, France, who won the Node's intersection image competition: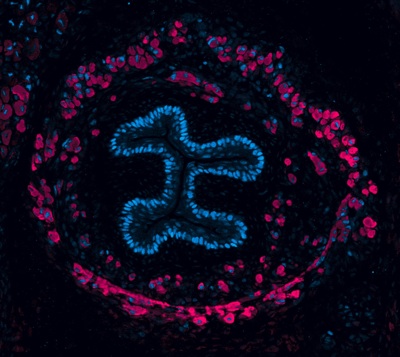 His image showing staining of a gut section of a E17.5 mouse embryo impressed the judges as well as the Node's readers, receiving more than half of the votes.
Stéphane says: "I took this picture by chance: I was looking at the expression of Sox6 and slow Myosin Heavy Chain in the deep back muscles of a mutant mouse embryo and I saw this very nice "I" popping out in the gut tube… "
With this serendipitous image he has won a TipArt commission, and we hope we'll get to see the final artwork he receives. In addition, Stéphane's image will be used in a little project we're working on to mark the Node's upcoming first birthday in June.