Worm art at #Worm17
Each year at the International C. elegans Conference Ahna Skop organises a Worm Art Show with winners selected by the meeting participants (find out more about the history of the show here). 
2017's winners have just been announced – read about them over at the GSA's Genes to Genomes blog (a great site for your bookmarks if you haven't visited it already!).
The Best in Show this year was won by Beata Mierzwa's Bond-themed image (Beata told us all about her awesome art last year)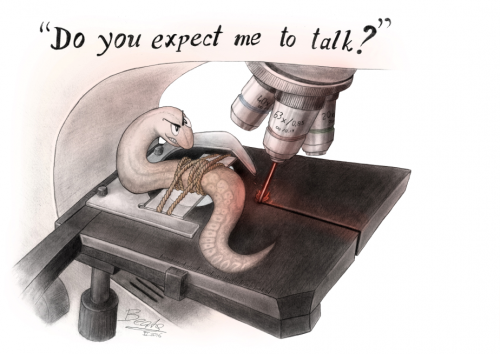 ---
FASEB BioART Scientific Image & Video Competition
Each year FASEB runs a BioArt competition to "share the beauty and breadth of biological research with the public", and their 2017 competition is now open with a submission deadline of August 31, 2017. Entries can be submitted to four categories:
Fluorescence or Electron Microscopy

All Other Life Science Images

Video

NEW! 3D Printing
As last year's winners show, developmental biology images are well appreciated!
---
Olympus Image of the Year
Olympus has announced its first Image of the Year competition for life sciences:
"Show us and the world the art of light microscopy and illustrate the details of life with your most beautiful image."
Deadline for entries is 31st October
---
Royal Society Photography Competition
This competition is "open to scientists, and winning entries are chosen according to 2 key criteria: they should be aesthetically pleasing, and convey an interesting scientific phenomenon." Deadline is 31st August, more details here.
Among the categories, 'Micro-imaging' is probably the best bet for developmental biologists! Here's a couple of runners up of last year's competition: