This is the final round of images from the 2011 Woods Hole embryology course. The students of the 2012 course have also taken some beautiful images, and you'll see those on the Node later this year.
But for now, vote in the poll below the images for the one you would like to see on the cover of Development. (Click any of the images to see a bigger version.) Poll closes on September 26, noon GMT.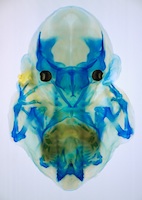 1. Alcian blue staining of a Stage 17 bat (Carollia perspicillata) embryo. This image was taken by Lingyu Wang and Ketty Lee.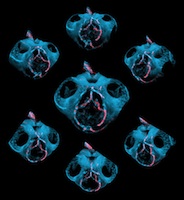 2. 3D reconstruction (face on view) showing the head vasculature of a zebrafish embryo. Visualization of gata1: dsRed (red; blood cells) and flk1: EGFP (blue, endothelial cells including blood vessels). This image was taken by Meghan Morrissey and Lynn Kee.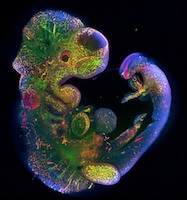 3. Day 10.5 mouse embryo immunostained for PECAM in green, Phospho-Histone H3 in red, and DAPI (nuclei) in blue. This image was taken by Juliette Petersen and Rachel K. Miller.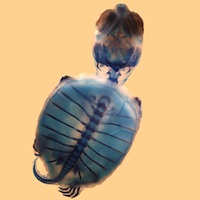 4. Skeletal preparation of a turtle, the red-eared slider (Trachemys scripta elegans). This image was taken by Megan Martik, Jane Yu, John Young and Eric Brooks.