Written by: Aida Rodrigo Albors, Laura Pellegrini and Neil Dani.
---
This July, The Company of Biologists Workshops together with Maria K. Lehtinen and Fiona Doetsch organized a meeting titled "New Frontiers in the Brain: Unexpected Roles of the Choroid Plexus-Cerebrospinal Fluid System in Health and Disease". Set in the gorgeous countryside of Steyning in the United Kingdom, Wiston House (circa. 1576), with its historic and charming past, served as a fitting venue for a workshop on a research topic that has captured scientific minds for millennia. Indeed, Hippocrates (460–370 B.C.) and Claudius Galen from Pergamon (130–200 A.D.) believed that the "pneuma psychikon" or "spiritus animalis," which roughly translates to "the life force that powers the mind," was located in the brain's cerebral ventricles that contain the choroid plexus-cerebrospinal fluid (CSF) system. Over time, more fantastic but ultimately incorrect conclusions arose from the inherent challenges of studying the CSF system that lies deep within somewhat inaccessible parts of the brain. For example, it was once thought that the brain's ventricles were not filled with CSF but instead with a vapor that ultimately condensed into a fluid upon death due to the drop in body temperature. Correcting such theories took another millennium and the work of several preeminent thinkers including Leonardo da Vinci and Andreas Vesalius (among many others), whose work helped map the ventricular system and confirm CSF flow. Undoubtedly, rewriting theories greatly depended on the continual development of new tools to better access and study the choroid plexus-CSF system.
Now, let us fast forward back to Wiston House in July 2019. Here, a small group of 30 people: 20 senior and 10 early-career researchers, continued the tradition of leveraging new technology to better understand the workings of the choroid plexus-CSF system and their roles in disease. We, the authors of this post, were lucky to count ourselves among the early-career researchers and would like to take the opportunity to share our experience with you. Laura Pellegrini is a postdoctoral researcher working at the MRC Laboratory of Molecular Biology (Cambridge, UK), in Madeline Lancaster's group and is developing cutting-edge organoid models to study the secretion and barrier functions of the choroid plexus. Neil Dani, a postdoctoral fellow in the laboratory of Maria Lehtinen (Boston Children's Hospital, USA) is applying single-cell transcriptomics to characterize the cellular composition of the choroid plexus and is developing tools to study tissue function in vivo using mouse models. Aida Rodrigo Albors, a Marie Skłodowska-Curie fellow in the lab of Kate Storey (Dundee, UK), after working with axolotls to study ependymal cell recruitment in spinal injury models, now uses single-cell technologies to disentangle the heterogeneity of spinal cord ependymal cells in mice. Since our field is relatively small with almost no specialized meetings, we and the other researchers were keen on attending the workshop to find peers who were equally dedicated to a research topic that is heating up and attracting researchers with diverse training. It turned out that our expertise complemented each other in just the right ways, which aroused exciting conversations and ideation throughout the workshop.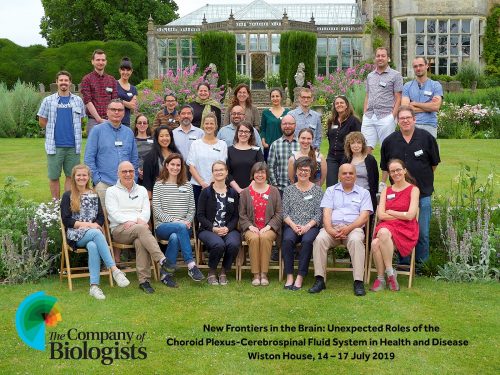 The wide range of topics covered included the role of the choroid plexus-CSF system during embryonic development and adult life, the liver-like functions of the choroid plexus, and the emerging contributions to human disorders such as autism and childhood carcinomas. Next, we saw cutting-edge single-cell RNA-sequencing technologies applied to comprehensively characterize the cell populations that form the choroid plexus and ependymal cells that line the central canal of the spinal cord. Some investigators also shared their extraordinary live imaging techniques to observe choroid plexus function and CSF flow across the ventricles in mice and zebrafish, as well as in vitro-derived choroid plexus cells and choroid plexus organoid models that make this difficult-to-reach tissue more accessible for manipulation and functional studies. Leveraging these new technologies will surely give us a better understanding of the mechanisms of the choroid plexus-CSF system to uncover its role in health and disease.
The Company of Biologists Workshops has a winning formula when it comes to hosting scientists to debate an exciting and upcoming field. For example, junior and senior investigators were given the same amount of time for their talks, thus making everyone feel like an equal contributor. This approach helped create a comfortable environment from the start and helped spur animated discussions well beyond the scheduled question time, into the tea breaks, during meals, and even during the hike across the South Downs National Park that borders Wiston House. Each speaker was also given the freedom to present a topic of their choice, which allowed postdocs to share their most exciting and unpublished data, junior investigators to share their research vision, and senior investigators to flesh out historic landmark findings – altogether giving us a glimpse into the past, present, and future of the field.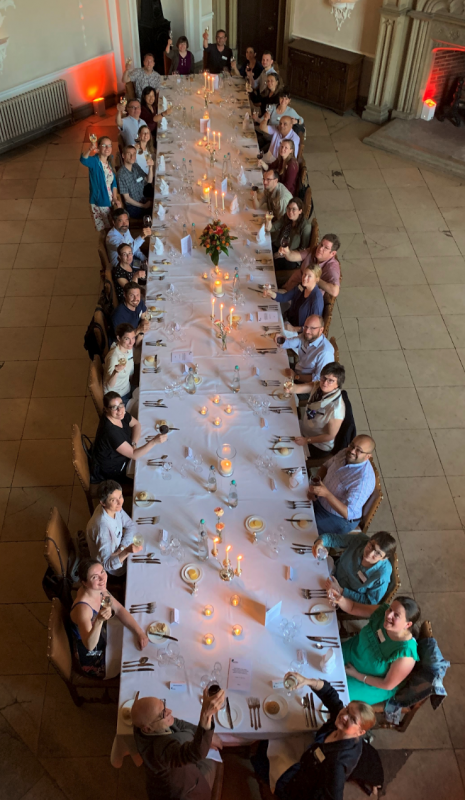 Another highlight of the workshop was the amazing dining spread for each of the meals, which definitely helped fuel the discussions and excitement, for which we extend our heartfelt thanks to the amazing staff at Wiston House. Finally, the team behind The Company of Biologists Workshops deserves high praise for organizing an incredible event and ensuring that everything went off without a hitch – not a trivial task for an international conference that represented researchers from 11 countries! The relationships forged during the workshop will surely continue beyond Wiston House – already embodied by our team-writing this piece for the Node (which took place across three countries!). So, we hope that you, the reader, will feed off our enthusiasm and explore the exceptional Biologists Workshop series to find ways to help shape an exciting research area and cherish the experience as we will surely continue to do.