Our latest monthly trawl for developmental biology (and other cool) preprints. See June's introductory post for background, and let us know if we missed anything
---
Another month, another bumper crop of preprints covering everything from calcium waves in the fly to the first mutant ant line, plant superhero genes to rat embryonic stem cells. Plus, as usual, a whole bunch of tools and resources (including a 3D printed micropipete!), and right at the end some enigmatic bacterial structures.
The preprints were hosted predominantly on bioRxiv, though we also found a handful on arXiv and PeerJ.
Use these links to get to the section you want –
| Stem cells, regeneration & ageing
Happy preprinting!
Developmental biology
| Patterning & signalling
The Pax9/Wnt pathway regulates secondary palate formation in mice. Shihai Jia, Jing Zhou, Christopher Fanelli, Yinshen Wee, John Bonds, Pascal Schneider, Gabriele Mues, Rena N. D'Souza

Tbx1 represses Mef2c gene expression by inducing histone 3 deacetylation of the anterior heart field enhancer. Luna Simona Pane, Filomena Gabriella Fulcoli, Rosa Ferrentino, Marchesa Bilio, Antonio Baldini
Decoding temporal interpretation of the morphogen Bicoid in the early Drosophila embryo. Anqi Huang, Christopher Amourda, Shaobo Zhang, Nicholas S Tolwinski, Timothy E Saunders
Morphogen signalling patterns calcium waves in the Drosophila wing disc. Qinfeng Wu, Pavel Brodskiy, Cody Narciso, Megan Levis, Ninfamaria Arredondo-Walsh, Jeremiah James Zartman
A high-resolution mRNA expression time course of embryonic development in zebrafish. Richard J White, John E Collins, Ian M Sealy, Neha Wali, Christopher M Dooley, Zsofia Digby, Derek L Stemple, Daniel N Murphy, Thibaut Hourlier, Anja Fullgrabe, Matthew P Davis, Anton J Enright, Elisabeth M Busch-Nentwich
Multiple roles of PIWIL1 in mouse neocorticogenesis. Barbara Viljetic, Liyang Diao, Jixia Liu, Zeljka Krsnik, Sagara H. R. Wijeratne, Ryan Kristopovich, Marina Dutre-Clarke, Matthew L. Kraushar, Jimin Song, Jinchuan Xing, Kevin Chen, Mladen-Roko Rasin
Inhibitory neuron diversity originates from cardinal classes shared across germinal zones. Christian Mayer, Christoph Hafemeister, Rachel C Bandler, Robert Machold, Gord Fishell, Rahul Satija
Caenorhabditis elegans BMP Transcriptional Program Implicates Collagen Genes in Body Size Regulation. Uday Madaan, Edlira Yzeiraj, Michael Meade, Christine A. Rushlow, Cathy Savage-Dunn
Integrated growth factor signaling promotes lung epithelial progenitor cell expansion and maintenance in mice and humans. Alyssa Miller, Briana Dye, Melinda Nagy, Yu-Hwai Tsai, Sha Huang, Michael Ferguson, Jason Spence
Glycerophosphodiesterase GDE2 affects pancreas differentiation in zebrafish. Michiel van Veen, Jason van Pelt, Laurie A. Mans, Wouter H. Moolenaar, Anna-Pavlina Haramis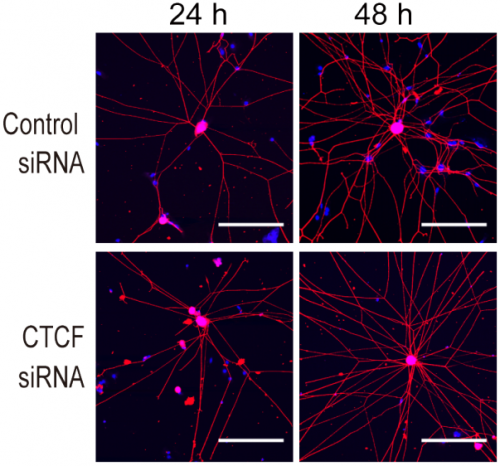 Developmental Downregulation of LIS1 Expression Limits Axonal Extension and Allows Axon Pruning. Hirotsune Tagawa, Kanako Kumamoto, Tokuichi Iguchi, Makoto Sato, Takuya Uemura
The reactivation of reprogramming factors within human blastocysts by using ATP contribute to human blastocyst development. Takashi Takemura, Midori Okabe
Can the location of a trophectoderm biopsy contribute to human blastocyst development? Tomoe Takano, Miyako Funabiki, Sagiri Taguchi, Fumie Saji, Namiko Amano, Kate Louise Young, Yoshitaka Nakamura
dMARCH8, a Drosophila ubiquitin ligase, regulates polymodifications of tubulin in the spermiogenic pathway. Ujwala Gosavi, Utsav Nyachhyon, Nabanita Chatterjee, Brian Pearce, Robert Harvey, Christopher W Bazinet
Short term changes in the proteome of human cerebral organoids induced by 5-methoxy-N,N-dimethyltryptamine. Vanja Dakic, Juliana M Nascimento, Rafaela C Sartore, Renata de Moraes Maciel, Draulio B de Araujo, Sidarta Ribeiro, Daniel Martins-de-Souza, Stevens K Rehen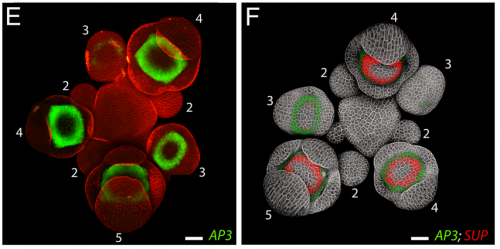 SUPERMAN prevents stamen formation and promotes stem cell termination in the fourth whorl of the Arabidopsis flower. Nathanael Prunet, Weibing Yang, Pradeep Das, Elliot M Meyerowitz, Thomas P Jack
| Morphogenesis & mechanics
Viscoelastic dissipation stabilizes cell shape changes during tissue morphogenesis. Raphaël Clément, Claudio Collinet, Benoît Dehapiot, Thomas Lecuit, Pierre-François Lenne
Multiscale quantification of tissue behavior during amniote embryo axis elongation. Bertrand Benazeraf, Mathias Beaupeux, Martin Tchernookov, Allison Wallingford, Tasha Salisbury, Amelia Shirtz, Andrew Shirtz, Dave Huss, Olivier Pourquie, Paul Francois, Rusty Lansford
Assessment of asymmetric cell divisions in the early development of Caenorhabditis elegans. Rolf Fickentscher, Matthias Weiss
Modeling mammary organogenesis from biological first principles: Cells and their physical constraints. Maël Montévil, Lucia Speroni, Carlos Sonnenschein, Ana M. Soto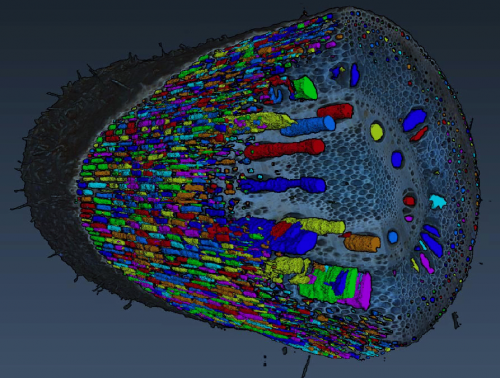 Morphological plant modeling: Unleashing geometric and topological potential within the plant sciences. Alexander Bucksch, Acheampong Atta-Boateng, Akomian Fortune Azihou, Mathilde Balduzzi, Dorjsuren Battogtokh, Aly Baumgartner, Brad Binder, Siobhan Braybrook, Cynthia Chang, Viktoriya Coneva, Thomas DeWitt, Alexander Fletcher, Malia Gehan, Diego Hernan Diaz Martinez, Lilan Hong, Anjali Iyer-Pascuzzi, Laura Klein, Samuel Leiboff, Mao Li, Jonathan Lynch, Alexis Maizel, Julin Maloof, RJ Cody Markelz, Ciera Martinez, Laura Miller, Washington Mio, Wojtek Palubicki, Hendrik Poorter, Christophe Pradal, Charles Price, Eetu Puttonen, John Reese, Ruben Rellan-Alvarez, Edgar Spalding, Erin Sparks, Chris Topp, Joseph Williams, Daniel Chitwood
Persistent homology: a tool to universally measure plant morphologies across organs and scales. Mao Li, Margaret H Frank, Viktoriya Coneva, Washington Mio, Christopher N Topp, Daniel H Chitwood
Categorical Description Of Plant Morphogenesis. I.V. Rudskiy
The depletion of MARVELD1 leads to placenta accreta via integrin β4-dependent trophoblast cell invasion. Yue Chen, Hui Zhang, Fang Han, Lei Yue, Chunxiao Qiao, Yao Zhang, Peng Dou, Weizhe Liu, Yu Li
Chromatin tethering to the nuclear envelope by nuclear actin filaments: a novel role of the actin cytoskeleton in the Xenopus blastula. Haruka Oda, Natsuki Shirai, Naoko Ura, Keita Ohsumi, Mari Iwabuchi
G protein-coupled estrogen receptor regulates heart rate and heart valve thickness in zebrafish. Shannon N Romano, Hailey E Edwards, Jaclyn Paige Souder, Xiangqin Cui, Daniel A Gorelick
| Genes & genomes
Bursting on a two states stochastic model for gene transcription in Drosophila embryos. Romain Yvinec, Luiz Guilherme S. da Silva, Guilherme N. Prata, John Reinitz, Alexandre Ferreira Ramos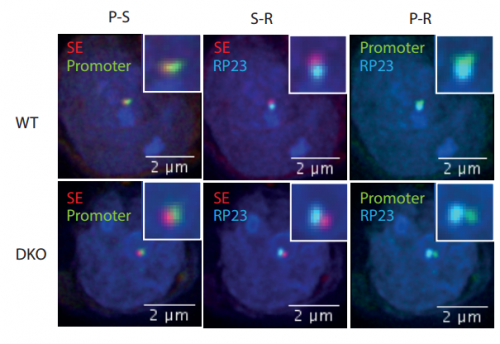 Histone H3 Lysine 4 methyltransferases MLL3 and MLL4 Modulate Long-range Chromatin Interactions at Enhancers. Jian Yan, Shi-An A. Chen, Andrea Local, Tristin Liu, Yunjiang Qiu, Ah-Young Lee, Inkyung Jung, Sebastian Preissl, Chloe M Rivera, Chaocheng Wang, Haruhiko Ishii, Rongxin Fang, Zhen Ye, Kai Ge, Ming Hu, Bing Ren
Short DNA sequence patterns accurately identify broadly active human enhancers. Laura L Colbran, Ling Chen, John Anthony Capra
Novel CRISPR/Cas9 gene drive constructs in Drosophila reveal insights into mechanisms of resistance allele formation and drive efficiency in genetically diverse populations. Jackson Champer, Riona Reeves, Suh Yeon Oh, Chen Liu, Jingxian Liu, Andrew G Clark, Philipp W Messer
Genetic Architecture and Molecular Networks Underlying Leaf Thickness in Desert-Adapted Tomato Solanum pennellii. Viktoriya Coneva, Margaret H. Frank, Maria A. de Luis Balaguer, Mao Li, Rosangela Sozzani, Daniel H. Chitwood
Sequence properties underlying gene regulatory enhancers are conserved across mammals. Ling Chen, Alexandra E Fish, John Anthony Capra
| Stem cells, regeneration & ageing
Micromanagment of stem cell proliferation by the Drosophila testis stem cell niche. Olga A Puretskaia, Evgenii A Albert, Nadezhda V Terekhanova, Christian Boekel
Gene editing in rat embryonic stem cells to produce in vitro models and in vivo reporters. Yaoyao Chen, Sonia Spitzer, Sylvia Agathou, Ragnhildur Thora Karadottir, Austin Smith
Active and poised promoter states drive folding of the extended HoxB locus in mouse embryonic stem cells. Mariano Barbieri, Sheila Q Xie, Elena Torlai Triglia, Ines de Santiago, Miguel R Branco,David Rueda, Mario Nicodemi, Ana Pombo
Anoxia-Induced VEGF-Release from Rat Cardiomyocites Promotes Vascular Differentiation of Human Mesenchymal Stem Cells. Raquel Gutierrez_Lanza, Victor M Campa
Single cell transcriptome analysis of human pancreas reveals transcriptional signatures of aging and somatic mutation patterns. Martin Enge, Hatice Efsun Arda, Marco Mignardi, John Beausang, Rita Bottino, Seung K Kim, Stephen R Quake
Tex19.1 Restricts LINE-1 Mobilisation in Mouse Embryonic Stem Cells. Marie MacLennan, Marta Garcia-Canadas, Judith Reichmann, Elena Khazina, Carmen Salvador-Palomeque, Abigail Mann, Paula Peressini, Laura Sanchez, Christopher J Playfoot, David Read, Chao-Chun Hung, Ragnhild Eskeland, Richard R Meehan, Oliver Weichenrieder, Jose Luis Garcia- Perez, Ian R Adams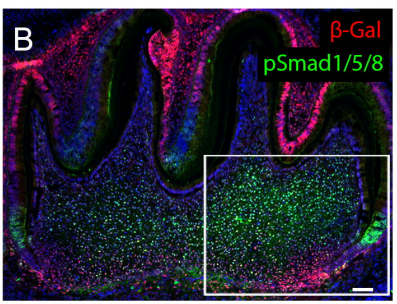 BMP signaling orchestrates a transcriptional network to control the fate of mesenchymal stem cells (MSCs). Jifan Feng, Junjun Jing, Jingyuan Li, Hu Zhao, Vasu Punj, Tingwei Zhang, Jian Xu, Yang Chai
The regulation of tDNA transcription during the directed differentiation of stem cells. Jessica L Woolnough, David A Schneider, Keith E Giles
Impact of hypoxia induced VEGF and its signaling during caudal fin regeneration in Zebrafish. vivek sagayaraj, Malathi Ragunathan
Single-cell epigenomics maps the continuous regulatory landscape of human hematopoietic differentiation. Jason Daniel Buenrostro, Ryan Corces, Beijing Wu, Alicia N Schep, Caleb Lareau, Ravindra Majeti, Howard Chang, William Greenleaf
Heterogeneity of normal human breast stem and progenitor cells as revealed by transcriptional profiling. Justin Colacino, Ebrahim Azizi, Michael Brooks, Shamileh Fouladdel, Sean P McDermott, Michael Lee, David Hill, Maureen Sartor, Laura Rozek, Max Wicha
Cell biology
Super-resolution microscopy reveals the three-dimensional organization of meiotic chromosome axes in intact C. elegans tissue. Simone Köhler, Michal Wojcik, Ke Xu, Abby F Dernburg
Contact inhibition of locomotion and junctional mechanics guide collective cell behavior in epithelial wound repair. Luke Coburn, Irin-Maya Schouwenaar, Hender Lopez, Alpha S. Yap, Vladimir Lobaskin, Guillermo A. Gomez
FAM83G/PAWS1 controls cytoskeletal dynamics and cell migration through association with the SH3 adaptor CD2AP. Gopal P Sapkota, Timothy D Cummins, Kevin Z. L. Wu, Polyxeni Bozatzi, Kevin S Dingwell, Thomas J Macartney, Nicola T Wood, Joby Varghese, Robert Gourlay, David G Campbell, Alan Prescott, Eric Griffis, James C Smith
Decoupling global biases and local interactions between cell biological variables. Assaf Zaritsky, Uri Obolski, Zhuo Gan, Carlos R Reis, Zuzana Kadlecova, Yi Du, Sandra L Schmid, Gaudenz Danuser

mTORC1 controls cytoplasmic crowding by regulating ribosome concentration. Morgan Delarue, Gregory Brittingham, Ivan Surovtsev, Kristopher John Kennedy, Ignacio Gutierrez, Jean Chung, Jay T. Groves, Christine Jacobs-Wagner, Liam J Holt
Controlling cell shape on hydrogels using lift-off patterning. Jens Moeller, Aleksandra K. Denisin, Joo Yong Sim, Robin E. Wilson, Alexandre J.S. Ribeiro, Beth L. Pruitt
Real-time chromatin dynamics at the single gene level during transcription activation. Thomas Germier, Silvia Kocanova, Nike Walther, Aurelien Bancaud, Haitham Ahmed Shaban, Hafida Sellou, Antonio Politi, Jan Ellenberg, Franck Gallardo, Kerstin Bystricky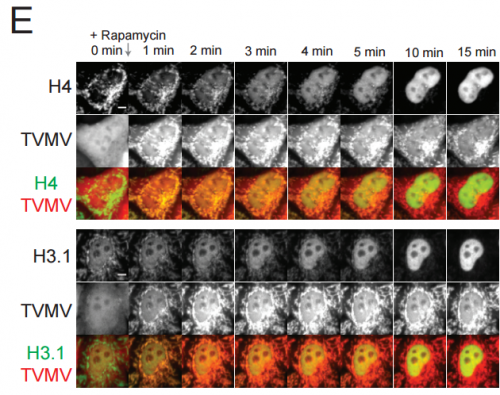 Observation of histone nuclear import in living cells: implications in the processing of newly synthesised H3.1 & H4. Andrew James Bowman, Michael James Smith
NIMA-related kinase 1 (NEK1) regulates the localization and phosphorylation of α-Adducin (ADD1) and Myosin X (MYO10) during meiosis. Miguel Angel Brieno-Enriquez, Stefannie L Moak, J Kim Holloway, Paula Elaine Cohen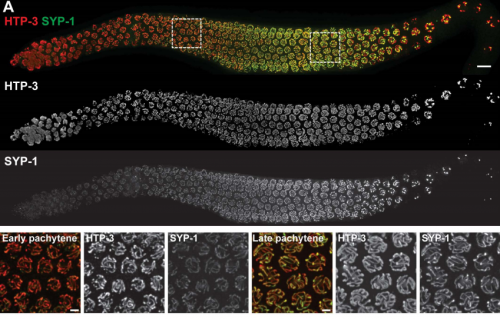 Meiotic recombination modulates the structure and dynamics of the synaptonemal complex during C. elegans meiosis. Divya Pattabiraman, Baptiste Roelens, Alexander Woglar, Anne M. Villeneuve
Astral microtubule dynamics regulate anaphase oscillation onset and set a robust final position of the C. elegans zygote spindle. Hélène Bouvrais, Laurent Chesneau, Sylvain Pastezeur, Marie Delattre, Jacques Pécréaux
High quality frozen extracts of Xenopus laevis eggs reveal size-dependent control of metaphase spindle micromechanics. Jun Takagi, Yuta Shimamoto
Evo-devo & evo
orco mutagenesis causes loss of antennal lobe glomeruli and impaired social behavior in ants. Waring Trible, Ni-Chen Chang, Benjamin J Matthews, Sean K McKenzie, Leonora Olivos-Cisneros, Peter R Oxley, Jonathan Saragosti, Daniel JC Kronauer
Genetic basis of melanin pigmentation in butterfly wings. Linlin Zhang, Arnaud Martin, Michael W. Perry, Karin R.L. van der Burg, Yuji Matsuoka, Antonia Monteiro, Robert D Reed
Reconstruction of cell lineages and behaviors underlying arthropod limb outgrowth with multi-view light-sheet imaging and tracking. Carsten Wolff, Jean-Yves Tinevez, Tobias Pietzsch, Evangelia Stamataki, Benjamin Harich, Stephan Preibisch, Spencer Shorte, Philipp J Keller, Pavel Tomancak, Anastasios Pavlopoulos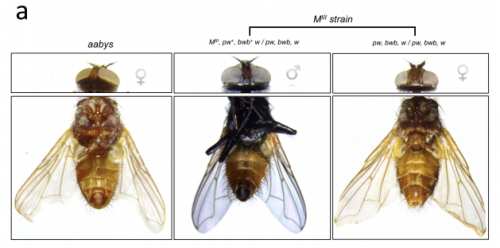 CRISPR-Cas9 targeted disruption of the yellow ortholog in the housefly identifies the brown body locus. Svenia D Heinze, Tea Kohlbrenner, Domenica Ippolito, Angela Meccariello, Alexa Burger, Christian Mosimann, Giuseppe Saccone, Daniel Bopp
Tools & resources
High-throughput live-imaging of embryos in microwell arrays using a modular, inexpensive specimen mounting system. Seth Donoughe, Chiyoung Kim, Cassandra Extavour
Enzymatic production of single molecule FISH and RNA capture probes. Imre Gaspar, Frank Wippich, Anne Ephrussi
Polarity sensitive probes for super resolution STED microscopy. Erdinc Sezgin, Falk Schneider, Victoria Zilles, Esther Garcia, Dominic Waithe, Andrey S Klymchenko, Christian Eggeling
A nanobody-based toolset to investigate the role of protein localization and dispersal in Drosophila. Stefan Harmansa, Ilaria Alborelli, Emmanuel Caussinus,Markus Affolter
A fluorogenic nanobody array tag for prolonged single molecule imaging in live cells. Rajarshi Ghosh, Will Draper, J. Matthew Franklin, Quanming Shi, Jan Liphardt
Refractive index as an intrinsic imaging contrast for 3-D label-free live cell imaging. Doyeon Kim, SangYun Lee, Moosung Lee, JunTaek Oh, Su-A Yang, YongKeun Park
Phenotype and gene ontology enrichment as guides for disease modeling in C. elegans. David Angeles-Albores, Raymond Y Lee, Juancarlos Chan, Paul W Sternberg
Harnessing optogenetics to probe sub-cellular mechanics. Patrick W Oakes, Elizabeth Wagner, Christoph A Brand, Dimitri Probst, Marco Linke, Ulrich S Schwarz, Michael Glotzer, Margaret L Gardel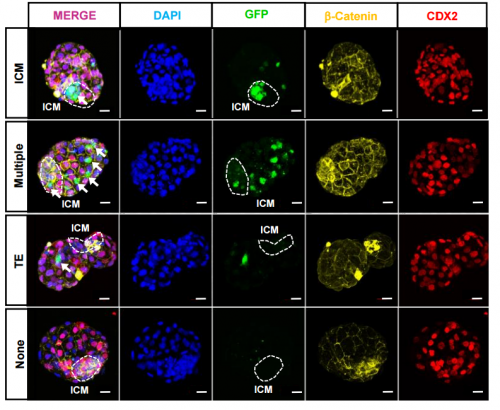 An inducible CRISPR-ON system for controllable gene activation in human pluripotent stem cells. Jianying Guo, Dacheng Ma, Rujin Huang, Jia Ming, Min Ye, Kehkooi Kee, Zhen Xie, Jie Na
CRISPRAnalyzeR: Interactive analysis, annotation and documentation of pooled CRISPR screens. Jan Winter, Marc Schwering, Oliver Pelz, Benedikt Rauscher, Tianzuo Zhan, Florian Heigwer, Michael Boutros

Reliable CRISPR/Cas9 genome engineering in Caenorhabiditis elegans using a single efficient sgRNA and an easily selectable phenotype. Sonia El Mouridi, Claire Lecroisey, Phlippe Tardy, Marine Mercier, Alice Leclercq-Blondel, Nora Zariohi, Thomas Boulin
An efficient FLP-based toolkit for spatiotemporal control of gene expression in Caenorhabditis elegans. Celia Maria Munoz-Jimenez, Cristina Ayuso, Agnieszka Dobrzynska, Antonio Torres, Patricia de la Cruz-Ruiz, Peter Askjaer
A cell based, high throughput assay for quantitative analysis of Hedgehog pathway activation using a Smoothened phosphorylation sensor. Evgenii A Albert, Christian Boekel
Microvessel Chaste: An Open Library for Spatial Modelling of Vascularized Tissues. James Grogan, Anthony J Connor, Bostjan Markelc, Ruth J Muschel, Philip K Maini, Helen M Byrne, Joe M Pitt-Francis
Comprehensive single cell transcriptional profiling of a multicellular organism by combinatorial indexing. Junyue Cao, Jonathan S. Packer, Vijay Ramani, Darren A. Cusanovich, Chau Huynh, Riza Daza, Xiaojie Qiu, Choli Lee, Scott N. Furlan, Frank J. Steemers, Andrew Adey, Robert H. Waterston, Cole Trapnell, Jay Shendure
Polysome-profiling in small tissue samples. Shuo Liang, Hermano Bellato, Julie Lorent, Fernanda Lupinacci, Vincent Van Hoef, Laia Masvidal, Glaucia Hajj, Ola Larsson
Versatile Multicolor Nanodiamond Probes for Intracellular Imaging and Targeted Labeling. Olga Shimoni, Kerem Bray, Leonard Cheung, Igor Aharanovich, Stella Valenzuela
Synthetic DNA templates for the production of in situ hybridization probes. B. Rodney Jarvis, Brian G Condie
mixOmics: an R package for 'omics feature selection and multiple data integration. Florian Rohart, Benoit Gautier, View Amrit Singh, Kim-Anh Le Cao
Novel methods of isolation and amplification of progenitor cells applied to avian primordial germ cells. Mariacruz Lopez Diaz
PHESANT: a tool for performing automated phenome scans in UK Biobank. Louise Millard, Neil M Davies, Tom Gaunt, George Davey Smith, Kate Tilling
MAGIC: A diffusion-based imputation method reveals gene-gene interactions in single-cell RNA-sequencing data. David van Dijk, Juozas Nainys, Roshan Sharma, Pooja Kathail, Ambrose J Carr, Kevin R Moon, Linas Mazutis, Guy Wolf, Smita Krishnaswamy, Dana Pe'er
EXTRACT 2.0: text-mining-assisted interactive annotation of biomedical named entities and ontology terms. Evangelos Pafilis, Rūdolfs Bērziņš, Lars Juhl Jensen
Reversed graph embedding resolves complex single-cell developmental trajectories. Xiaojie Qiu, Qi Mao, Ying Tang, Li Wang, Raghav Chawla, Hannah Pliner, Cole Trapnell
Evolinc: a comparative transcriptomics and genomics pipeline for quickly identifying sequence conserved lincRNAs for functional analysis. Andrew D. L. Nelson, Upendra K Devisetty, Kyle Palos, Asher K Haug-Baltzell, Eric Lyons, Mark A Beilstein

Open Design 3D-Printable Adjustable Micropipette that meets ISO Standard for Accuracy. Martin Brennan, Fahad Bokhari, David Eddington
Systematic analysis of cell phenotypes and cellular social networks in tissues using the multiplexed image cytometry analysis toolbox (miCAT). Denis Schapiro, Hartland Warren Jackson, Swetha Raghuraman, Vito Riccardo Tomaso Zanotelli, Jana R R Fischer,Daniel Schulz, Charlotte Giesen, Raul Catena, Zsuzsanna Varga, Bernd Bodenmiller
Functional Annotation of Chemical Libraries across Diverse Biological Processes. Jeff S Piotrowski, Sheena C Li, Raamesh Deshpande, Scott W Simpkins, Justin Nelson, Yoko Yashiroda, Jacqueline Barber, Hamid Safizadeh, Erin Wilson, Hiroki Okada, Abraham Gebre, Karen Kubo, Nikko Torres, Marissa LeBlanc, Kerry Andrusiak, Reika Okamoto, Mami Yoshimura, Eva DeRango-Adem, Jolanda van Leeuwen, Katsuhiko Shirahige, Anastasia Baryshnikova, Grant W Brown, Hiroyuki Hirano, Michael Costanzo, Brenda Andrews, Yoshikazu Ohya, Hiroyuki Osada, Minoru Yoshida, Chad L Myers, Charles Boone
The 3D Genome Browser: a web-based browser for visualizing 3D genome organization and long-range chromatin interactions. Yanli Wang, Bo Zhang, Lijun Zhang, Lin An, Jie Xu, Daofeng Li, Mayank NK Choudhary, Yun Li, Ming Hu, Ross Hardison, Ting Wang, Feng Yue
Research practice
Open Science strategies for NIH data management, sharing, and citation. Tim Clark​, Helena Cousijn, Daniel S Katz, Martin Fenner
The Rise of the Middle Author: Investigating Collaboration and Division of Labor in Biomedical Research using Partial Alphabetical Authorship. Philippe Mongeon, Elise Smith, Bruno Joyal, Vincent Lariviere
TOWARDS COORDINATED INTERNATIONAL SUPPORT OF CORE DATA RESOURCES FOR THE LIFE SCIENCES. Warwick Anderson, Rolf Apweiler, Alex Bateman, Guntram A Bauer, Helen Berman, Judith A Blake, Niklas Blomberg, Stephen K Burley, Guy Cochrane, Valentina Di Francesco, Tim Donohue, Christine Durinx, Alfred Game, Eric Green, Takashi Gojobori, Peter Goodhand, Ada Hamosh, Henning Hermjakob, Minoru Kanehisa, Robert Kiley, Johanna McEntyre, Rowan McKibbin, Satoru Miyano, Barbara Pauly, Norbert Perrimon, Mark A Ragan, Geoffrey Richards, Yik-Ying Teo, Monte Westerfield, Eric Westhof, Paul F Lasko
The impact factor fallacy. Frieder Michel Paulus, Nicole Cruz, Soeren Krach
Concern noted: A descriptive study of editorial expressions of concern in PubMed and PubMed Central. Melissa Vaught, Diana C Jordan, Hilda Bastian
Reproducibility2020: Progress and Priorities. Leonard Freedman, Gautham Venugopalan, Rosann Wisman
Improving data availability for brain image biobanking in healthy subjects: practice-based suggestions from an international multidisciplinary working group. Susan D Shenkin, Cyril Pernet, Thomas E Nichols, Jean-Baptiste Poline, Paul M Matthews, Aad van der Lugt, Clare Mackay, Lanyon Linda, Bernard Mazoyer, James P Boardman, Paul M Thompson, Nick Fox, Daniel S Marcus, Aziz Sheikh, Simon R Cox, Devasuda Anblagan, Dominic E Job, David Alexander Dickie, David Rodriguez, Joanna M Wardlaw
Why not…
Uncharacterized bacterial structures revealed by electron cryotomography. Megan J Dobro, Catherine M Oikonomou, Aidan Piper, John Cohen, Kylie Guo, Taylor Jensen, Jahan Tadayon, Joseph Donermeyer, Yeram Park, Benjamin A Solis, Andreas Kjaer, Andrew I Jewett, Alasdair W McDowall, Songye Chen, Yi-Wei Chang, Jian Shi, Poorna Subramanian, Cristina V Iancu, Zhuo Li, Ariane Briegel, Elitza I Tocheva, Martin Pilhofer, Grant J Jensen