On the 4th and 5th of February, the Crick hosted its first Developmental Biology Symposium in honour of Rosa Beddington FRS (1956-2001). Covering themes from embryonic growth to metabolism and aging, the symposium attracted more than 200 delegates from across the globe.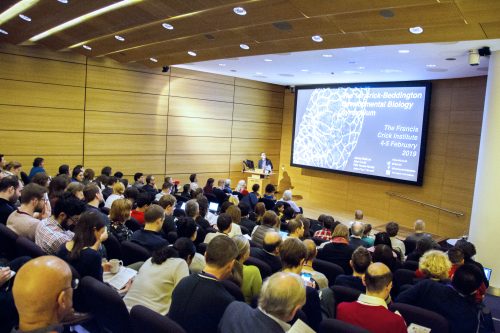 The symposium harnessed an impressive richness in diversity of topics and captured the raw excitement within the developmental biology field – a fitting tribute to Rosa, who was an outstanding embryologist, artist and mentor to many in the field.
The use of new interdisciplinary approaches was a recurring theme throughout the meeting. Sessions were "open plan", drawing interesting parallels with the Crick's research ethos, where different disciplines intermingle as an important driver for creativity and discovery. Advances in sequencing technologies are now providing unprecedented molecular resolution of how stem cells develop into the myriad of functional cell types within the body. Computer modelling techniques are providing striking predictions of how biological systems work and are helping to bridge the gap from single cells to whole tissues and organisms. Researchers are broadening our understanding of animal development and its relevance to health and disease using a veritable feast of model organisms (sea urchins, worms, crickets and killifish to name a few). And we are now beginning to develop an understanding of the complex processes that define our lifespan and, perhaps more importantly, our healthspan.
The Crick-Beddington symposium was a resounding success. With a strong focus on unpublished work, it highlighted that collaborative efforts across disciplines are accelerating fundamental insights into biological systems. An exciting future for developmental biology lies ahead.
Vicki Metzis and Alex Gould
Thanks to the Medical Research Foundation Rosa Beddington Fund and all sponsors of the Crick-Beddington 2019 event which can be accessed together with the full programme here.