We'll soon be launching a newly designed Node homepage to help make our historical content easier to find and improve navigation through the various parts of the site. To accompany this change we're going to refresh our header image – that's the letterbox-shaped image you see above the menu bar. Currently we circulate between these four images: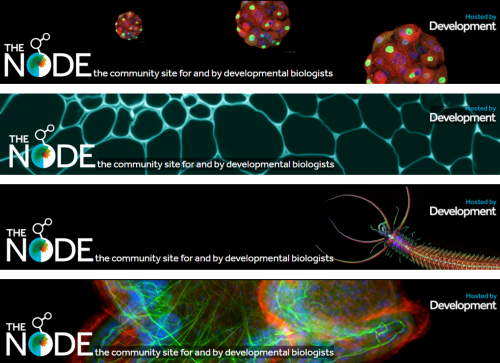 …and now we need four more. And where better to source beautiful developmental biology than the community?
So, do you have a developmental biology image that would be a good replacement? Winning images will be seen by thousands of readers a month from all over the world (better, surely, than languishing unseen in a folder within a folder on your desktop!).
Competition details
The image must be croppable to 1140×190 pixels (that's 6:1), or be submitted at those dimensions.

The higher quality the better – if cropping leads to pixellation, we won't pick it
Subject can be anything related to developmental biology – any organism, any system, any imaging platform.
As you see above, the image could be a striking image, a close up of an embryo, or a repeated pattern
If there is a background to your image, please make it black
Colour blind friendly images are preferable
Feel free to send more than one entry
Please send your entry to thenode@biologists.com
Winning entries will be chosen by the Node & Development team
Please enter by Monday 1 February
We look forward to seeing your beautiful #devbio