In 2009, FaceBase was launched in response to the need for more comprehensive analysis of craniofacial development: with so much craniofacial data being generated, there is a danger of relevant datasets being buried in the avalanche of genomic and other data. FaceBase is a curated, one-stop shop for facial development and research offering the community input and access to datasets that can bring their research to the next level. After the first 5 years (known as FaceBase 1) resulting in almost 600 datasets and over 100 publications, the next phase of FaceBase (FaceBase 2) began in August 2014 with a new Hub that developed an updated data model allowing for more data integration and faceted searches with a new server interface. The FaceBase website (http://www.facebase.org/) continues to be a resource for the community.
What is FaceBase? A collaborative NIDCR-funded consortium to generate data in support of advancing research into craniofacial development and malformation.
Serves as a community resource by generating large datasets of a variety of types and making them available to the wider research community at http://www.facebase.org/.
Emphasizes a comprehensive and multidisciplinary approach to understanding the developmental processes that create the face.
Spotlights high-throughput genetic, molecular, biological, imaging and computational techniques.
Facilitates cooperation and collaboration between projects and beyond.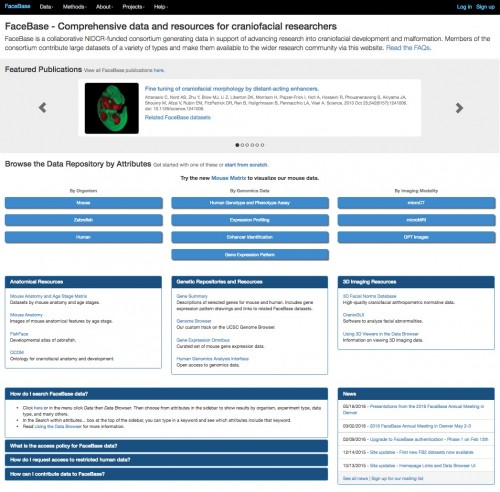 Features:
Almost 600 datasets are available for browsing on http://www.facebase.org/data/search/
Find datasets by various filters: organism (e.g., human, mouse, zebrafish), investigator, data type, various developmental ages, mutation, genotype, gene, chromosome and much more.
New data are now available from the FaceBase 2 projects as well as continued uploads of FaceBase 1 datasets
What you'll find:
Global and specific gene expression patterns
Regulatory elements and sequencing
Anatomical and molecular atlases
Human normative facial data and other phenotypes
Genetics of craniofacial development
Repositories of animal models and of human samples and data
Software tools and animal models for analyzing and testing and integrating these data
Resources for researchers who may be new to the craniofacial field
Finding the data you need:
Start your search by clicking the Data Browser button on the homepage or in the top navigation. The video below provides a tutorial on the site's search functions. There is also extensive documentation on the website.
3D skull anatomy:
Here is a video which highlights every bone in the craniofacial region and provides internal and external views of the skull as well as measurements of selected bones.
FaceBase 1 projects (2009-2014) and their contributions:
| | |
| --- | --- |
| 3D Facial Norms  – Weinberg, Marazita | Created the first web-based, publically available, large-scale repository of normal human 3D facial images and measurements. |
| Algum – Satyanarayanan | Developed an open-source web application at Carnegie Mellon University for generating Diamond filters using machine learning on marked up images. |
| Functional Analysis of Neural Crest and Palate – Fraser, Ruffins, Lansford | Contributed MR Image data of normal and a mouse model of cleft palate (tgfß KO) presented as orthogonal sections through fetal embryo heads (stages 13.5-18.5). |
| Genetic Determinants of Orofacial Shape and Relationship to Cleft Lip/Palate – Spritz, Hallgrimsson, Klein | Provided genetic information, images and morphometric data for both mus musculus and homo sapiens |
| Genetic Tools and Resources for Orofacial Clefting Research – Donahue, Murray | Developed the FaceBase Mouse Resource at JAX, a comprehensive mouse resource to facilitate research on orofacial clefting. |
| Genome-Wide Atlas of Craniofacial Transcriptional Enhancers – Visel | Mapped on a genome-wide scale distant-acting gene regulatory sequences (enhancers) involved in craniofacial development and examined the precise activity pattern of individual enhancers in transgenic mouse assays. |
| Global Gene Expression Atlas of Craniofacial Development – Potter, Aronow | Used laser capture micro dissection to isolate specific compartments of the developing face, which were then used for gene expression profiling with microarrays and/or RNA-seq. |
| Identification of miRNAs Involved in Midfacial Development and Clefting – Clouthier, Artinger, Postlethwait | Contributed the results of miRNA sequencing in zebrafish (Danio rerio) and mouse (Mus musculus) embryos. |
| Oral Clefts – Moving from Genome-Wide Studies Toward Functional Genomics – Beaty | Imputed markers generated with BEAGLE in CL/P case-parent trios from an international consortium. |
| Research on Functional Genomics, Image Analysis and Rescue of Cleft Palate – Chai, Sanchez | Provided genomic and imaging analysis of normal palatogenesis and selected and highly clinically relevant cleft palate animal models. |
| Shape-Based Retrieval of 3D Craniofacial Data – Shapiro, Cunningham, Brinkley | Produced software – CranioGUI – that can be used by the craniofacial research community to help analyze facial abnormalities. The software works on 3D head meshes and can be used for multiple conditions. |
FaceBase 2 projects (2014-present) and data currently being deposited:
| | |
| --- | --- |
| Anatomical atlas and transgenic toolkit for late skull formation in zebrafish – Fisher, Harris | Advance the use of zebrafish in the study of skull development, and facilitate comparative studies with mammals that will advance treatment options in human patients. |
| Developing 3D craniofacial morphometry data and tools to transform dysmorphology  – Spritz, Klein | Define quantitative measures that characterize the aberrant facial shapes in a large number of human dysmorphic syndromes. |
| Epigenetic landscapes and regulatory divergence of human craniofacial traits – Wysocka, Selleri | Characterize epigenetic landscapes and transcriptomes of human and chimpanzee cranial neural crest cells and analyze candidate human-specific craniofacial enhancer activity in vivo. |
| FaceBase 2 Coordinating Center – Kesselman | Develop and maintain an infrastructure that will store, represent, and serve craniofacial data to the research community and develop tools for visualizing, integrating, annotating, linking and analyzing the data |
| Genomic and transgenic resources for craniofacial enhancer studies – Visel | Characterize the gene regulatory landscape of craniofacial development using epigenomic profiling of developmental mouse and human facial tissues, coupled to characterization of craniofacial enhancers in transgenic mice. |
| Human genomics analysis interface for FaceBase 2 – Marazita | Develop a genomics analysis interface that makes analysis of pertinent genomics data available to FaceBase users without releasing the individual level data. |
| Integrated research of functional genomics and craniofacial morphogenesis – Chai | Integrate our research in functional genomics and craniofacial morphology/dysmorphology of mandible and maxilla within the FaceBase Consortium. |
| Ontology of craniofacial development and malformation – Brinkley | Extend the OCDM to accommodate human and mouse facial, palatal, and cranial vault development and dysmorphology. |
| Rapid identification and validation of human craniofacial development genes – Maas, Liao | Identify and functionally validate approximately two dozen genes involved in novel aspects of human craniofacial development. |
| RNA Dynamics in the Developing Mouse Face – Williams, Hooper, Jones | Provide a valuable resource detailing the dynamic interplay of ectoderm and mesenchyme during normal facial development. |
| Transcriptome atlases of the craniofacial sutures – Jabs, van Bakel, Holmes | Generate comprehensive gene expression atlases of the major and functionally important craniofacial sutures of the mouse. |
References:
The FaceBase Consortium: a comprehensive resource for craniofacial researchers. Brinkley JF, Fisher S, Harris MP, Holmes G, Hooper JE, Jabs EW, Jones KL, Kesselman C, Klein OD, Maas RL, Marazita ML, Selleri L, Spritz RA, van Bakel H, Visel A, Williams TJ, Wysocka J, FaceBase Consortium, Chai Y. Development 2016 143:2677-2688. doi: 10.1242/dev.135434
The FaceBase Consortium: a comprehensive program to facilitate craniofacial research. Hochheiser H, Aronow BJ, Artinger K, Beaty TH, Brinkley JF, Chai Y, Clouthier D, Cunningham ML, Dixon M, Donahue LR, Fraser SE, Hallgrimsson B, Iwata J, Klein O, Marazita ML, Murray JC, Murray S, de Villena FP, Postlethwait J, Potter S, Shapiro L, Spritz R, Visel A, Weinberg SM, Trainor PA. Dev Biol. 2011 355(2):175-82. doi: 10.1016/j.ydbio.2011.02.033