During spermatogenesis, progenitor cells must undergo tightly regulated changes to produce functional gametes. However, the genetic control of this process in humans has eluded researchers. This week we feature a paper published in the latest issue of Development that describes the changing genetic expression of cell during spermatogenesis. The co-first authors Sabrina Jan and Tinke Vormer and PIs Sjoerd Repping and Ans van Pelt of The University of Amsterdam told us more.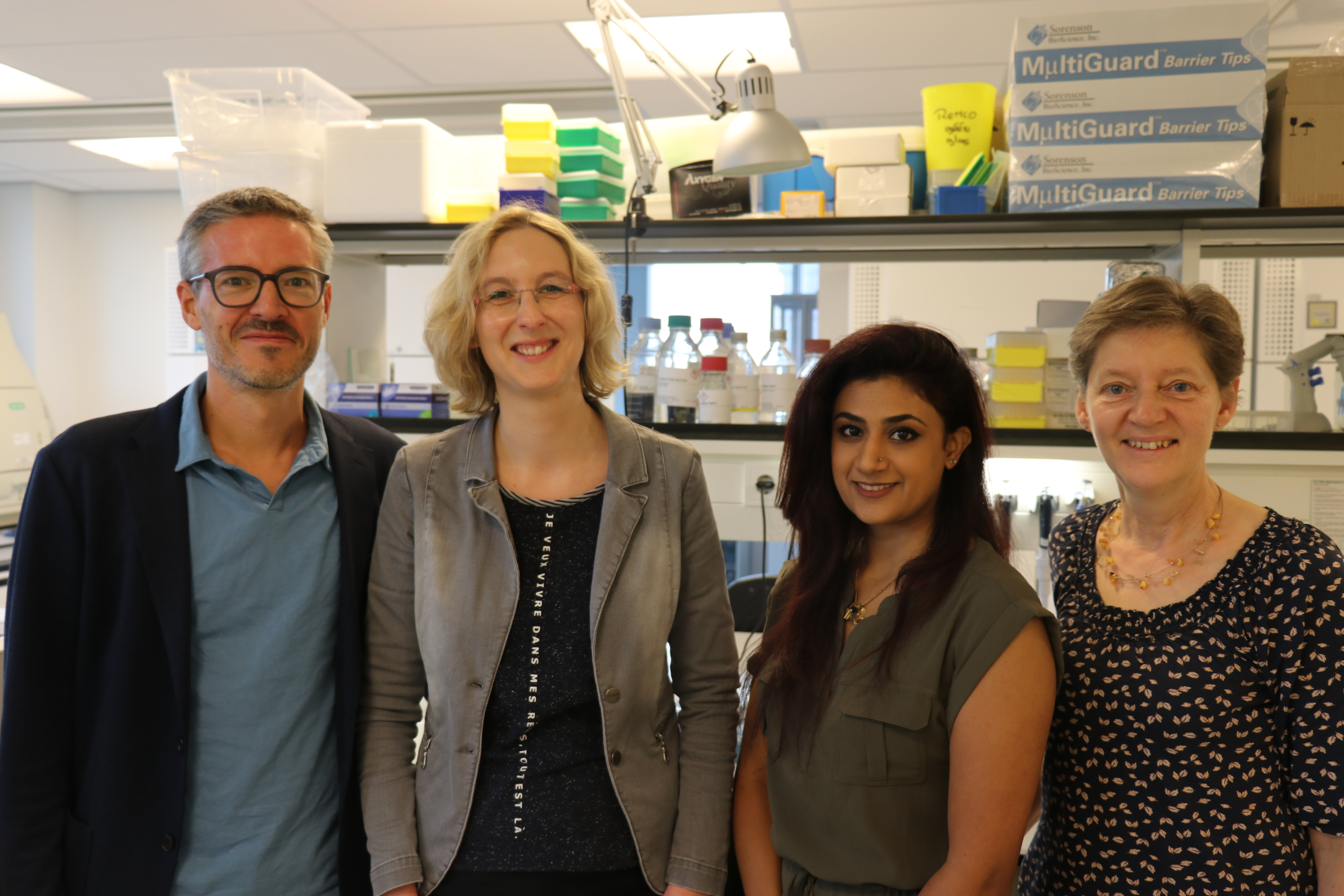 Sjoerd and Ans, can you each give us your scientific biographies and the main questions your lab is trying to answer?
SR & AvP We work at the Center for Reproductive Medicine of the Academic Medical Center of the University of Amsterdam. Our center focusses on providing top-clinical care to patients suffering from infertility and on understanding the basic pathophysiological mechanisms underlying infertility. Our research laboratory has four active lines of research: 1- Spermatogenesis and spermatogonial stem cells, 2- Preimplantation embryo development, 3- Genomic stability of reproductive cells, and 4- Placentation and gestational diseases. Besides our laboratory research, our department is very active in healthcare evaluation research where we try to increase effectiveness and safety of medically assisted reproduction.
Sjoerd was trained as a clinical embryologist, received his PhD on genetics of male infertility at the University of Amsterdam and the Whitehead Institute in Cambridge and is currently professor of Human Reproductive Biology, head of the Center for Reproductive Medicine and Director of the Amsterdam Reproduction & Development Research Institute.
Ans was trained as a stem cell biologist. She received her PhD on the role of vitamin A on spermatogenesis and spermatogonial stem cells at the Medical School of the Utrecht University in collaboration with the Hubrecht Institute, both in the Netherlands. She is currently associate professor at the Center of Reproductive Medicine, head of the Reproductive Biology Laboratory and leader of the research line Spermatogenesis and spermatogonial stem cells.

Sabrina and Tinke, how did you both end up working on this project?
SJ I started working on this project as part of my PhD training. I have always been very interested in the field of reproductive medicine. In 2008 I completed a masters degree in reproductive and developmental biology. In 2011 I was looking to further academic training and as soon as I read this project's research proposal I was immediately interested. For me, spermatogenesis is a unique process from which we can learn so much not only about gamete formation and fertility but also about the molecular control of processes such as stem cell biology, mitosis, meiosis and cytodifferentiation.
TV Before joining the Centre for Reproductive Medicine, I performed my PhD studies at the Netherlands Cancer Institute in Amsterdam, where I studied the molecular changes that occur when a healthy cell transforms into a cancer cell. As such, the step to studying the molecular changes during spermatogenesis is not as big as people sometimes think. During my undergraduate studies, I performed a literature study about molecular changes during spermatogenesis and I was absolutely amazed by this process. After finishing my PhD studies, I saw an advertisement for a postdoctoral position in the Centre for Reproductive Medicine, and immediately applied.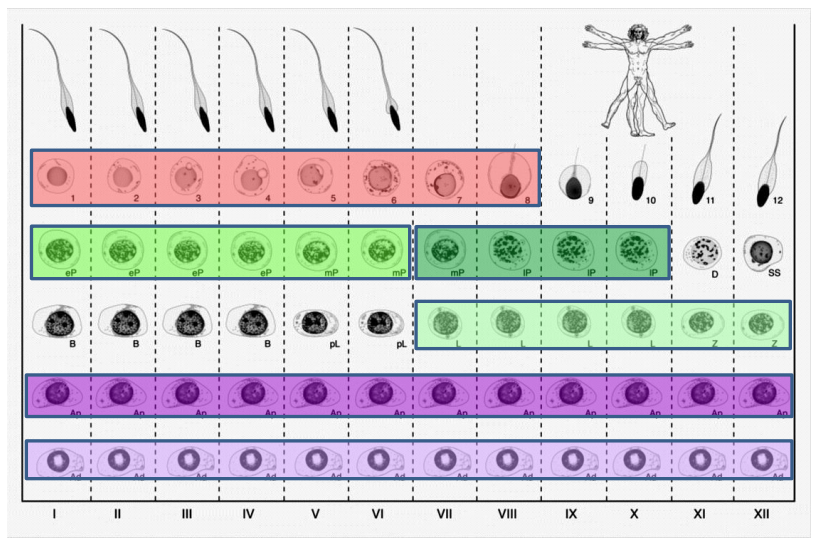 What was known about the molecular control of spermatogenesis in humans prior to your paper?
AvP The molecular control of human spermatogenesis was largely unknown. Only recently a few groups in the world have investigated the transcriptome and epigenetic patterns of the entire human testis or some isolated testicular cell types, but not to the extent as we have now been able to do.
Can you give us the key results of the paper in a paragraph?
AvP & SJ In this paper we investigated the transcriptome of male germ cells using laser capture microdissection to isolate testicular cells based on morphology and localization in the testis. By doing so, we were able to identify the RNA profiles of many more subpopulations of germ cells than with any other method described before. This resulted in a far more detailed understanding of the molecular regulation of human spermatogenesis.
TV We identified the onset of major gene expression changes during human spermatogenesis and discovered the specific timing of transcriptional changes of individual genes. Also, we found that Adark (quiescent), Apale (actively dividing)  spermatogonia display similar transcriptomic patterns and that the transcriptome of precursor cells already contains genes necessary for cellular differentiation later in development.
Can you briefly describe the technique you developed and how it could be used to answer other biological questions?
AvP & TV The technique is based on single cell laser capture microscopy out of fixed and paraffin embedded tissue. During this project, we learned that the fixative is of crucial importance. Not only for the recognition of various cell subtypes in the tissue based on their nuclear structure, but also to maintain RNA integrity to allow for in-depth transcriptome analyses of the isolated cells. In our case with testis tissue, we ended up with an alcohol-based fixative instead of the classically used Bouin's fixative. This alcohol-based fixative maintains nuclear structure and RNA integrity and can be applied to any other tissue to allow for single cell capture. By using laser capture microscopy, we were able to isolate pools of single human germ cells from these alcohol-fixed specimens. This enabled us to analyse the transcriptome of human germ cells during the different stages of spermatogenesis. The technique can be used to study other tissues and developmental processes of interest.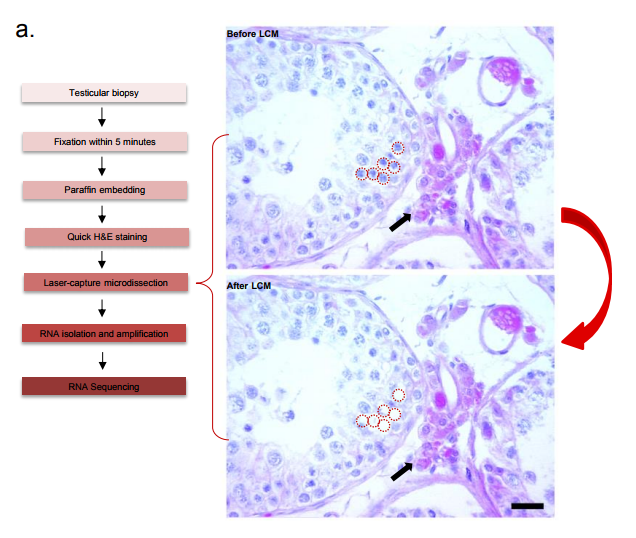 How will your technique help future research into male infertility and possible treatments?
AvP We can now use the results of the current paper as a reference for further transcriptome analyses of germ cells from patients with a maturation arrest in spermatogenesis. In doing so, we will gather information on the molecular aberrations underlying male infertility, which will give us detailed insights for establishing future treatment strategies.
When doing the research, did you have any particular result or eureka moment that has stuck with you?
SJ A moment that will always stick with me while working on this study is the moment I saw the first sequencing results. Many had doubted if this project would be feasible considering the small amounts of RNA we were attempting to experiment with, and it indeed took us years to be able to do so. It is astonishing how much one can do with extremely small amounts of RNA (picograms) (and will power!); we were able to generate whole transcriptomic profiles. This gives new meaning to the phrase "nothing is impossible".
TV When setting up the technique, we had to find the correct fixative, microscope settings and a reliable RNA amplification method to be able to analyse our cells using next generation sequencing. Once this all worked out and we got our first sequencing runs: great!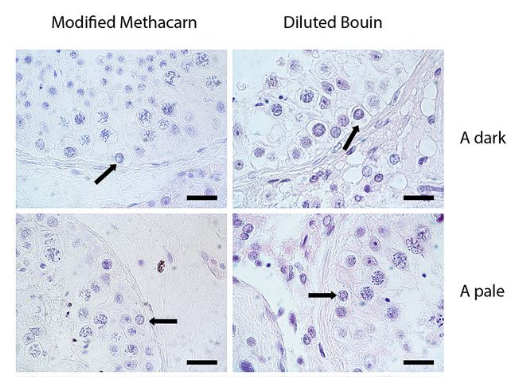 And what about the flipside: any moments of frustration or despair?
SJ There were certainly moments of frustration but certainly not despair. We had a period during the project in which the tubes used for laser capture microdissection were malfunctioning resulting in loss of our carefully collected germ cells. Capturing spermatogonia (germ cells that require careful microscopic evaluation) takes a long time – on a good day we captured 50 germ cells in 3-4 hours. So, you can imagine that loss of such precious collections causes a lot of frustration. Thankfully, it was a batch problem and we could easily solve this problem with the tube suppliers.
TV The isolation of single cells under the microscope is a concentrated job. Especially because we had to set up the technique, this involved quite some patience. Once an experiment failed after carefully isolating all the individual cells, this could be a very frustrating moment… Luckily, Sabrina and I could support each other!
What are your career plans following this work?
SJ At this moment I am in training to become a molecular clinical geneticist at the University Medical Center Groningen in The Netherlands. This project was inspirational in my current career path. Working on spermatogenesis, I was able to work on RNA expression but was also able to gain knowledge on the role genetics plays in the pathophysiology of spermatogenesis. This sparked my interest in genetics. Since RNA expression is a growing field in genetics, in my current work I get to merge these two very interesting worlds together.
TV I am currently working as a medical science liaison for a pharmaceutical company. The research for this paper was performed in close collaboration with physicians that treat infertile patients. I found this very inspiring and hope that our work will contribute to the development of future treatment strategies. In my new role, I am close to the development and application of new therapeutics in the clinic and have regular contact with physicians, which I find very rewarding.
What's planned next for the Repping and van Pelt labs?
SR & AP One of the most exciting things we are working on is bringing autotransplantation of spermatogonial stem cells (SSCs) into clinical practise for sterile childhood cancer survivors. Often children with cancer become sterile due to the chemotherapy they receive to treat  their cancer. We have pioneered the development of an in vitro culture system of human SSCs and are currently in the progress of finalizing crucial in vitro and animal safety studies before we embark on the first clinical trial in humans. Furthermore and in line with the current study, we aim to study the molecular aberrations in men suffering from idiopathic infertility. The ultimate goal there would be to treat these men with a therapy, perhaps in combination with SSC autotransplantation, that will allow these men to produce sperm again and become a genetic parent.
Lastly, what do each of you like to do when you're not in the lab?
SR I enjoy taking long distance runs (just ran my 6th marathon), reading and spending time with my family and friends.
AvP I enjoy hiking, cycling and spending time with my family and friends.
SJ I enjoy going out dancing with my friends, swimming and various other activities such as walking in the various different beautiful dunes in The Netherlands and last but certainly not least, spending time with my family.
TV I am a big fan of flamenco dancing! I have been doing that for quite a few years, and I recently started with a flamenco-singing class for dancers. It is a lot of fun, I really enjoy the musicality and temperament of this music. Of course I also enjoy spending time with family and friends.
---
Sabrina Z. Jan, Tinke L. Vormer, Aldo Jongejan, Michael D. Röling, Sherman J. Silber, Dirk G. de Rooij, Geert Hamer, Sjoerd Repping, Ans M. M. van Pelt. 2017. Unraveling transcriptome dynamics in human spermatogenesis. Development. Volume 144, Issue 20, p3659-3673.
This is #30 in our interview series. Browse the archive here.