Closing Date: 15 March 2021
BBSRC funded postdoc position in the laboratory of Natalia Sánchez-Soriano (https://sanchezlab.wordpress.com), to study the cell biology of neuronal ageing and the underlying mechanisms.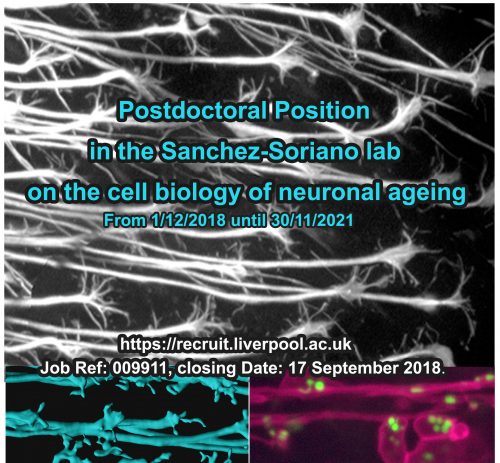 On this project you will study the harmful changes that neurons undergo at the subcellular level during ageing, and unravel the cascade of events that cause them. The focus will be on intracellular degradation systems and the upstream regulatory pathways.
Ideally, applicants should be trained in neuro- and/or in vivo cell biology, and imaging, and have some experience with Drosophila.
The post is available from 1/12/2018 until 30/11/2021.
To apply, please visit: https://recruit.liverpool.ac.uk
Job Ref: 009911, closing Date: 17 September 2018