Closing Date: 15 March 2021
We have open postdoctoral positions in our lab. We are looking for researchers interested in understanding the mechanisms through which non-coding RNAs and RNA metabolic pathways regulate gene expression in mammals and how these mechanisms impact animal development and disease. Our lab uses a combination of mouse models and genetic tools together with biochemical and computational approaches to stringently define the roles of these pathways in vivo.
To learn more about our research go to our website at vidigallab.com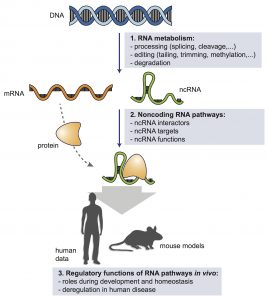 Who you are:
You share our enthusiasm for RNA biology, gene regulation, mouse development, and tumor biology
You have PhD-experience in one or more of the following: RNA biology, mouse genetics, developmental biology, tumorigenesis, massively-parallel sequencing techniques, or computational biology.
What we offer:
Fully-funded postdoc positions.
A stimulating and collaborative environment.
Opportunity to start your own research program or lead ongoing projects.
Apply: Send the following to vidigal.lab@gmail.com
2 paragraph cover letter explaining your scientific trajectory and why you would like to join us.
CV and email contacts for 3 references.
NIH is dedicated to building a diverse community in its training and employment programs. This position is subject to a background investigation.