In this SciArt profile, we caught up with Lauren Moon, a PhD student in developmental biology who enjoys creating science-themed calligraphy and hand-painted ceramic plates.
Can you tell us about your background and what do you work on now?
I started my undergraduate degree in anatomy and developmental biology at King's College London. Though my anatomical studies really inspired me and brought out my artistic creativity, the classes I enjoyed the most were embryology. I did a research project on zebrafish neural tube formation in my third year, which cemented my drive to pursue research in this field. I am now in the final year of my PhD, working on the mechanics of neurulation in avian embryos.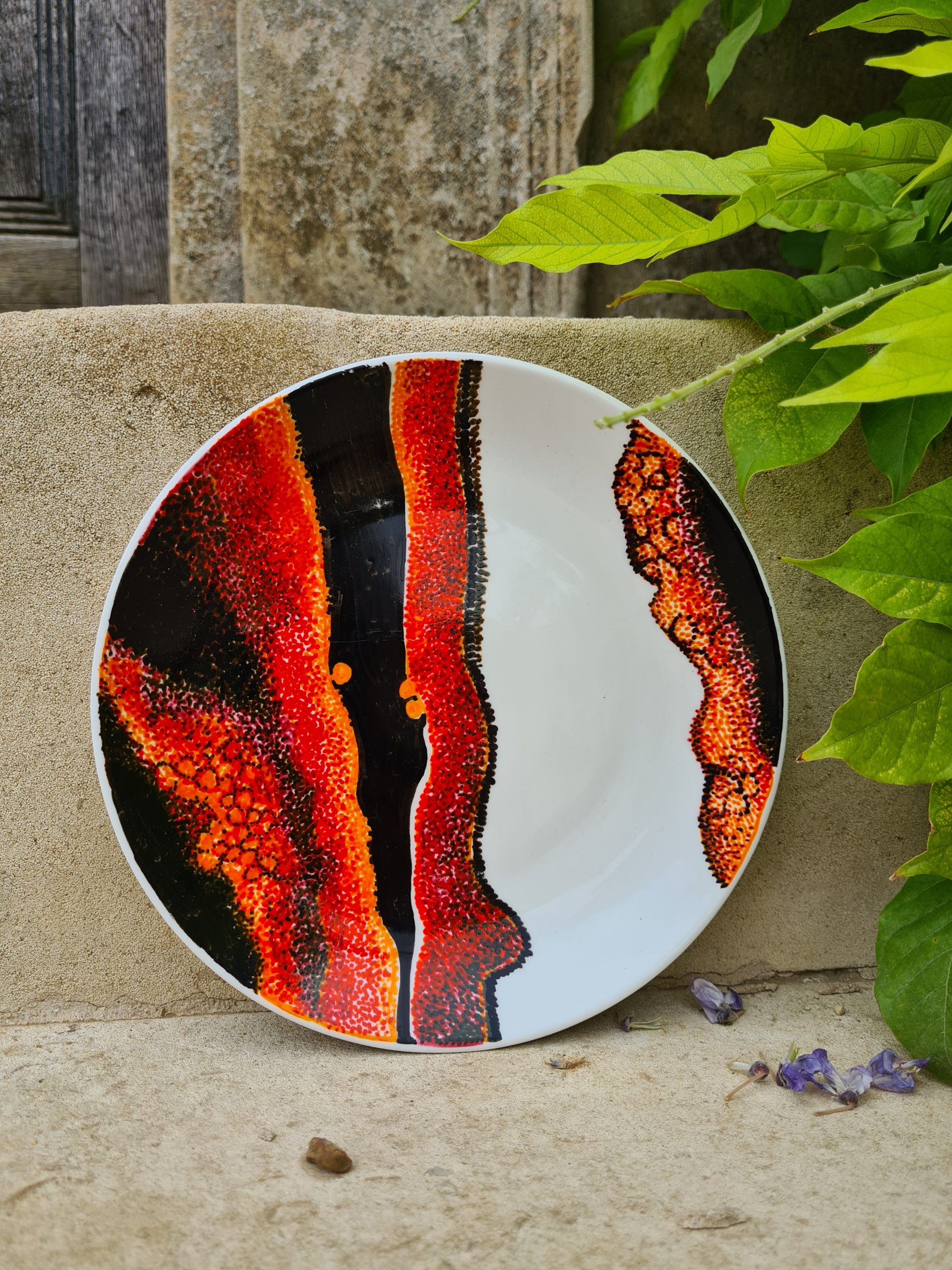 Were you always going to be a scientist?
Growing up, I was equally torn between literature and biology. I realised very quickly that whilst I wasn't brilliant at describing what I wanted to portray in written words, expressing it in art came naturally and my passion for sketching and painting grew. For a while, I thought I could be an illustrator for manuscripts or books, creating beautiful calligraphy with art in the margins. Biology was just as interesting and sparked my curiosity in a very different way but was more practical as a career choice (Younger me was devastated to find out there wasn't really a call for those kind of books and manuscripts these days). As I got older and focused more on science, I realised what fascinated me the most was the small details, the underpinning bits of cell biology and tissue structures that built up to create such varied organisms, and that set me on the path to where I am now.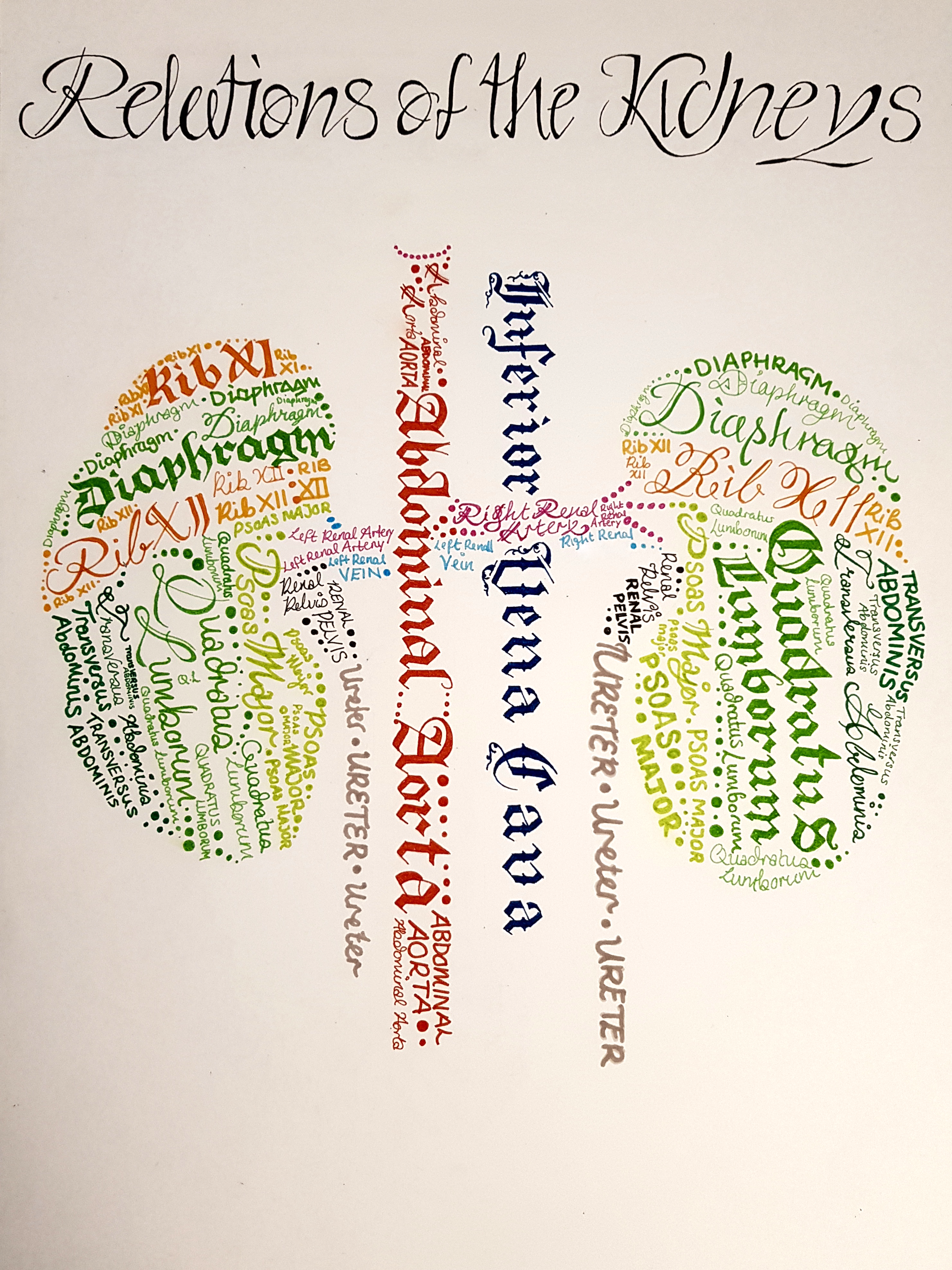 And what about art – have you always enjoyed it?
Art is something I think I've been doing for as long as I can remember, though when it started to be recognisable as anything more than broad strokes of colour and smudged outlines is a different story! I went through many different styles as my interests and the materials I had access to changed, but I settled on my love of calligraphy and playing with form and geometry in my late teens after being gifted a book on it by my great aunt, who noticed I always used to like her ornate handwriting. I do still take the chance to sit in the V&A for an afternoon to sketch their marble busts and statuary whenever I can though, there is something very relaxing about just a pencil and paper and the curve and flow of limbs and draped fabric that has stayed with me through all my stylistic changes.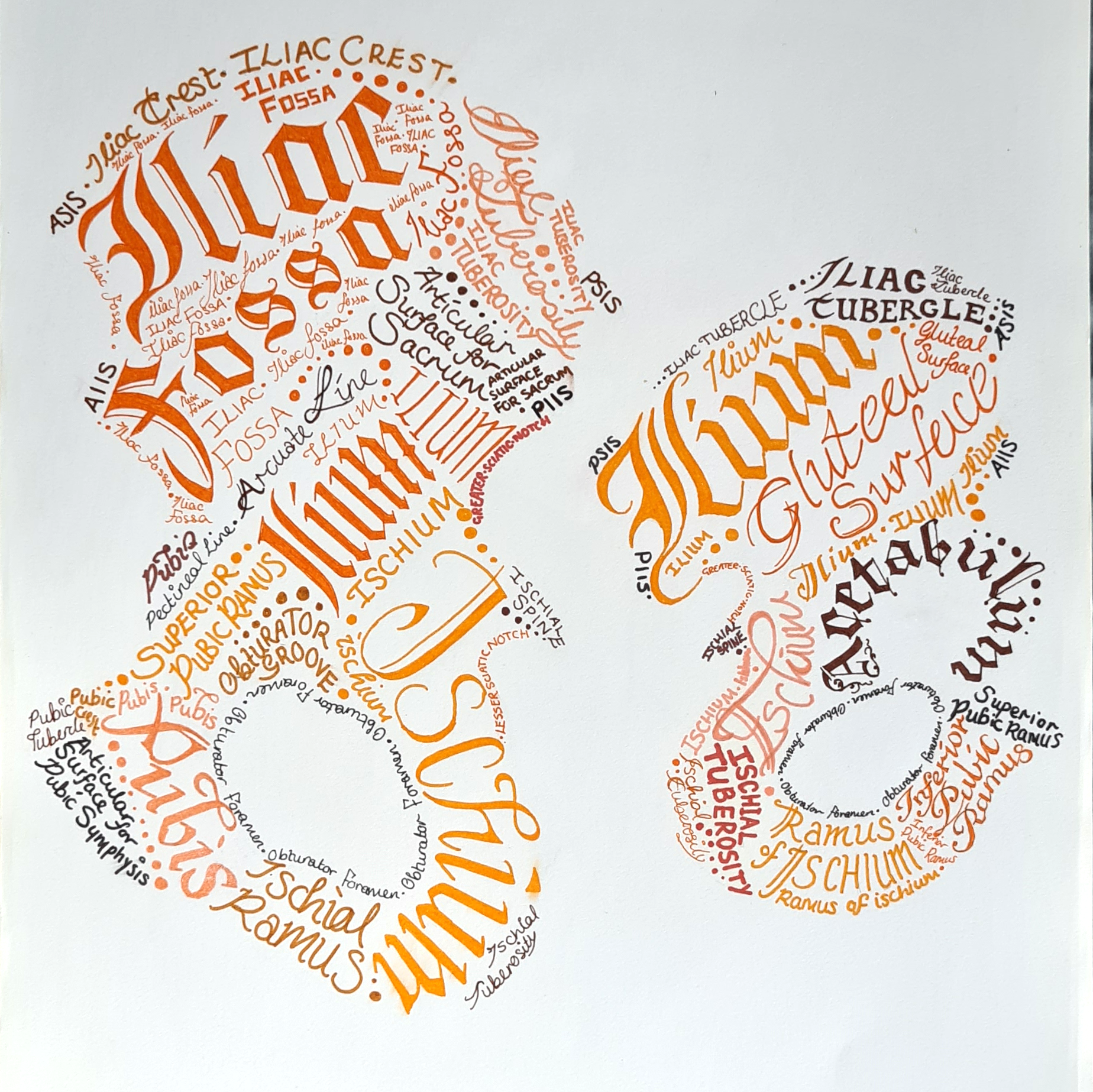 What or who are your most important artistic influences?
It depends on what style or medium I'm working in really, but one of my biggest influences for the calligraphic pieces is Henry Vandyke Carter. I spent a lot of time studying Gray's Anatomy for my undergrad, and those pieces stemmed from trying to create study aids for myself that meant I could procrastinate by doing art but still have learned something at the end. My pottery pieces, and some of my paintings and digital pieces, are more inspired by what I see down the microscope or in the lab than a specific artist or style. Confocal fluorescent images of my work are very inspiring to me; at such a high magnification translating the images to art gives an abstract view that lets me pick out shapes and colours but still connect to the biology underlying the images.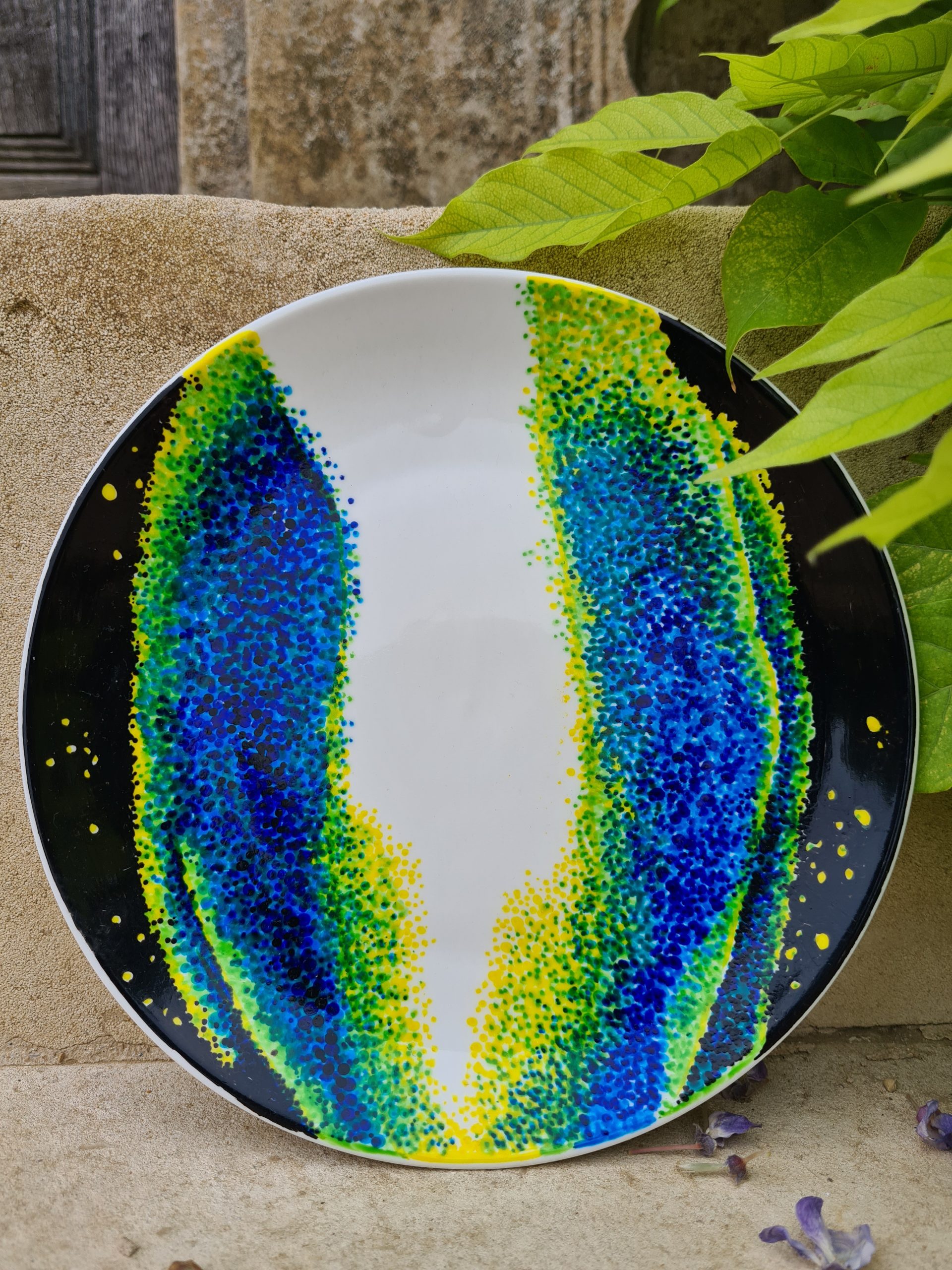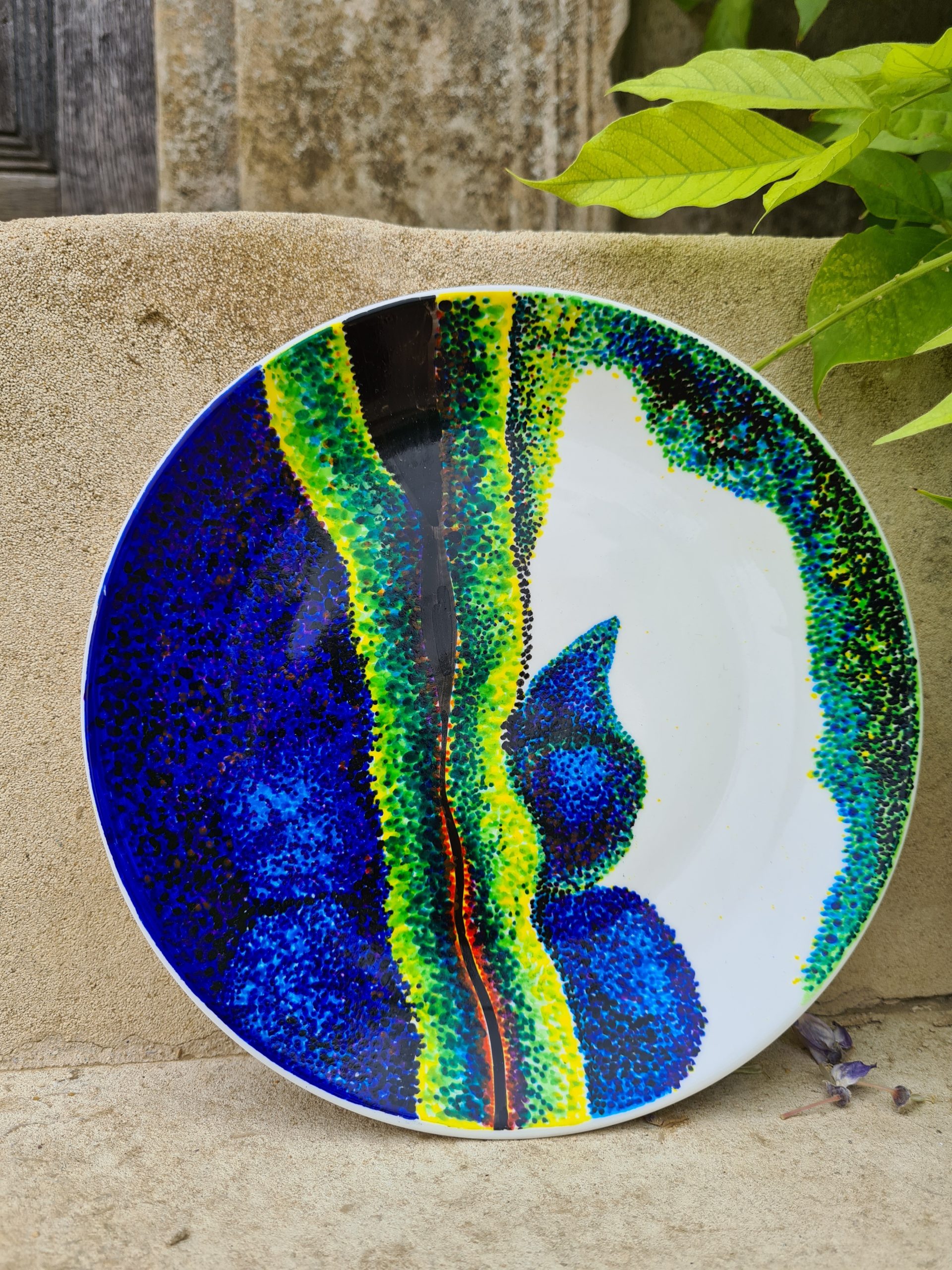 How do you make your art?
I use all sorts, but you will most often find me with either a pencil, a fountain pen or an ink brush in hand. The calligraphy is a mix of sketched outlines and ink or alcohol markers depending on the scale, with a lot of cross referencing various anatomy textbooks and personal notes and sketches. My ceramics are most often plates I picked up from homeware stores painted very painstakingly with hundreds of tiny dots using ceramic paint, based on microscopy images taken on a confocal. More recently, I have bought an artist's tablet that plugs into my laptop and am exploring with more digital methods. So far, I have used drawing programs like Affinity for graphic designs for prints and outreach projects, as well as sculpting software to manipulate virtual clay for schematics and animations of tissue scale biological processes.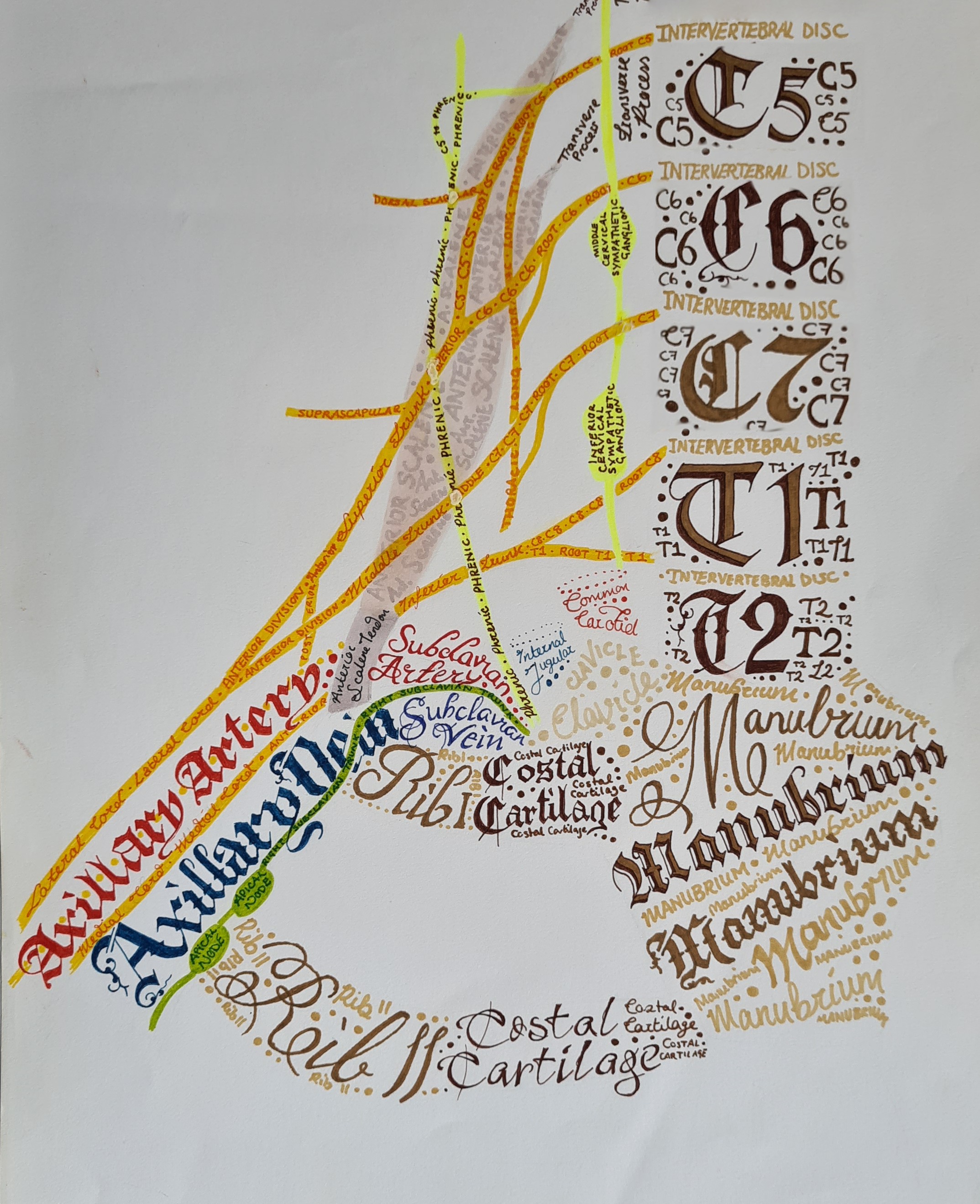 Does your art influence your science at all, or are they separate worlds?
My science very much influences my art, but the other way around? I would say it does, but perhaps not always in the most helpful way! It certainly elevates my drive to improve and push the boundaries of what my microscopy can reach, pushing me to learn more about different microscope types and builds, refractive indices and optical aberrations to achieve the greatest clarity possible in the tissues I work with. That definitely makes my eventual data collection much easier to analyse and work with, but early on did come at the cost of unfortunately huge file sizes whilst I found the balance. It also helps in thinking about how to frame my science in a way that I can easily communicate to others and where to go next; drawing a mock graphical abstract or giving a chalk talk where I need to draw out what I say helps see where the missing piece of the composition is.
The Gurdon Institute in Cambridge, where I'm based, also does a lot of public engagement and that is a part of my science that is definitely influenced by my art. One of the projects the amazing outreach team run that I got involved in is Tattoo My Science. Researchers from different labs create a design that represents their work, which is turned into temporary tattoos we can give out at outreach days. It really makes you think hard about your work and your understanding of what you do, to try and distill it into a small simple image that would appeal to (and you then have to explain to) anyone from five to one hundred and five. It also gives me a chance to bring my science out of the lab and to a new audience; last year I exhibited some of my pottery pieces at the Heong Gallery in Cambridge as part of a Fine Art prize I won and got the chance to talk about them with people from many different backgrounds.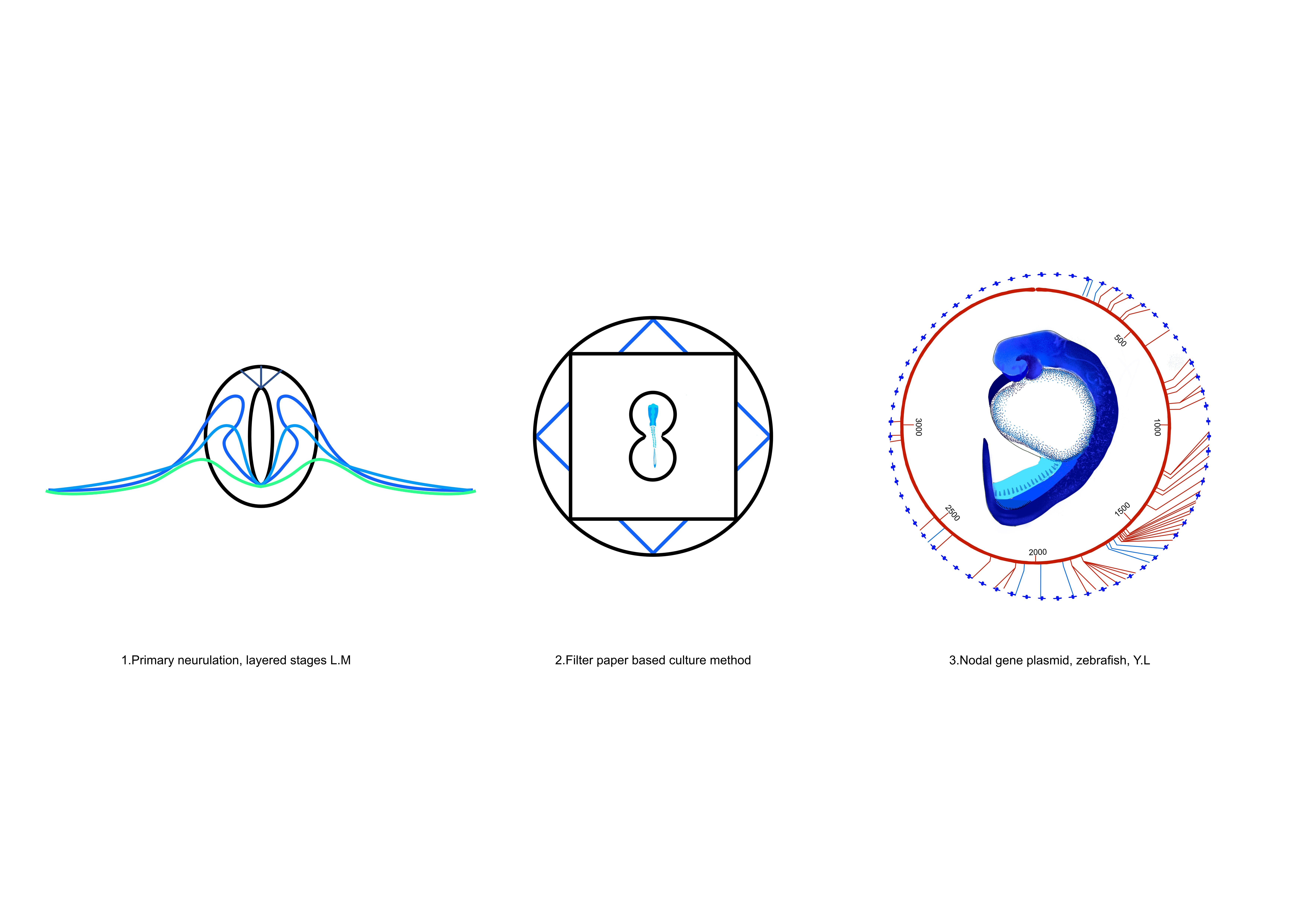 What are you thinking of working on next?
I am (very slowly) working on creating enough of the anatomy sketches to put together an atlas with them as a long term creative goal, though once complete it will probably just sit on my shelf as a reference book and I'll move on to the next big project! In the nearer future, I've been tasked with creating a logo and t shirt design for our next lab retreat, so that will be a fun departure from what I'm used to.