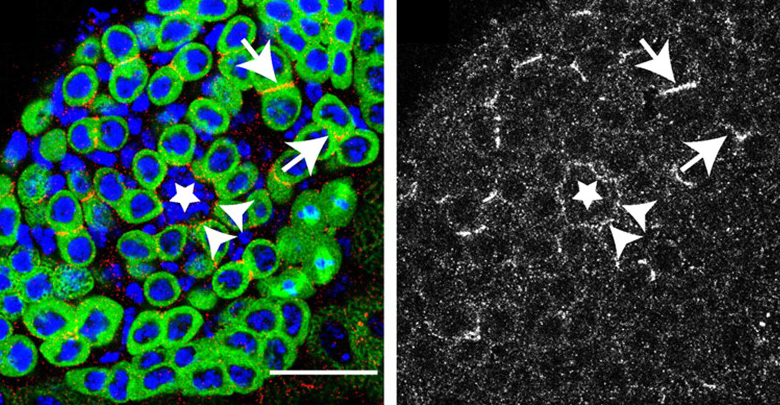 We depend on our own comfort zones to keep us grounded, and stem cells are no different.  A recent paper in Development describes how the adhesion that keeps a stem cell in its niche is regulated.
A stem cell's niche is important in maintaining its long-term undifferentiated state.  A great model of stem cell niche biology is the Drosophila testes, in which germline stem cells (GSCs) reside next to somatic hub cells within their niche.  GSCs maintain proximity to the "hub" through the use of E-cadherin-based adherens junctions.  A recent paper identifies a new player in adhesion of GSCs to the hub.  Srinivasan and colleagues found that the receptor tyrosine phosphatase Lar (Leukocyte-antigen-related-like) promotes GSC-hub adhesion through E-cadherin.  Lar, typically associated with axonal migration and synapse formation, is also required for proper localization of Apc2 and E-cadherin localization, in turn regulating centrosome positioning and asymmetric division.  Without Lar, fewer GSCs were found at the hub.  Images above show localization of Lar (red in merged, white in right image) at the GSC-hub interface (arrowheads) in Drosophila testes (early germ cells are green).  Lar is also seen between sister cells of early spermatogonial cysts (arrows), which have the ability to later replace lost GSCs.
For a more general description of this image, see my imaging blog within EuroStemCell, the European stem cell portal.
Srinivasan, S., Mahowald, A., & Fuller, M. (2012). The receptor tyrosine phosphatase Lar regulates adhesion between Drosophila male germline stem cells and the niche Development, 139 (8), 1381-1390 DOI: 10.1242/dev.070052