Development covers showcase the beauty of developmental biology. Embryos, tissues and cells are rendered in striking colour palettes and artistic arrangements. We mainly receive confocal image submissions but sometimes also EM and standard light microscopy. And sometimes, art – like our most recent cover, a schematic overview of C. elegans created by Annabel Ebbing, PhD student in Hendrik Korswagen's lab at the Hubrecht Institute in The Netherlands and first author of a new paper on neuroblast migration. We caught up with Annabel to find out how her beautiful cover came about and how she thinks about art and science.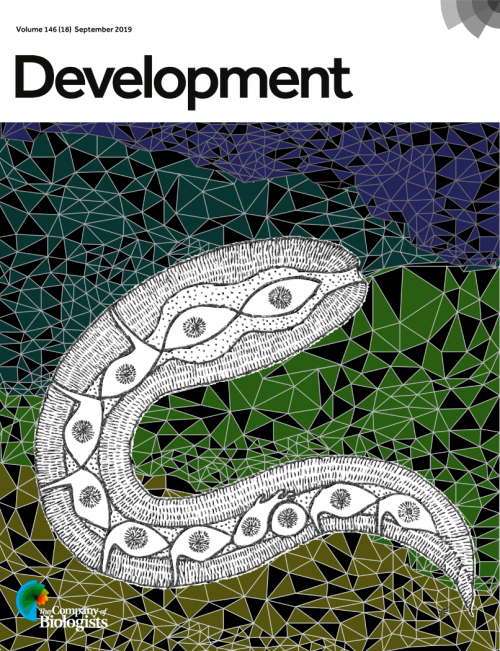 Can you tell us about your PhD project and your new Development paper?
The project started a while back (in 2013), when I was still a Master's intern student at the Korswagen lab. My direct supervisor was Teije (the shared first author on this paper) who helped me with the imaging and epistasis experiments to elucidate the role of the Fat-like cadherins CDH-4 and CDH-3 in Q neuroblast migration. In the meanwhile, he did similar experiments for UNC-40, DPY-19, and MIG-21. Finally, when I started my PhD I set out to combine the two projects. This was during the emergence of CRISPR as a standardized tool for C. elegans, which really helped the project get to the state where it is now. We managed to study the effects of tissue specific protein depletions and endogenous protein localization, which together really resolved some of the outstanding questions we had concerning the interplay between proteins and a possible molecular mechanism. All in all, there are several proteins involved in Wnt independent Q neuroblast migration; apart from their own roles they have overlapping functions as well, making it a complex and highly regulated mechanism controlling protrusion formation and directionality.
Have you always been interested in art as well as science?
Both art and science have always been fascinating subjects to me. Actually, I wanted to pursue a more artistic education at a certain point, but I decided to study biology in the end to feed my general curiosity. Pursuing a career in science did not make me leave the artistic side altogether though. I especially love thinking about scientific projects in a more abstract way. For me the process of visualization helps in my understanding of a certain subject.
Where did you get the idea for submitting cover art rather than something more standard?
Well, last year we published a paper in Development Cell, for which I made the cover. So when we were asked to submit a cover proposal for Development, I decided to take a similar approach. I love drawing and painting and honestly thought the immunofluorescence images for this project were rather dull (sometimes you see these amazing structures of cells, organs, and even organisms and our imaging was just rather 2D). Let's say, the choice to draw was quickly made.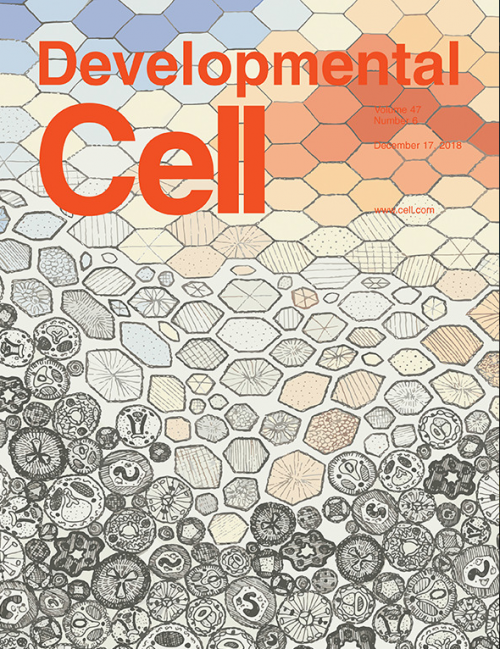 Can you tell us a little about the process of designing the piece?
I started the piece by trying to make an abstract overview of a worm, including a migrating Q neuroblast, using simple lines and dots. Later on, I imported the file in illustrator and made the background. Most covers of Development (if not all) have a dark/black background, so I decided to use dark colors, which made a nice contrast with the black and white worm.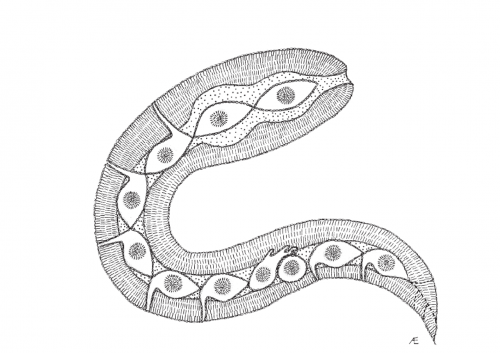 How did Aboriginal art influence the work?
Aboriginal art is an artform of storytelling; using simple lines and dots the Aborigines manage to tell entire stories and legends. Since the mechanism underlying the process of Wnt independent Q neuroblast migration is rather complex, I thought there would be no better way to illustrate it than in such a narrative-rich manner.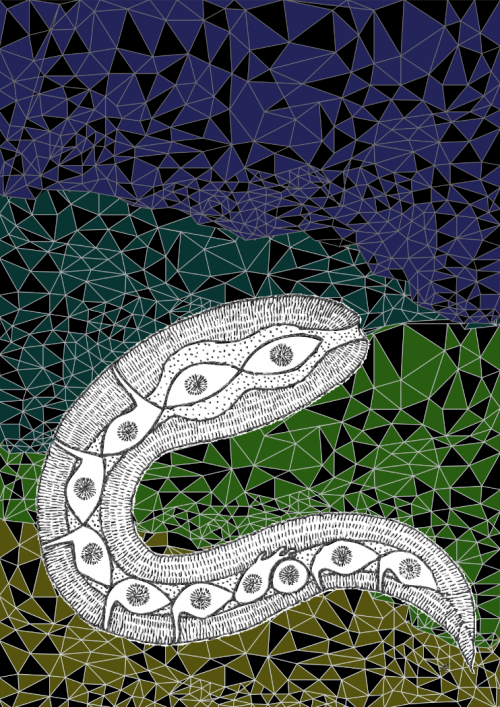 What's next for you after this paper?
I am submitting my thesis as we speak! So I guess the main focus for the coming months is the defense. Art wise that means I am illustrating a cover for every chapter, which is a lot of fun! Moreover, together with colleagues we are preparing another manuscript at the moment, which will hopefully be accepted sometime this winter.
Some more worm art from Annabel 
---
Some previous artistic Development covers