At the ISSCR meeting in Toronto in June I noticed this display at the top of the escalators: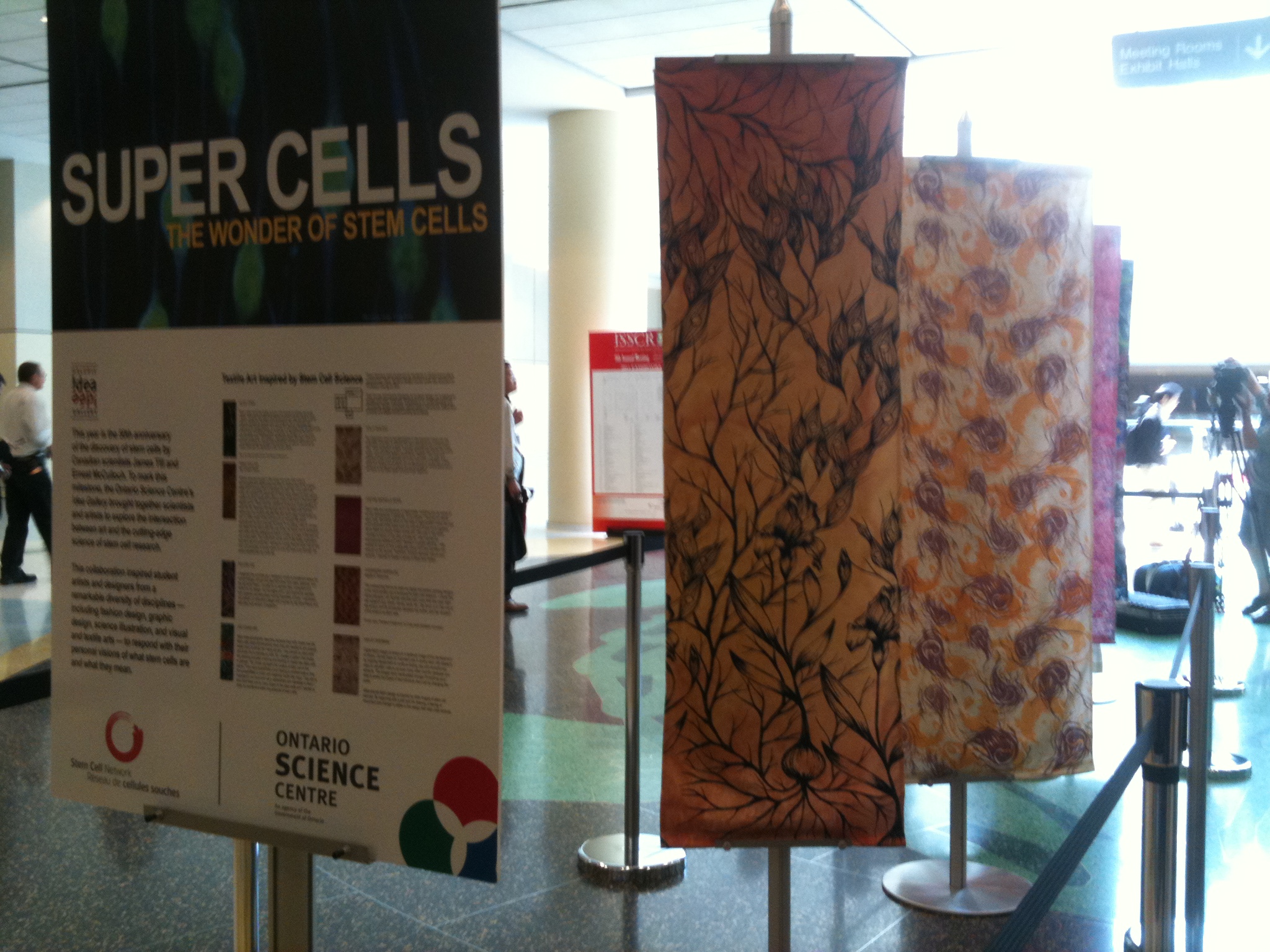 These fabrics with patterns related to stem cells are part of an ongoing exhibition at Toronto's Ontario Science Centre (OSC). In collaboration with the Stem Cell Network, the "Super Cells: The Wonder of Stem Cells" exhibit displays stem cell-inspired work by students from art schools across the city of Toronto.
At the museum itself, this is one of the works on display:

(Image by Ricardipus on Flickr, used with permission. Click image for more info.)
The fashion aspect of the exhibit reminds me a bit of Primitive Streak, but Super Cells covers other art forms as well.
From the press release:
"This year marks the 50th anniversary of the discovery of stem cells by Canadian scientists Drs. James Till and Ernest McCulloch. "Till and McCulloch's discovery in 1961 was unparalleled at the time and their findings continue to influence the field of stem cell research to this day," said Drew Lyall, Executive Director of the Stem Cell Network. "This exhibition is a fitting tribute to their work, which took place here in Toronto." "
In addition to the exhibit, the museum also organised Skype chats with stem cell researchers during the ISSCR meeting. Visitors to the science centre could ask delegates of the ISSCR meeting about their research via Skype. I didn't get a chance to see this at the conference (so I don't know who was interviewed), but the chats will hopefully be posted on the science centre's YouTube channel.
Super Cells is at the Ontario Science Centre until October 2nd, 2011. If you're in Toronto before then, take a look. The rest of the museum is really great as well!