4th Young Embryologist Meeting
Friday 1st June 2012
UCL Institute of Child Health, London
Registration and Abstract Submission NOW OPEN (until March 31st)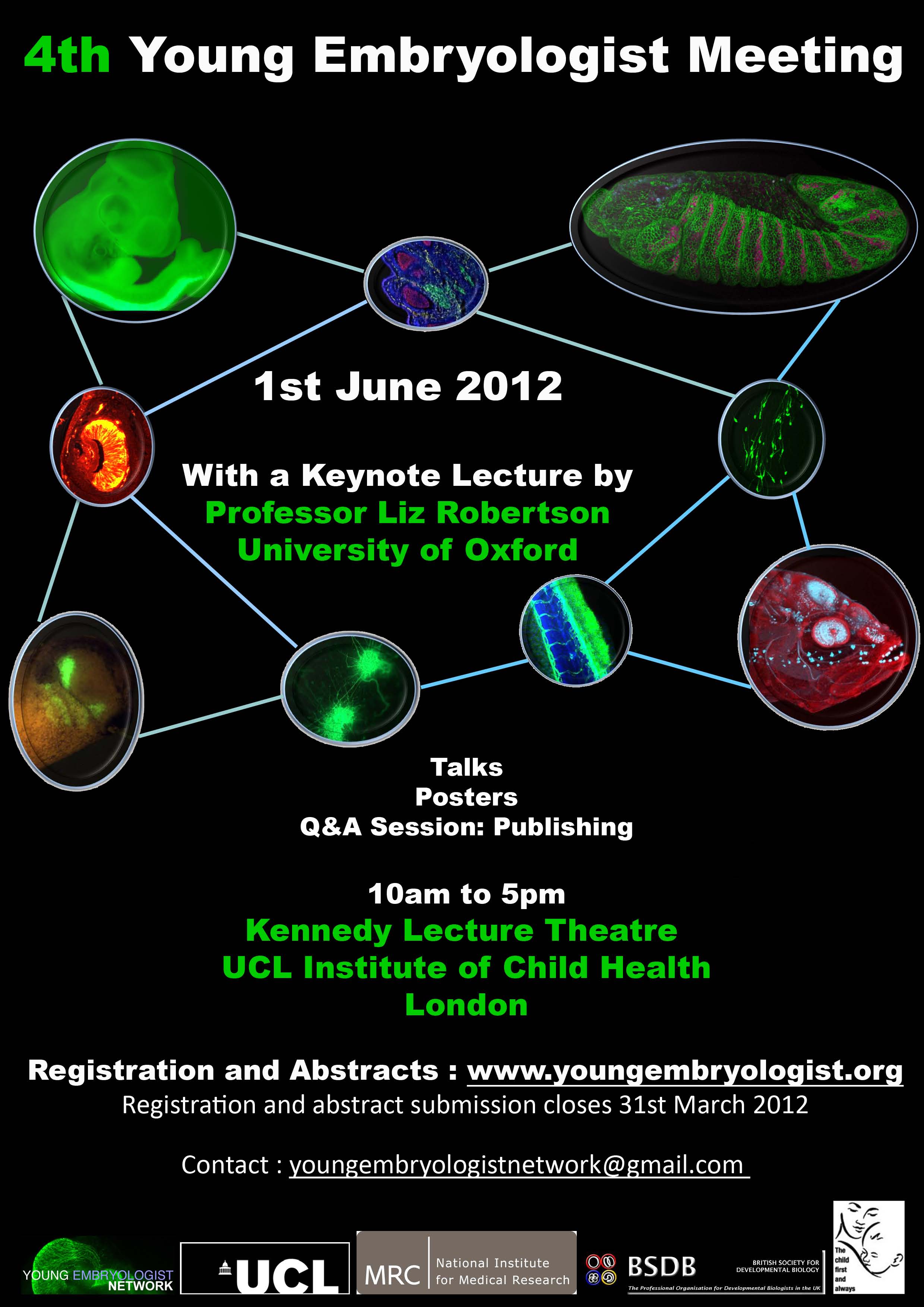 The 4th Young Embryologist Meeting (YEM:2012) will take place on the 1st of June 2012 in the Kennedy Lecture Theatre at UCL's Institute of Child Health, London. It will be a full day event from 10am to 5pm.
At the annual YEM, we aim to facilitate the discussion of various topics of developmental biology in a relaxed and cordial atmosphere. YEM:2012 is free and open to everyone, though preference is given to PhD students and post-docs for talks and posters. This year, we are pleased to welcome Professor Liz Robertson (Sir William Dunn School of Pathology, University of Oxford) as our keynote speaker. We will also have a Q&A Session about publishing, with Katherine Brown (Executive Editor of Development), Katie Ridd (Senior Editor of Nature Communications), and David Wilkinson (Editor in Chief of Mechanisms of Development) as panel members.
Registration and abstract submission close on 31st March 2012. To find out more about the meeting, to register, or to submit an abstract for a talk or poster, please visit the Young Embryologist Network website:
If you would like to get more out of your research and meet your fellow researchers, join the YEN! Sign up to our mailing list for updates on future events by emailing: youngembryologistnetwork@gmail.com
Join the YEN Facebook group or follow YEN on Twitter @YEN_Tweets
.