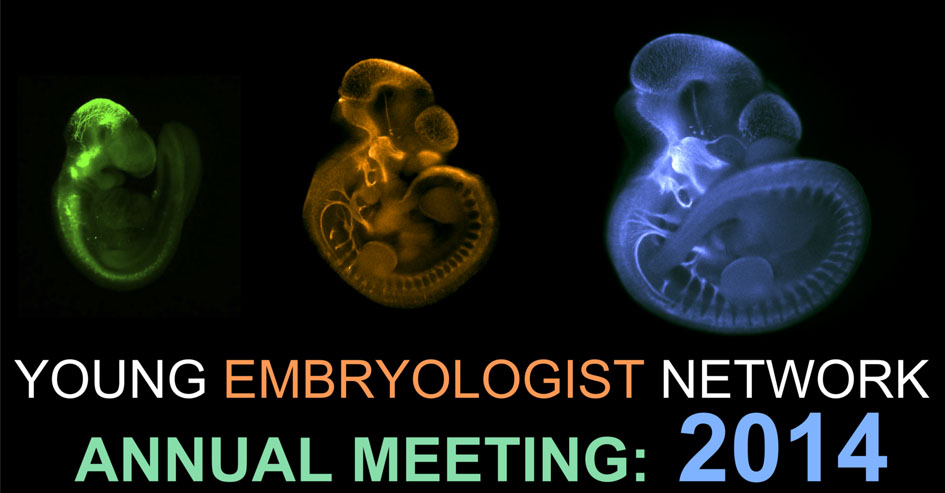 6th Young Embryologist Annual Meeting
Friday 27th June 2014
JZ Young LT, Anatomy Building, University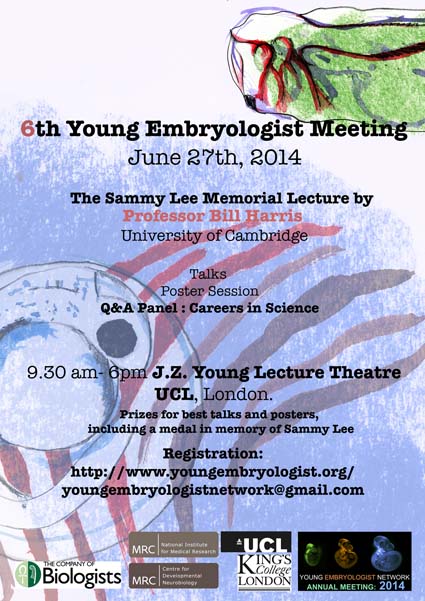 College London


Registation and abstract submission now open

The 6th Young Embryologist Meeting aims to bring together developmental biologists from across the UK and abroad to discuss their work at a leading UK institution by presenting a talk or a poster. This year, we are pleased to include The Sammy Lee Memorial Lecture presented by Professor Bill Harris (University of Cambridge). We will also have a Q&A session about 'Careers in Science'. In addition, prizes will be awarded to the best talks and posters, including a medal in memory of Sammy Lee
This unique meeting is run by PhD students and Post Docs at UCL, KCL, NIMR and  Imperial and aims to create a more interactive research community. Everyone with an interest in developmental biology is welcome to attend this free meeting!
We hope the meeting will provide a platform for young researchers (preference is given to PhD and Post Docs) to present their work in a series of 20 minute talks and in the poster session. We will favour diversity of topics and models in the field of embryology.
Our main goal is to generate a space where students, postdocs and PIs can discuss a wide variety of topics in developmental biology in a relaxed setting. Ultimately, we would like to strengthen  the Young Embryologist Network to enhance the research environment for embryologist, so please come!
If you are interested in giving a 20 minute talk or presenting a poster please submit your abstract by clicking here
Deadline for submission is May 19th 2014
If you want to get more out of your research, meet fellow researchers and get new ideas then join the Young Embryologist Network (YEN) by emailing: youngembryologistnetwork [at] gmail.com