If you are a Twitter user you probably know that our Twitter account reports not only on Node posts, but also on other interesting news and content from around the internet. We don't want the non-twitter users to miss out, so we have collated some of the most interesting (developmental) biology content that we found in the last month in one post.
News
– This month saw the first burger made in a lab from cow stem cells. Apparently not as tasty as the real deal!
– This year's prestigious Royal Institution Christmas Lectures will be given by developmental biologist Allison Woolard!
– The first patient trial using iPS cells has started in Japan.
– And the first stem cells programmed using chemicals alone were reported.
Weird & wonderful
– Nobel Prize winners were given crayons and asked to sketch their research. This book is the result.
– An artistic biologist created a crocheted dissected mouse– an unusual theme for a cuddly toy?
– Do you love your science enough to write it in your skin? We spotted a website dedicated to science tattoos.
– Ever wanted to 3D print your favourite protein? The ASCB blog tells you how to do it.
Beautiful & Interesting Images
– This absolutely striking image of a zebrafish embryo was the Wellcome Trust Image of the month.
– Cambridge University has a very interesting playlist on their Youtube channel featuring beautiful microscopy images. Definitely worth a check!
– The University of Michigan has decided to use some of the beautiful images produced by their researchers to fund travel grants.
– The 23rd of July was Rosalind Franklin's birthday, and this anniversary was celebrated with a very special google doodle: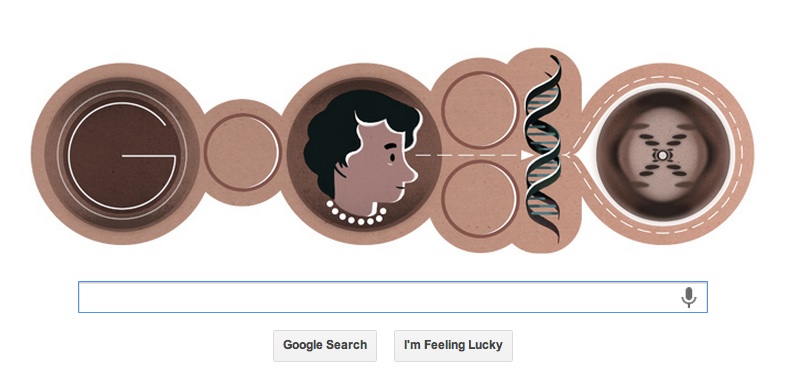 Videos worth watching
– Trying to explain biology to non-scientists? We found a great animation by Stated Clearly that explains all your family needs to know about DNA, and this great introduction to Stem Cells by EuroStemCell.
– General Electrics recently hosted the 6 second science fair– a festival of 6 second movies about cool science. Not a lot of biology experiments, but definitely worth a look!
In the future we will be occasionally posting more interesting content found on the internet. If you don't want to wait for these occasional posts, you can start following us on twitter @the_Node!