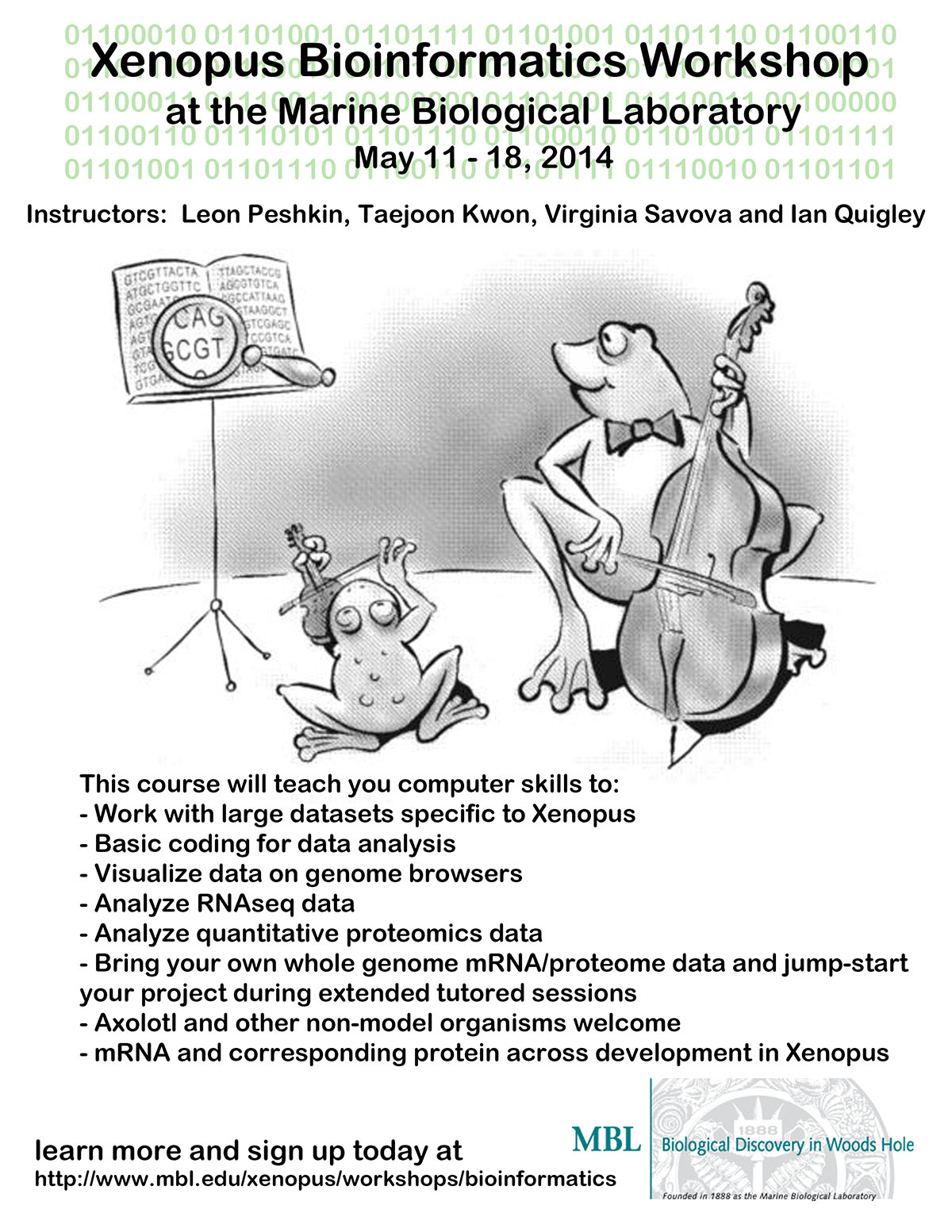 This 7 day workshop is intended for wet lab researchers who want, at least, to extend their understanding of computational analysis tools and methods, but will probably also want to acquire grounded computational skills to enable them to work independently. They may be PIs, post docs or PhD students, but are less likely to be research technicians.
Registration for the 3rd Xenopus Bioinformatics workshop is now open.
The course will be highly practical and will involve working with or analyzing real data to illustrate all of the skills, techniques and approaches covered. All of this data will be drawn from real experimental work in Xenopus.
Although geared towards Xenopus researchers, individuals working on other models are welcome to attend. Last year we had several people working on other systems (including axolotl and the three-toed jerboa) who participated.
'No biologist left behind.' Skills will be taught soundly and progressively, and with sufficient practice, so that no reasonably competent and attentive person has trouble keeping up with the basic skills being taught.
The best kit for delivering the course for maximum impact and take-out value will be the users own laptop.
Attendees will be encouraged to bring/develop their own mini-projects during the course, but there will always be relevant data available for people who do not bring their own.
We will try and in advance to determine which high level methods are likely to be of most interest, but should not necessarily be limited to only teaching things that people know in advance that they want to learn.
There will be a relatively low emphasis on touring 'useful web sites', external data sources will be explained and referenced as they are needed as source of data or targets of analyzed data for visualization.
More information can be found at the National Xenopus Resource web page under the workshops tab.
Instructors
Leonid Peshkin, Harvard University
Taejoon Kwon, Univerity of Texas at Austin
Virginia Savova, Harvard University
Ian Quigley, Salk Institute