Behind the paper stories
Every paper has a story behind it, and we regularly commission scientists to tell theirs. In this collection you'll discover the highs and the lows, the chance encounters and life changing discoveries from the breadth of developmental biology and stem cell research.
Recent posts
Posted by Chii J Chan, on 26 June 2019
In this article I share with you a more personal, chronological account of how our story unfolds (recently published in Nature), and highlight some key events and insights that help …
Posted by Holley Lab, on 25 June 2019
By Dörthe Jülich & Scott Holley Organizers pattern surrounding tissues via secreted morphogens that specify different cell states as a function of concentration. Wolpert's French Flag model is commonly …
Posted by shruti.vemaraju, on 13 June 2019
Shruti Vemaraju¹ and Richard A. Lang¹-² ¹Center for Chronobiology,¹The Visual Systems Group, Abrahamson Pediatric Eye Institute, Division of Pediatric Ophthalmology, ²Division of Developmental Biology, Cincinnati Children's Hospital Medical Center, Cincinnati, OH …
Posted by miriamirosenberg, on 3 June 2019
By Miriam Rosenberg and Suparna Ray Most of what we know about axial patterning in insects comes from decades of careful, beautiful work done in flies. Thanks to the genetic …
Posted by Sergio Menchero, on 3 May 2019
The story behind our recent paper in eLife. In the mid-1900s, Conrad Hal Waddington introduced the idea of development as a series of branching decisions taken under the control …
Posted by boudaoud, on 30 April 2019
Written by Antoine Fruleux and Arezki Boudaoud As Lewis Wolpert put it (Wolpert, PLoS Biology 2010), if you extend your two arms, you will likely find that they match in …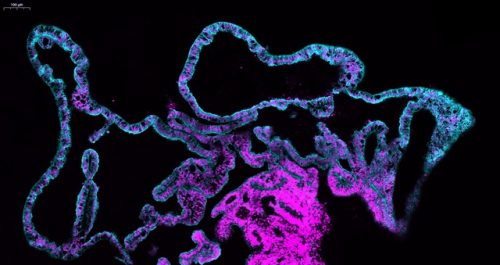 "If you notice something unusual in your experiments, don't just throw it away!"
Do you have a story to tell? We can give comments on drafts and any level of editing you want, and we particularly encourage contributions from researchers for whom English is not their first language.
Our full archive going back to 2010 is filterable by category, tag and date.