For the last two years, our interview series 'The people behind the papers' has showcased the faces of developmental biology, and we're excited to announce that the series will now also be printed in Development.
The first 'paper' interview is with Chaitanya Dingare and Virginie Lecaudey, first and last authors of a paper reporting a surprising link between the Hippo pathway and zebrafish fertilisation.
Before we put that one up on the Node, we thought we'd look back on the people we've met so far….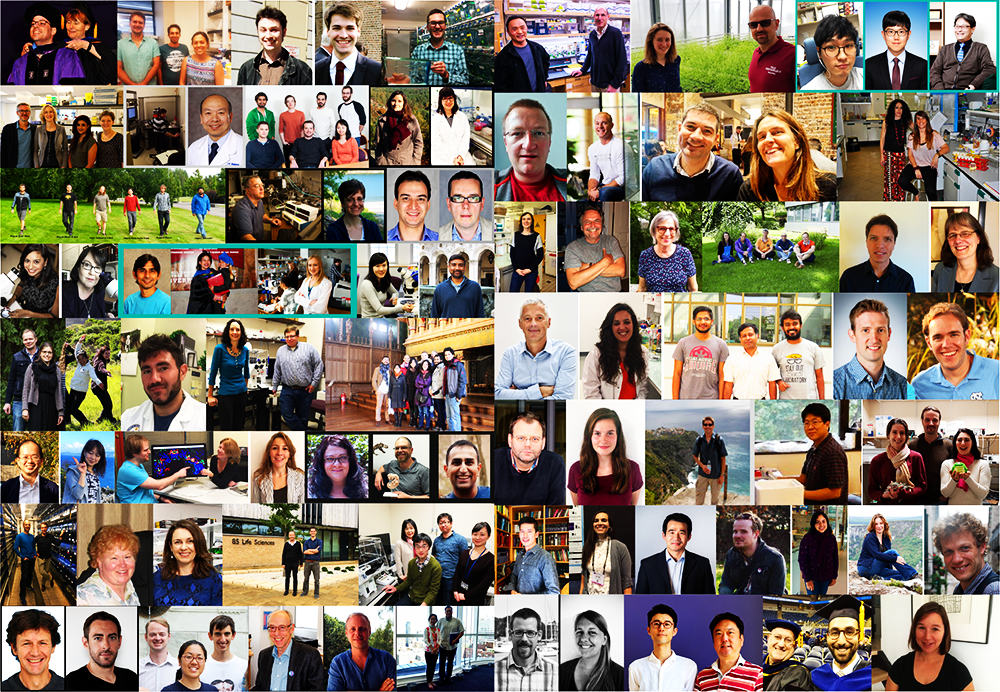 Martin Beck, Yannick Schwab, Nicole Schrieber & Paolo Ronchi
EMBL, Heidelberg
University of Pittsburgh
Kristen Koenig & Jeffrey Gross
University of Pittsburgh and Harvard
Hospital for Sick Children in Toronto and University of Prince Edward Island
Joseph Pickering & Matthew Towers
University of Sheffield
University of Oregon and University of Colorado Denver
Amelia Joy Thompson, Sarah K Foster & Kristian Franze
University of Cambridge
University of California Davis
Andrew Schiffmacher & Lisa Taneyhill
University of Maryland
Miguel Brun-Usan & Isaac Salazar-Ciudad
University of Helsinki
Ehsan Pourkarimi & Iestyn Whitehouse
Sloan Kettering Institute, New York
Nicolas Macaisne & J. Mark Cock
Station Biologique de Roscoff, Brittany
Philippe Foerster & Nathalie Spassky
Institut de Biologie de l'Ecole Normale Supérieure, Paris
Imperial College London
Hohenheim UniversityGermany.
Holly Voges, Enzo Porrello & James Hudson
University of Queensland
Thanh Vuong-Brender & Michel Labouesse
Institut de Biologie Paris-Seine
University of Virginia
Adam Davis, Nirav Amin & Nanette Nascone-Yoder
North Carolina State University
Jun-Ho Ha, Hyo-Jun Lee and Chung-Mo Park
Seoul National University
Gabriel Krens & Carl-Philipp Heisenberg
Institute of Science and Technology in Klosterneuburg, Austria
Lijun Chi & Paul Delgado-Olguin
Hospital for Sick Children and University of Toronto
Kimberly McArthur & Joseph Fetcho
Cornell University
Ivette Olivares-Castiñeira & Marta Llimargas
Molecular Biology Institute of Barcelona
Giri Dahal, Sarala Pradhan & Emily Bates
University of Colorado Denver
University of Oxford
Diane Shakes, André Pires-daSilva, Gunar Fabig, Thomas Müller-Reichert & Jessica Feldman
The College of William and Mary in Williamsburg, VA, University of Warwick, UK, Technische Universität Dresden, Germany, Stanford University, CA
UNC Chapel Hill and University of Texas
University of Southampton
Sabrina Jan, Tinke Vormer, Sjoerd Repping & Ans MM van Pelt
The University of Amsterdam
David Turner & Peter Baillie-Johnson
University of Cambridge
Qiang Shao, Stephanie Herrlinger & Jian-Fu (Jeff) Chen
University of Southern California
Ross Carter, Yara Sánchez-Corrales, Verônica Grieneisen & Athanasius (Stan) Marée
John Innes Centre, UK
Alok Javali, Aritra Misra & Ramkumar Sambasivan
Institute for Stem Cell Biology and Regenerative Medicine in Bengaluru, India
Chloé Dominici & Alain Chédotal
Institut de la Vision in Paris
Marina Matsumiya & Ryoichiro Kageyama
Kyoto University
Kyoto University
Rémi-Xavier Coux & Ruth Lehmann
New York University
Indiana University
Donald Danforth Plant Science Center in St. Louis, Missouri
Samira Benhamouche-Trouillet, Evan O'Loughlin & Andrea McClatchey
Massachusetts General Hospital Cancer Centre
Cathy Pichol-Thievend, Natasha Harvey & Mathias Francois
University of South Australia and University of Queensland
Pauline Anne & Christian Hardtke
University of Lausanne, Switzerland
Kana Ishimatsu, Tom Hiscock & Sean Megason
Harvard Medical School
Martina Nagel & Rudolf Winklbauer
University of Toronto
Ximena Anleu Gil & Dominique Bergmann
Stanford University, CA
Takanori Wakatake & Ken Shirasu
RIKEN Center for Sustainable Resource Science in Yokohama
Northwestern University, IL
Jaqueline Kinold & Hermann Aberle
Heinrich Heine University, Düsseldorf
Guillaume Blin, Manuel Thery & Sally Lowell
University of Edinburgh, Université
Grenoble-Alpes and Paris Diderot
University of Pittsburgh