A day in the life…
Developmental biology is characterised by the diversity of organisms we put under the microscope. Each one comes with its own strengths and challenges, quirks and even personalities, and researchers often develop a close affinity with their particular model. Our 'A day in the life' series gives insights into what it is like to work with a given organism, day in, day out, as well as showcasing the particular questions the organism is most suited to address.
Recent posts
Posted by Marvin Leria, on 14 December 2022
Marvin Leria, a PhD student at Aix-Marseille University, describes a day in the life of a Trichoplax lab.
Posted by Andrew Thompson, on 25 September 2022
What is a Killifish? My name is Andrew Thompson, and I am an assistant professor and principal investigator of the Xtremo-Devo Lab at Western Michigan University. In our lab, we …
Posted by Sandra Treffkorn, on 7 August 2019
What are onychophorans and why do we study them? My name is Sandra Treffkorn, and I recently finished my PhD in the department of zoology lead by Georg Mayer at …
Posted by Kohei Oguchi, on 31 May 2019
How do genes and their environment interact during development and evolution to generate phenotypic diversity? To answer these questions in the Miura lab, by focusing on diverse animal taxa, we …
Posted by Shinichi, on 10 December 2018
I am Shinichi Morita, a postdoctoral researcher in Teruyuki Niimi's lab at the National Institute for Basic Biology, Japan (Fig. 1A, B). Our research interests focus on the evolutionary novelties …
Posted by Stefania Gutierrez, on 28 August 2018
Have you heard of an animal that can lose most of its body tissues and the remnant tissues aggregate to regenerate the lost parts and recovery its original form? Do …
Posted by alexislanza, on 10 July 2018
It's undoubtedly the middle of summer here in Saint Augustine, Florida. Daily temperatures are soaring into the 90s, and we're grateful if the humidity dips below 70%. Thankfully, the Seaver …
Posted by Eleni Chrysostomou, on 3 July 2017
I am Eleni Chrysostomou, a PhD student in Uri Frank's lab at the National University of Ireland, Galway. The Frank lab's general interest is development and regeneration, stem and germ …
Featured movie: going underwater with Parhyale, from Erin Jarvis' post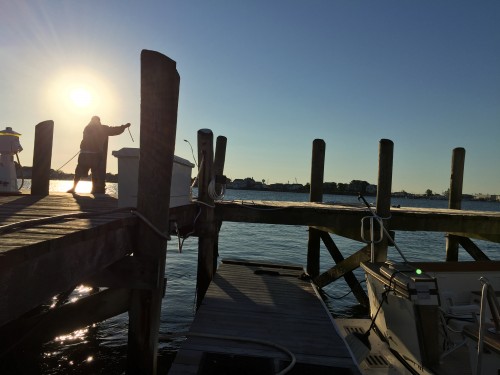 A day in the life of one lab starts at 6.30 AM at the Point View Marina in Rhode Island – read Cat Munro's piece to find out which hard-to-catch animals they are after
Is your model missing? Let us know – we'd love you to write a 'day in the life' for us
We've collated various model organism databases and useful links over on our Resources page